As a tourist in Delhi, you may have visited the Red Fort, the Jumma Masjid, Rajpath and the Lotus Temple. You could have been shopping in the Central Cottage Emporium, the State emporia in Baba Khadak Singh Marg or at the Dilli Haat. These are the typical shopping places for tourists in Delhi. However, we wish to tell you about some hidden gems in Delhi Shopping where you can find Kashmiri carpets, Pashmina shawls and wedding gifts. So, do and try browse through following shops and Delhi markets.
About Shopping in Delhi Markets
1. Street Markets in Janpath- Janpath (people's lane) is in Connaught Place
Connaught Place/CP was the CBD in Delhi until recently and a huge shopping center. Named after the Duke of Connaught, CP has Georgian architecture, modelled after the Royal Crescent in Bath, England. One of the leading roads from CP to Lutyens Delhi is the Janpath. The CCE (Central Cottage Emporium) and the Imperial Hotel are the major landmarks in this lane.
Janpath (People's path)
There is a great variety of street shopping in Janpath. You cannot miss the crowded side lanes and the high decibel levels of the customers. Those are the street shops in Janpath shopping market.
A long side lane has western wear and silver trinkets. You can pick up branded western wear dresses at throwaway prices. Check out the skirts, trousers, tops, jeans and scarves or look for silver earrings & bracelets. The whole lane has the shop owners & customers haggling.
Close by is a street with embroidered skirts, bags, bed covers & umbrellas. They are from the State of Gujarat. Women squat in make shift street stalls and sell these colorful items.
On the main street in Janpath, close to the Imperial Hotel, is a series of small shops that sell Tibetan handicrafts. Gongs, prayer bowls, and many other original antiques are sold by the owners, many of who are from Tibet.
Bargain in all the street shops here.

2. Kinari Bazar in Chandni Chowk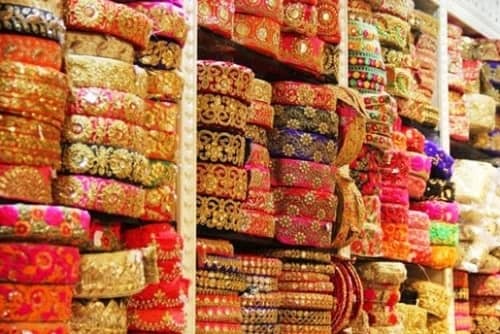 All the lanes are crowded in Chandni Chowk. This is an historic area in the city of Delhi and the Red Fort, built by the Mughal Emperor Shah Jahan, is here. You will need a lot of determination to walk alongside rickshaws, two wheelers, fruit vendors, coolies carrying goods on top of their heads and several other shoppers in the market. Residents in this area know about Dariba Kalan & Kinari Bazar lanes in Chandni Chowk. Just ask for directions near the famous SisGanj Gurudwara. The Kinari Bazar lane is crowded from start to finish. You can hop on to a rickshaw to reach Kinari Bazar or you can put up a brave face and walk.
But the kind of stuff you get there is well worth the inconvenience of tackling the huge crowds. This is especially true if you have bulk purchases to be made or you are trousseau shopping. There are several shops selling gifts & Indian wedding essentials.
Fabrics & borders(Kinari) @ Chandni Chowk 
First, the bazar is famous for fabric borders. Hence the name Kinari (aka border) Bazar. Borders of all kinds in shimmering brocade, lace, silks, Parsi embroidery are all beautifully displayed in the windows. Spend an hour looking at all the gorgeous borders before you buy. Stitch them on to saris, blouses, salwars, kurtis, dresses, cushions, curtains and what have you. Your own designer piece will look resplendent. As you move further on, there are several shops with gifting trays, paper bags, cloth pouches, trousseau gift items, garlands with paper notes, brocade boxes & colourful envelopes.
In any Indian wedding, money is handed to the bride & groom in an envelope. So do not forget to pick these up from this Bazar. This is a whole sale market and the prices are very reasonable.
Once you have finished with the shopping, you can probably try the paranthas at the famous Paranthewali Gali, which is just a side road from the Kinari Bazar.
3. Tip Top Market in Karol Bagh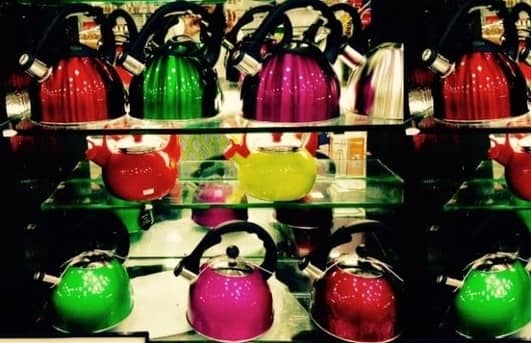 Karol Bagh is a famous market in West Delhi. The Tip Top Market is close to the Karol Bagh Market and the Gaffar Market. The Gaffar Market is well known for more than 50 shops that sell mobile phones of all makes and gadget accessories at very competitive prices.
TIP TOP MARKET
The TIP TOP Market, which consists of two covered buildings and the basement, stocks dining accessories and gift items in plenty. Crystal glasses, dinner sets, wine glasses, whisky glasses and trays & bowls in white metal are all available in plenty. Many of the items in these shops are imported from South East Asia, China & Taiwan. You can pick up table mats, runners, plastic flowers, lamps and fancy tea pots too. The variety and reasonable prices make the trip to this crowded market worthwhile, especially if you are purchasing in large quantities.
4. Carpet shopping – NCE Oriental Rugs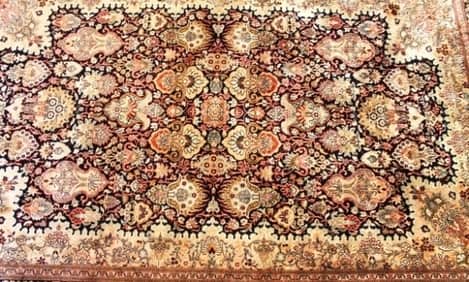 If carpet shopping is in your list, then you must visit NEC Oriental Rugs. This shop in Khan Market is one of the best shops for carpets in Delhi. They stock a wide selection of premium & exclusive carpets. Carpets from Kashmir and the Middle East are quietly rolled and stacked in the corners and not much is available on display here in this first floor showroom. But you can check out a few pieces and be astonished at the sheer beauty and workmanship of these carpets. They are pieces of art.
4. Shaw Brothers in Defence Colony Market, Delhi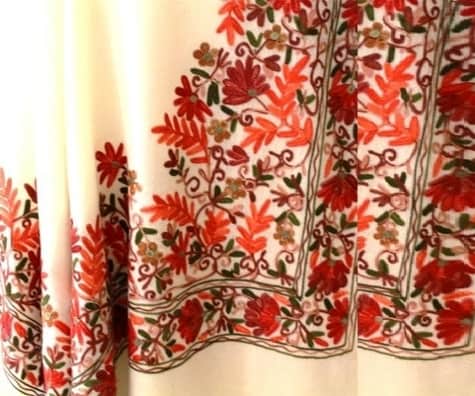 Everyone sells Pashmina shawls in Delhi. They are available in street markets, regular retail shops and in several exhibitions across Delhi. In fact , Dilli Haat, the open market, has some very good shawl shops as does Janpath.
But many of the shops, pass off shawls made of wool and silk as Pashmina shawls. Well known shops such as Ahujasons and Shaw Brothers however stock authentic Pashmina shawls. Shaw Bothers in Defence Colony has a great stock of Pashmina shawls and stoles, in a great variety of colours and deisgns. Kashmiri jackets and bed spreads are also available. This is one of the best shops for shawls and stoles in Delhi.
6. Antiques in Hauz Khas Market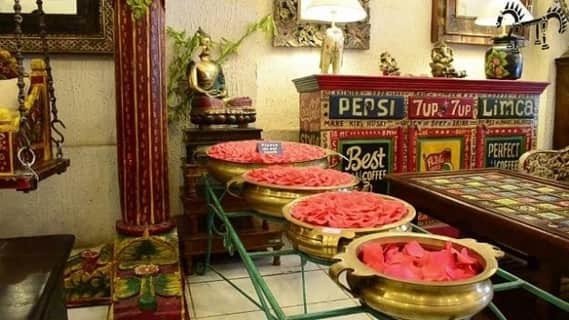 Hauz Khas is a hot spot for youngsters who throng the restaurants and pubs in the Hauz Khas shopping Market. Hauz Khas is also a very historic place. It was a center for learning in the medival times. There still exists a water tank & mosque near the shopping complex.
 Designer Shops 
This shopping market has several designer shops selling expensive garments and jewellery, as in many other shopping markets across Delhi. But look out for the interesting shops that sell vintage furniture and antiques. Cabinets, old chests of drawers, wall panels, poster beds, easy chairs and book shelves are some of the furniture available in Country Collection as are the brass Buddha, wall hangings & snuff boxes. Then there is 'All Arts' which has film posters, tin boxes and trays. Kusum Jain's,Cottage of Arts & Jewels has some interesting costume jewelry, old maps of India and posters.
7. Moha & Kamala in Baba Kadak Singh Marg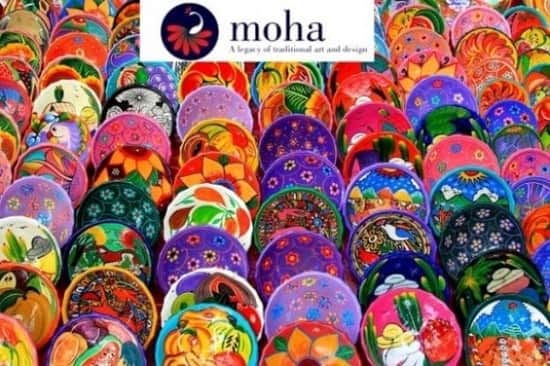 Kamala means the lotus flower in Sanskrit. It is the outlet of the Crafts Council of India(CCI). It has an impressive selection of terracotta pottery , boxes, trays and cups made of wood and a few items made of soap stone and marble. The textile selection is also impressive with a great variety of cotton and silk textiles from all over India.
Moha is also a store which promotes Indian art and craft. A spacious and prominent store, Moha links rural producers to the urban markets. Paintings, antique wooden furniture, terracotta, hand painted pottery, aluminium flower vases and pieces in ceramic & black stone are all available here.