Cloth Markets in Delhi
Nov 21, 2018
Kausy M
14718 views
add comment
"We can tell you with authority that Delhi is one of the best cities in India when it comes to shopping for fabrics. It is known for its best cloth Markets." Firstly, the variety and the sheer number of shops that stock home grown and imported fabrics is fantastic. Many of the cloth markets in Delhi are wholesale markets and the prices are hence unbelievable. Let us start with Chandni Chowk Market.
 Delhi cloth Market @Chandni Chowk
About : 
Chandni Chowk is a historical area of Delhi. The Red Fort built by emperor Shah Jahan, the Jama Masjid mosque and the Shish Ganj Gurudwara are in Chandni Chowk. Old havelis, innumerable shops and a constant stream of people define the Chandni Chowk shopping market. Chandni Chowk is best known for fabrics, bridal lehengas and silver articles.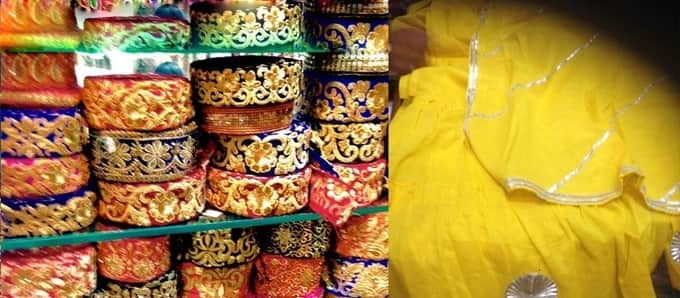 Clothes Market in Chandni Chowk
Cotton, georgette, chiffon, satin and a variety of  net and worked fabrics are available in Chandni Chowk. Kinari Bazar in Chandni Chowk is where one will get the best gold, silver & brocade borders, laces, trimmings, ribbons and other dress accessories.
The prices are economical and customer friendly as it is a wholesale market. Hence, designers mainly flock to this market as they buy quantities in bulk.
Opening times : 9.30 am to 8.00 pm
Closed on : Sunday
Venue Details & Map
Delhi Cloth Market @Nehru Place Market
About :
Nehru Place is dotted with corporate offices. The Nehru Place Market is popular for shops that stock computers, printers, mobile phones, accessories and office supplies.
Nehru Place' best kept secret is that it is one of Delhi 's  best cloth Market.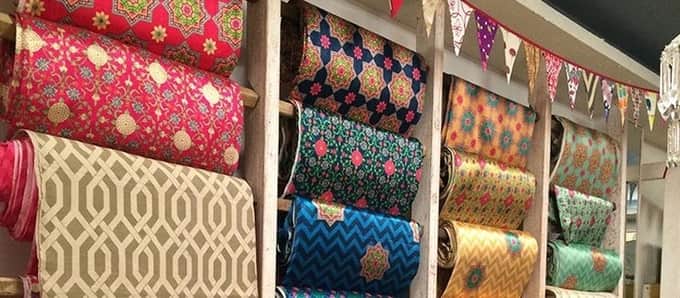 Clothes market in Nehru Place
There are about 20 to 30 shops in Nehru Place that stock some of the best fabrics.
Indian fabrics and imported fabrics, South Indian silk and Banarsi fabrics, zardozi fabrics and embroidered fabrics are all available in the Nehru Place Market. The range is pretty vast.  Designers frequent this clothes market in Delhi for the exquisite range of fabrics available here.
In addition to the expensive fabrics, cotton fabrics, linen fabrics, upholstery fabrics and a lot more variety  of fabrics are available in the Nehru Place cloth Market.
Nehru Place is essentially an export market.
Opening times : 10.00 am to 9.00 pm
Closed on : Sunday
Venue details& map
Central Market, Lajpat Nagar
About :
Central Market, Lajpat Nagar is the go to market for a whole range of products such as school uniforms, school books, footwear, home furnishings, home décor, salwar kameez and saris.
It is also one of the best clothes market in Delhi for a range of stunning fabric shops.
Imported fabrics from Korea, chantily lace fabrics, embroidered net and georgette fabrics -the Central market in Lajpat Nagar has an enviable collection of fabrics. If you would like to make a designer dress similar to the one worn by any of the Bollywood heroines, then Lajpat Nagar clothes market in Delhi is the one you should visit.
There are several shops within walking distance where one can get to select fabric one wants.
Lajpat Nagar Market also has a lane specializing in salwar kameez fabrics.
Opening times : 10.00 am to 9.00 pm
Closed on : Monday
Venue Details & Map
State emporiums in CP
About
Connaught Place is known for its stunning architecture. The circular buildings built by the British has been modelled on the Royal Baths in England. It was the CBD and the preferred shopping district a decade ago. There is a central park in CP.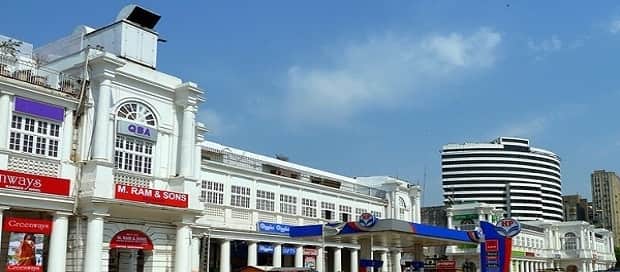 Baba Karak Sing Marg  is one of the prominent streets branching off from CP. The government owned State Emporiums  are located  in this street. They stock fabulous textiles, art & crafts of India. Each Emporium represents a State in India. They have  refreshingly distinct products and fabrics.
So if you are looking for Banarsi fabrics, Dhakai muslin fabrics, Tussar fabrics, Kanjivaram silk fabrics or Chanderi fabrics or dresses and saris made of these fabrics, there is no better place than the State emporiums in CP to shop.
Opening times : 10.00 am to 6.00 pm
Closed on : Sunday
Venue Details & Map
Dilli Haat
About
Dilli Haat near the INA Market is an open air shopping market in Delhi. It is one of the Clothes market in Delhi.
The stalls are small and easily accessible. One can shop for the best handloom fabrics, best cotton fabrics and best tussar fabrics. One can also shop for salwar suits, dupattas, tops and kurtis made of these fabrics.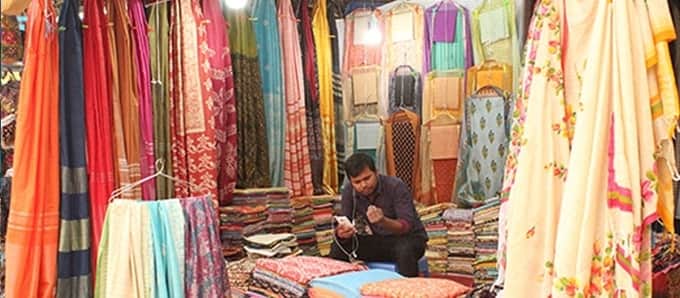 Dilli Haat showcases the best of Indian handicrafts and textiles. There are about 250 stalls that sell imitation jewellery, shawls, salwar kameez, brass items and Kashmiri handicrafts in addition to fabrics. There are food stalls selling Chole bhatura, dosa, chicken kebabs and Rajasthani food as well.
They also organize cultural programs in the Dilli Haat premises.
Opening times- 10 am-10 pm
Open all days
Venue details& map
---
View our videos
SIGN UP FOR NEWSLETTER
Be the First to Know. Sign up to newsletter today