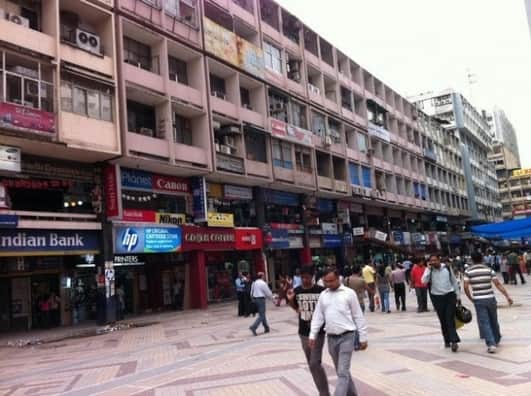 Nehru Place
Market for IT Products Say hello to the IT hub of Delhi! The Nehru Place Market is a busy one at all times of the day, with people thronging to buy computers, TVs and other related items. It is popular...Read more
Market for IT Products
Say hello to the IT hub of Delhi! The Nehru Place Market is a busy one at all times of the day, with people thronging to buy computers, TVs and other related items. It is popular for all things related to computers.
In addition to computer hardware, PCs, printers, laptops, hard disks and monitors, people can also buy android mobiles, laptop batteries, laptop adaptors, mobile SIM cards, digital cameras, pen drives, printer cartridges and stationery.
In the 1980s when Connaught Place was bursting at its seams, the Government planned the development of another business hub to ease the congestion from Connaught Place. Hence Nehru Place came into being. Today, it is a much sought after business address. Nehru Place boasts of the International Trade Tower, and other high rise office buildings with international companies having their offices there.
Bahai Temple
The Bahai temple, also known as the Lotus temple, is a big tourist attraction. The 5 star hotel, Eros Park Royal, adds a lot of elegance to the area. The Satyam Cineplex has 4 cinema halls and there are good eating places such as Subway and Ruby Tuesday in the complex. Nehru Place is closed on Sundays. The best time to go there is after 11:00 am, when the place swings into action, and before the time of closing 7:30 pm. While you can easily spot parking lots all around the place, parking is extremely problematic and requires much grit too.
Best Fabric Shops in Delhi
Move away from the entire hustle bustle to the other side of the market however, and you will find some of the best shops for fabrics in one quiet corner. Fabrics, accessories, laces and more. The traditional cloth merchants from the Chandni Chowk area migrated to this place to cater to the export market. The variety of fabrics available is mind boggling. Tussars, silks, cottons, georgette, chiffons, sequined and glitzy fabrics, crepes. The offering follows international trends. Nehru Place shopping market is frequented by the exporters and students from the fashion designing industry. Nehru place is well connected by Metro. There is a fantastic called food court "Epicuria" there.
Check out reviews of other Delhi markets here.
Days Closed :- Sunday
Timing :- 11am to 7.30pm
Bus/Metro :- Nehru Place bus stop/Metro station, violet line
---
26 views