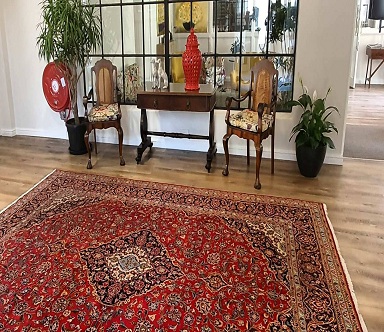 Best Shops for Carpets
Carpet Shops: The State Cauvery Emporium at MG Road is one of the best shops for carpets in the city of Bangalore. We were particularly impressed by their beautiful collection of Kashmiri carpets.
What you will find intriguing at this store is the showcase of the carpet weaving process to customers. There is a huge display of a real carpet which is in the semi-finished stage and where the warp and the weft threads are on display at this store.
There is a whole section devoted to carpets. Carpets are viable in a variety of sizes. There are cotton, silk & wool carpets that are available.
The states of Kashmir, UP and Rajasthan are well-known for their unique carpet-weaving tradition in India.
Adjacent to the Cauvery Emporium is the Kashmir Cottage Emporium.
The emporium stocks carpets in great designs and numbers. They have showcased some of the distinctive pieces on the walls around. Silk on silk carpets and wool on wool carpets are quite popular ones. Woolen carpets, when compared, come at a cheaper price.
We liked Kashmiri carpets at this store. Their designs are predominantly inspired by Persia and other central Asian countries. The price of a carpet depends on the knots per square inch which is mentioned at the back of the carpet. Carpets are typically woven in Kashmir.