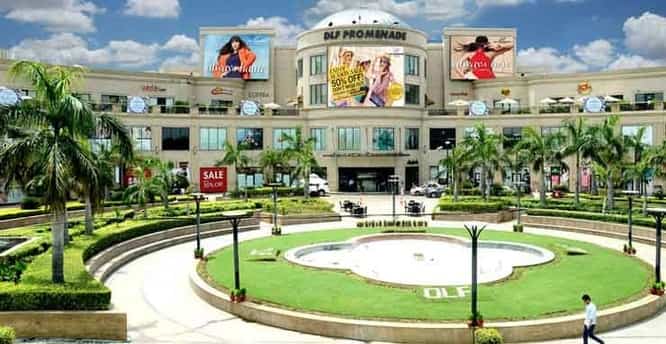 10 Best Malls In Delhi NCR For Shopping and Eating
Mar 29, 2019
Monika Chauhan
4492 views
add comment
You  just have to look around  at the number of swank shopping malls that have sprung up in the last decade in India to realise the nature of the  revolution  that has been brought about in shopping in India. Ever wondered how  we managed to live without them a decade earlier? Read about the Best Malls in Delhi NCR now
Why go to a shopping mall?
There is something therapeutic about shopping malls. It is not the last resort of  the  shopaholics anonymous club alone. Children, teenagers, families and the friendless man or woman  down the road, all head to the shopping malls. The  mall embraces everyone into its fold and lets them be what they want to be.
To put it simply, people go to shopping malls to see a movie, to meet a friend , have a fine dining experience and maybe to shop as well. You can of course shop for a vast variety of products ranging from lingerie  and luxury wear to kitchen essentials & grocery.
To report on this  trend, Shopkhoj.com has picked  out the top 10 shopping malls in Delhi NCR that offer  a great mix of shopping, food, and entertainment.
1. DLF Mall of India, Noida
Located in Delhi NCR, DLF Mall of India is one of the largest malls in India in terms of total area (20 lakh square feet). The mall boasts of strategically divided zones—Marketplace, International Boulevard, The High Street, Family World, and Leisure Land—across its 7 floors.
With unlimited options of food, shopping, and indoor entertainment, the mall promises a fun-filled trip at any given time of the day. This is where you will spot more than 300 national and international brands.

Tops Stores: Forever 21, Zara, H&M, Madame, Armani Jeans, Mango, Anokhi, Biba, and Meena Bazaar.
Top Restaurants
The Big Chill Cakery, United Coffee House Rewind, Chi Asian Cookhouse, Mamagoto, SodaBottleOpenerWala, Theobroma, Swagath, Wow! Momo, and Mövenpick Ice Creams are among the prominent restaurants in DLF Mall of India food court that you can pick for coffee, lunch or dinner on your next outing with your besties.
Leisure Land features large-scale gaming concepts like Smaaash, Ski India and Funcity, along with a massive food court offering a mix of delicious cuisines.
Location: Plot M-03, Sector 18, Noida, Delhi NCR
2. DLF Emporio, Delhi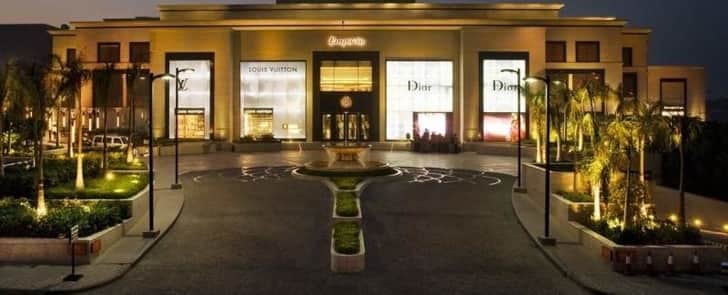 If you are one of those who always swear by high-end luxury brands, DLF Emporio Mall in Vasant Kunj should be one of your all-time favourites. Spread across four floors, this South Delhi mall is home to the world's most desirable International as well as Indian labels.
International Luxury Brands
The glitzy mall lets you browse through contemporary bags from Gucci, iconic shoes from Jimmy Choo, and loafers from TOD's. Louis Vuitton, Salvatore Faragamo, Cartier, Fendi and Bottega Venetta.
Indian Designer Wear -You may also check out exquisite collection from India's leading designers like Suneet Verma, Anita Dongre, Ranna Gill and Tarun Tahiliani as well as much-loved jewellery brands such as Mirari and Hazoorilal Jewellers.
To feast on a variety of delicious food and drinks, you can head over to fine dining at SET'Z, or  head to On The Go, Cha Shi, and Cafe Eat the ground floor..
Location: Nelson Mandela Road, Vasant Kunj, New Delhi
3. Ambience Mall, Gurgaon

Located on NH 8, Ambience Mall is one of the most-preferred shopping destinations with folks living in and around Gurgaon. From latest apparel to trendy footwears, glitzy accessories to stylish bags, the mall has it all.
Popular Brands Ambience Mall brings together all popular brands under one roof. You can shop at  Marks & Spencers, Zara ,Tommy Hilfiger, Vero Moda, AND, Biba, Amante, Bose, H'n'M, aLL, Anita Dongre, Bags 'n' More, Beliram, Asics and Adidas, to name a few.
Top Restaurants
There is no dearth of good restaurants and dine out places available at Ambience Mall in Gurgaon. You can try one of these diverse options: Asia Kitchen by Main Land China, Barista, Blue Tokai Coffee, Chilis, Fresco, Haldiram's, Jamies Pizzeria, Hawker Street, Punjab Grill, Red Mango and Coldstone Creamery.
For entertainment, you can explore either Blu-O for bowling or i-Skate for ice-skating.
Location: NH 8, Ambience Island, Gurugram, Delhi NCR
4. The Great India Place, Noida

Listed among Noida's biggest malls, The Great India Place records an average daily footfall of more than 1.25 lakh people (one of the largest footfalls in the country on a daily basis). Located right next to the Worlds of Wonder amusement park, it is widely known as the GIP Mall.
The mall has the first-mover advantage in the city as it is the first mall which opened its doors to organized retailing sector in Noida. This retail haven is home to more than 250 brand stores and 10+ anchor stores.
Top Brands
Allen Solly, Shopper's Stop, Arrow, Globus, Biba, Ibadat, Pantaloons, Big Bazaar, Chaari Silks, Home Town, Woodland, Lifestyle and Lifestyle Home, Bonton, Cantabil, Adidas, Nike, Guess, and Marks & Spencers.
It offers an extensive food court with delicious cuisines available at over 25 F&B outlets.
Popular Restaurants– Here are some options to pamper your taste buds at GIP Noida: Mandarin Trail, Off The Hookk, Nazeer Foods, Pind Baluchi, Moti Mahal Delux Tandoori Trail, Thaal Vaadi, Nizam's, Costa Coffee, Dunkin Donuts, TGI Fridays, Tea Trails, and The Punjabis Restro Bar.
For movie buffs, the mall features a 7D movie center along with a 6screen Carnival Cinema. It also answers your entertainment needs in the form of virtual gaming and rides.
Location: Plot A-2, Sector 38-A, Noida
5. Select Citywalk, Saket- Best Malls in Delhi NCR

Select Citywalk, Saket provides its visitors with an upscale shopping experience, offering a healthy mix of popular labels as well as luxury fashion brands. These include Zara, H&M, Burberry, Sephora, MAC, Dior, Pantaloons and HomeStop, among others.
Just in case you feel tired of shopping, a laid-back walk through the city square offers a comforting atmosphere close to nature. Other highlights include destination cafes, restaurants, bars as well as the City Square food court.
Popular Restaurants
Make your dining experience special by visiting one of these restaurants at Select City Walk Mall: Pa Pa Ya, Fat Lulu's, Yum Yum Cha, Sattvik, Burma Burma, The Masala Trail, The Runway Project, Mamagoto.
You can also walk inside Elma's Bakery to catch up with your old college friends over some piping hot coffee.
Location: A-3, Saket District Centre, District Centre, Sector 6, Pushp Vihar, Delhi
6. Pacific Mall, Subhash Nagar

This mall comes as a real solace to those living in West and South-West Delhi. The Pacific Mall is centrally located in Tagore Garden, making it well-connected through public and private transport. A number of flagship brands makes this mall a must visit for shopaholics in this part of the city.
Popular Brands These include Biba, Madame, Aurelia, Meena Bazaar, Marks & Spencer, Da Milano, Mango, Lifestyle, Forever 21, MAC and Zara, among others.
It also boasts of an exciting range of restaurants under one roof. You can try one of those finger-licking cuisines at Punjab Grill, Castle's Barbecue, Jamie's Pizzeria, Dosa Village, Hinglish- Cafe Beach Bar, Berco's and many more.
Location: Tagore Garden, Najafgarh Road, Subhash Nagar, New Delhi
7. The Chanakya Mall, Chanakyapuri- Best Malls in Delhi NCR

Looks like Delhi's iconic Chanakya Cinema rose from its own ashes to make a bright comeback as a luxury mall! First demolished in 2007, the Chanakya theatre returned in a new avatar a decade later as DLF Emporio's The Chanakya. The four storey mall-cum-multiplex is the go-to-choice for people in love with the luxury brands.
Luxury Brands
Montblanc, Rolex, Jaeger-LeCoultre, Nicobar, Anita Dongre Grassroot, Hermes, Chanel, Ralph Lauren and Ted Baker are some of the most upscale brands available at the Chanakya Mall.
Top Restaurant
What's more, you would simply love to dine at MKT which takes you on a trail of your desired dishes ranging from Japanese to Thai to Mexican and of course Indian, to name a few.
Besides its 3 screen PVR ECX, you can also have a great time at NOI, the high-energy fancy bar, which has the best of liquor as well as an in-house DJ.
Location: Yashwant Place Commercial Complex, Opp. Chanakyapuri Post Office, Chanakyapuri, New Delhi
8. DLF Place Mall, Saket- Best Malls in Delhi NCR

The mall is adjacent to Select Citywalk in Saket. You can head to the DLF Place Mall to fill your shopping bags with stuff from popular brands such as
Forever 21, Vero Moda, Marks & Spencer, Adidas, Biba, Levi's, Anita Dongre and DKNY Hameleys and Clarks.
If you can save some time after shopping, you won't mind watching a movie at DT Cinemas. And The Big Chill or Chilli's is the perfect place to treat your taste buds.
Location: Press Enclave Road, Sector 6, Pushp Vihar, Saket, New Delhi
9. MGF Metropolitan Mall, Gurgaon-
Boasting a commendable collection from both Indian as well as International brands, the MGF Metropolitan Mall in Gurgaon lures shopaholics with a classy ambience.
Popular labels spanned across its three floors include Shoppers Stop, United Colors of Benetton, Marks & Spencer, Nike, Lacoste, Vibe, The Body Shop, Reebok, Barista, Carlton London and Planet Sports, among others. Basically, you can get anything and everything that you are looking for to fill your wardrobe. It also houses a multiplex and several restaurants to satiate your entertainment and dining needs.
Restaurants
Haldiram's, Keventers, The Belgian Fries Company, Rajasthali, Tunday Kababi Dastarkhwan-e-Awadh, Chicago Pizza, Subway, Sage, Let's Nachos, Khaaja Chowk, andDunkin' Donuts are among the perfect eateries to visit after your day-long exhausting shopping.
10. DLF Promenade Mall, Vasant Kunj- Best Malls in Delhi NCR

This one is the most favourite among the food connoisseurs, featuring a range of good food outlets like Italia, Keya, Smoke House Deli, TGIF, Veda, Nandos, Kainoosh, and Mamagato.
Moreover, you may head to DLF Promenade Mall for high-street brands like Marks & Spencers, L' Occitane, Mac, Zara, Forever 21, Sabyasachi, Steve Madden, Innisfree and Charles & Keith to meet your shopping needs.
The entertainment section offers a 7 theater movie experience. Sports bars and the huge screen in the courtyard  entertain people who love to watch some sports action.
Location: Plot No 3, Nelson Mandela Marg, Vasant Kunj, New Delhi
---
View our videos
SIGN UP FOR NEWSLETTER
Be the First to Know. Sign up to newsletter today