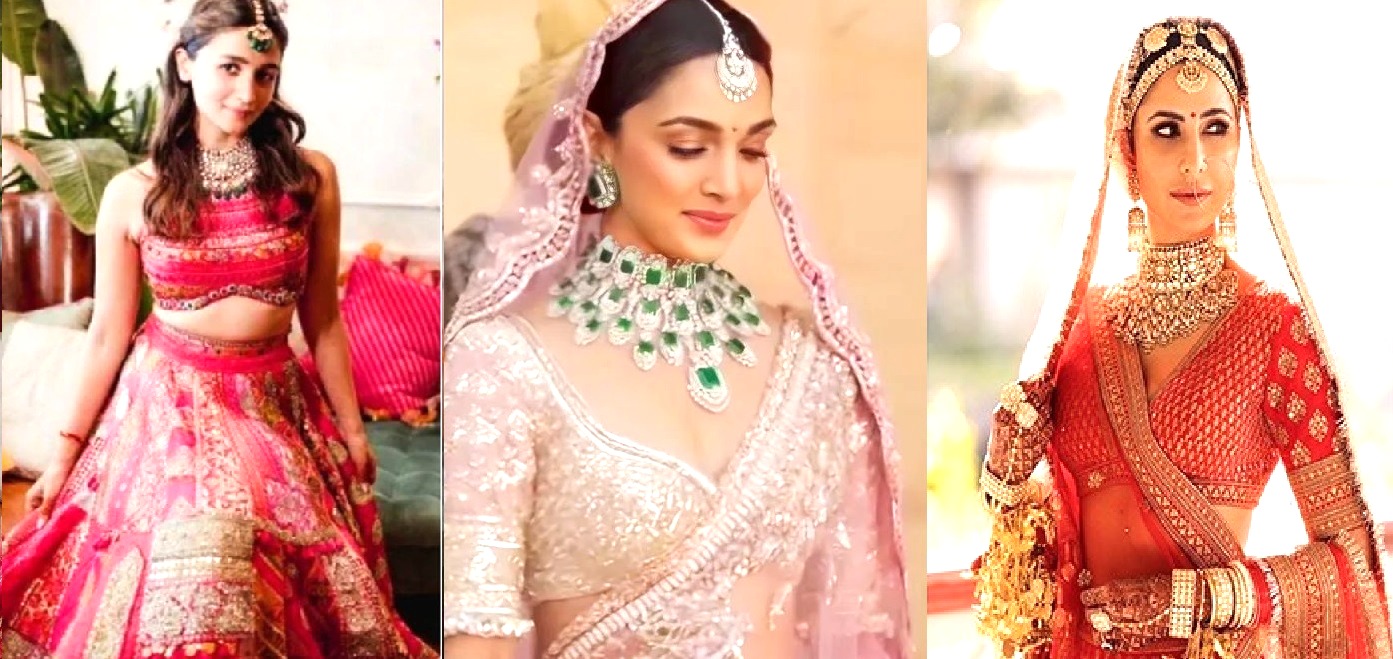 Bridal Lehengas On Rent
Jun 02, 2023
Kausy M
4798 views
add comment
Bridal Lehengas on Rent & Jewellery on Rent : "I Can't Explain Why A Bride Buys Her Wedding Dress, Whereas A Groom Rents His Tux." – Lou Holtz.
Every girl dreams about being beautifully dressed  with the most perfect outfit on her wedding day. And going by the number of celebrity weddings  – from Anushka & Prinaka Chopra  wearing a  stunning Sabhyasachi lehenga to Sonam's Anarkali Salwar at her mehendi – we know you really want to  wear a designer wedding lehenga.
Well, well, here is the little secret – we at Shopkhoj went scouting for these styles, and yes – like everyone else we landed up in Chandni Chowk. However, when  we went scouting for lehengas we found that you can actually hire a beautiful bridal lehenga in Lajpat Nagar for a fraction of the cost. Yes, you heard that right – you don't have to buy it, you can simple rent it!!
Bridal Lehengas on rent? Therefore, you spend less and enjoy the most beautiful lehenga for any occasion.Isn't that so much more fun and convenient? Forget visiting several stores before your wedding and having to make the tough decision. It is tricky when you are spending a fortune buying your lehenga.
Bridal Lehengas For Hire!
Now, you can wear all the styles you have always dreamed of! There are beautiful bridal lehengas, anarkali salwar suits and wedding gowns that you can hire and wear on your wedding day and look exactly like your favourite Bollywood heroine! These shops copy designs from famous designers such as Manish Malhotra, Sabyasachi Mukherjee, Anamika Khanna etc.
Shops for Bridal Lehengas on Rent
Wedding Bells
Our first stop is Wedding Bells – a large shop  with 2 full floors of men's and women's bridal outfits. This shop is  located on the main road in the  Lajpat Nagar shopping market.The ground floor has sherwanis, kurta pyjamas for men on rent. Men wear the bandh gala  suit and Nehru Jacket .The first floor is vast and the sales girl is very pleasant and patiently shows us around.In addition, There are bridal lehangas on rent in a variety of designs, fabrics, colours and price ranges. You can choose lehengas that are closest to your style quotient. The collection is fresh and they get new ones tailored every fortnight. That is the best part of this whole effort. You get to see new selections very often.
The red Sabyasachi lehenga is sought after. And  typically red Bridal Lehengas are stocked separately. The price start at INR 10000/piece and goes up to INR 25000/piece. You will jus add 2 more zeroes for the real designer dresses.
The latest designs worn  actresses Alia Bhatt, Katrnia Kaif on their wedding days  are also available at INR 25000/piece.  Further, there are heavy embellished lehengas in several colours- from dark greens and blue to yellow, orange with gold Zardozi work. The dresses appear exclusive and well maintained.
 Salwaar Suits
The range is vast and exciting – with lots of styles and colours. Wedding bells has Anarkali suits, shararas, and gararas with long, gold embroidered and sequins blouses. Gowns with lace and sequins work have become a really nice and different, non-traiditional touch for sangeet or cocktail nights. The shop also has white gowns for Christian brides. IIt is trendy to wear gowns for one function.
Wedding Bells also stocks a few pieces of kundan jewellery on rent – and the best part? If you get a bridal lehenga on rent, you get the jewellery on rent at 50 %!  You cannot get a better deal.
Jewelry on Rent in Lajpat Nagar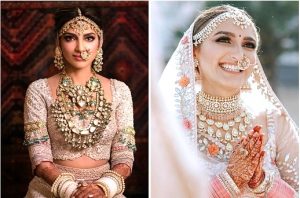 OPTIONS- BRIDAL DRESSES ON RENT
Firstly, Options is located in the basement on the main road of the  Lajpat Nagar shopping area – so you might have to look out for it, but the shop itself is large and well lit.
Jewellery on Rent
This shop is a heaven for bridal jewellery on rent.  In addition, the multi layerd polki (uncut diamonds) necklaces, joomar ( head adornment ) the Jumkas( traditional Indian earrings ) the kamarband , the nose rings , the armlet and the anklets and Maang tikkas (to be worn on the parting in the head) – Options does have a LOT of options to chose from, and we were speechless! it is great fun to have a lot of jewellery at affordable prices.You can even rent it for a friend's wedding too.
Silver bracelets, cocktail rings, silver chains, multi coloured chains, chains with big pendants, pearls with colourful beads, the list is impressive and vast.You can also rent kundan jewellery. The short kundan chokkar with big kundan stones that resemble diamond jewellery with 4-5 lines of diamonds . Alternately , the long kundan diamond jewellery with jade or ruby necklaces.
When you want to look fabulous and you  do not wish to spend lakhs of rupees on jewellery, this is the best thing to do.
Bridal Lehenga on Rent at Wraped
Next we went to Wraped – a small shop in a quite lane in the Lajpat Nagar shopping Market that has bridal gowns, anarakli salwar suits and some bridal wear lehengas. This is a typical shop for Bridal Lehengas on rent. All you have to do is to identify what you wish to wear. There is a tailor (masterji) waiting to make the necessary alterations to the dresses and customize it to your fit. They also have a section for men's wear in another room at the back of the shop that lets men hire – jackets, kurtas and sherwanis, safas . They also stock dresses for the bridesmaids, families & friends.
 Bridal Dresses on Rent -LALJIS Trousseau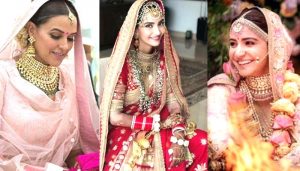 Laljis, located next to Wraped, is quite a large shop, focused on wedding accessories and jewellery – all of which you can rent for your big day. This is really fabulous, as you can style yourself perfectly and not spend all your savings looking fabulous.
Jewellery on Rent
Laljis has a stock of wedding jewellery primarily gold and kundan jewellery. There are a few sets of gold jewellery on display. Filigree gold work jewellery, gold choker and a long chain sets, as well as large earrings and bangles.These are all silver-plated gold jewellery – and you can rent an entire set for your wedding – which is fantastic. Of course, you can also purchase some of the bridal jewellery if you wish to.
Further, Laljis also has wedding accessories such as Thalis (plates) Potlis (bags), pagdis (head scarf for men), paper garlands and a variety of other wedding essentials that are beautifully displayed. We really liked the banarsi fabrics that can be used for puja and as a dupattas.
So, if you wish to hire the entire wedding costumes for the bride & the groom & their friends & families, go straight to Lajpat Nagar Market.
TIPS for LEHENGAS ON RENT
Before you rent dresses and jewellery, remember the following:
The garments and jewellery are available on rent for 3 days.
There is a Security deposit which is in proportion to the rent of the dress or jewellery.
The garments are dry cleaned before and after they have been given out on rent – so they look clean and ironed.
There is a tailor (masterji) who can alter the dresses and the blouses. Typically, the lehenga (skirt) is not altered, because it has a stretchable waist band.
Related Blogs:
On your wedding day -"People will stare. Make it worth their while"
---
View our videos
SIGN UP FOR NEWSLETTER
Be the First to Know. Sign up to newsletter today