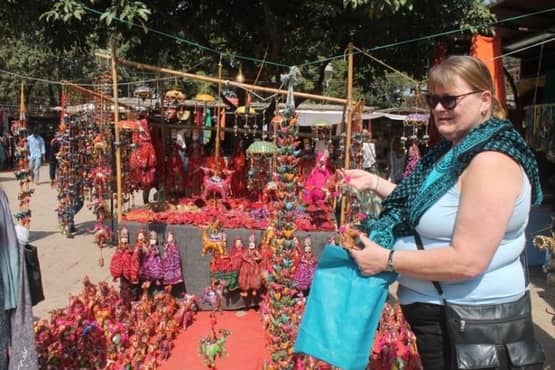 7 Best Indian Handicrafts to Buy When You Visit India
Nov 13, 2018
Kausy M
2076 views
add comment
Handicrafts in India  
India is a vast country with multiple States, multiple cultures and multiple ethnic groups of people. Handicrafts in India are rich, amazing, varied & distinct. For example, each Indian State has its own set of unique handicrafts. The cultural diversity has contributed to the richness in Indian Handicrafts.
Here we have picked up some of the Best Handicrafts in India from a few Indian States.
1.Madhubani Paintings – BIHAR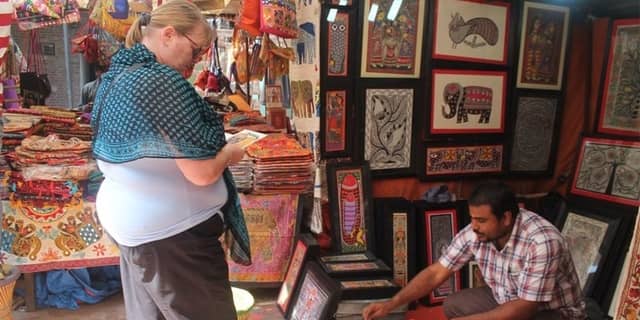 Firstly, Madhubani is a traditional painting form which originated in Mithila, in the State of Bihar. It is thus called Mithila or Madhubani painting. It is one of the best handicrafts in India. Madhubani is also practiced in Nepal, which is adjacent to Bihar. Women of this region would do Madhubani painting on the floor and on the freshly plastered mud walls of their homes. Hence, this form of  painting developed from simple everyday life.
Madhubani paintings are colourful portrayals of marriage processions, festivals, tales from mythology and/or the flora & fauna of the region. Today, the paintings are done on canvas.
Creating Madhubani
The paintings are done using powdered rice and the colours are derived from plant & natural sources. Twigs and fingers are used to create the Madhubani paintings. They are usually done before festivals like Durga Puja, Diwali, Holi, or on the occasion of the birth of a child in the family, marriages and so on. There are three types of Madhubani painting.
Kachni  is where the painting is done with black & white  lines.
Bharni  is where the subjects painted with colours and
Godhana is done in  concentric circles on parallel lines.
2.Papier Mache – KASHMIR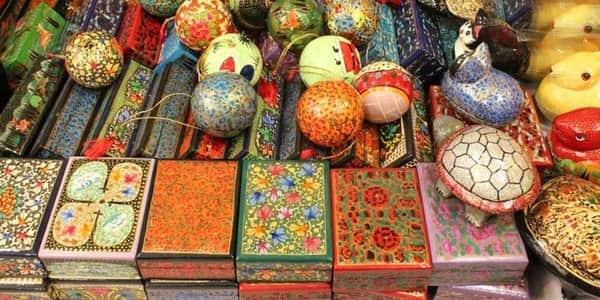 Objects made in  papier mache, do not fail to charm you with their attractive colours and designs. There are wall hangings, boxes, Christmas decorations, trays and room partitions .They are all highly decorative and colourful when compared to brass or bronze handicrafts . Above all, they are one of the best handicrafts in India.
Originally from Central Asia, the art of creating beautiful objects out of paper has been passed down from  one generation to the next. The Muslim rulers of Central Asia patronised this art.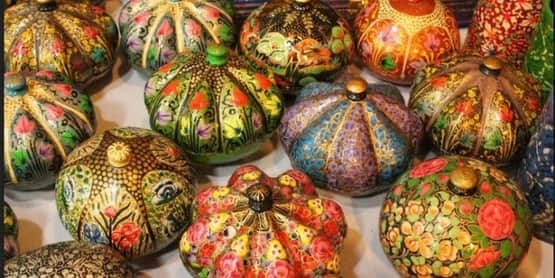 Creating Papier Mache-The process starts by soaking waste paper till it degenerates. The water is drained and the pulp is mixed with adhesives and then moulded into shape. It is dried, polished and then the exquisite art work begins. The artisan draws the necessary designs on the material and paints it. Lacquer polish is then done on top, to give it the required shine.
3.Mirror Inlay –

UTTAR PRADESH

 & RAJASTHAN
Stained glass and mirror on the walls has been an age old decorative art form to adorn homes and churches. In India, particularly in  the villages of Rajasthan & Gujarat it is popular. In addition, people use coloured glass pieces and mirrors to decorate the entrances to their homes and on the wall of their homes. The use of coloured mirror & glass is now prevalent in several objects.
Mirror inlay work originated from Central Asia similar to the Papier Mache handicrafts. For example ,The Taj Mahal and the other Mughal architecture buildings have a lot of mirror inlay work.
Creating Mirror Inlay
Firstly, Mirror inlay starts with drawing the design on a piece of paper and sticking it on a wooden plank. The colourful glass pieces are then glued on to the paper. Powdered marble is then poured over the remaining areas. Images of birds, animals and flower vases with colourful flowers are some of the popular designs in mirror inlay work. Mirror inlay plates are very popular and are considered one of the best handicrafts in India.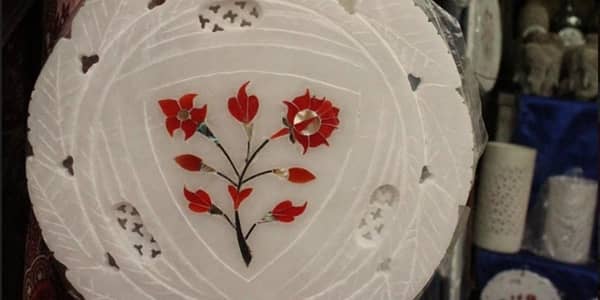 Wall hangings, plates and  miniature Taj Mahals  as souvenirs are available. The artisans also make lamp shades and wall hangings from mirror inlay work. When you visit a fort or a palace in Rajasthan, it is not unusual to see images of wedding processions, kings and queens on the walls  all  in mirror inlay work.
The coloured glass pieces reflect the sunlight and brighten the room. Sheesh Mahal, in the Amber Fort Palace is an amazing area with about a thousand tiny mirrors on the walls. A candle lit in the room transforms the room to look like a magic kingdom.
4.Kathputli – RAJASTHAN
Who can forget the wonderful song from the Sound of Music on the puppets?
 High on a hill was a lonely goatherd
Lay ee odl lay ee odl lay hee hoo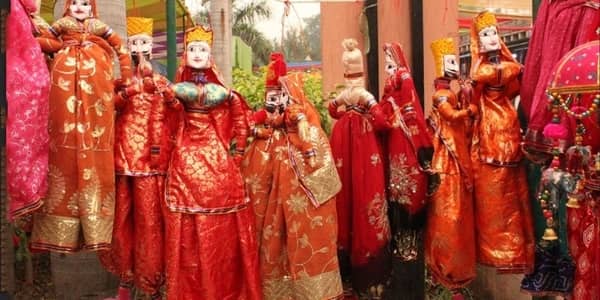 Puppets are famous world over and India is no exception. India has a tradition on puppetry particularly  in Rajasthan. Story telling essentially involved puppets in the olden days. They were props that aided the story. Story telling in the villages of Rajasthan in India was enhanced with puppets .This were made entirely from wood covered with cotton cloth and tied with a metal wire which acted as  a string. Further, a town in Rajasthan is called Kathputli. It is famous for puppet making.
The Kathputli  tradition is a very old tradition. Kings and nobles from Rajasthan were patrons of Art and Craft and they encouraged the puppeteers and story tellers who went from one village to the other, singing praises of the kings & his deeds. Katputhli is also one of the best Best Handicrafts in India
5.Soapstone Products- AGRA IN U.P.
This material (also known as steatite or soaprock) is a talc–schist, which is a type of metamorphic rock. It is largely composed of the mineral talc, thus is rich in magnesium.
Some of the properties of soapstone has made it the preferred choice for sculptures, fountains and scarab are that they are soft, easy to carve, nonporous and heat resistant. The texture has a soapy feel to it.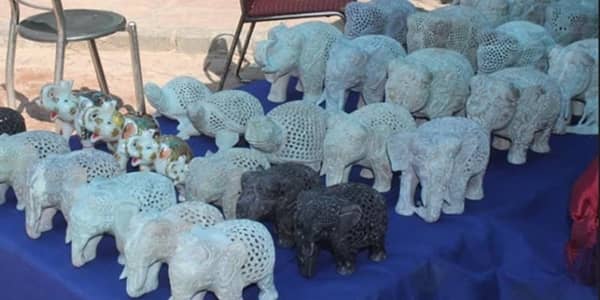 Soapstone is a rock, and its mineral composition can vary. It is bluish, grey or pinkish in colour. Soap stone is a rock and one set of stone will be very different from another. Hence, there are colour variations in the products made of soap stone.
The Inuit and the Africans often used soapstone for traditional carvings. Native Americans used soap stone for cooking and ornamental purposes.
This metal  is an alloy made of copper and zinc . It has a bright gold-like appearance and is used to make items for decorative purposes. It is certainly one of the most popular and aesthetic handicraft pieces.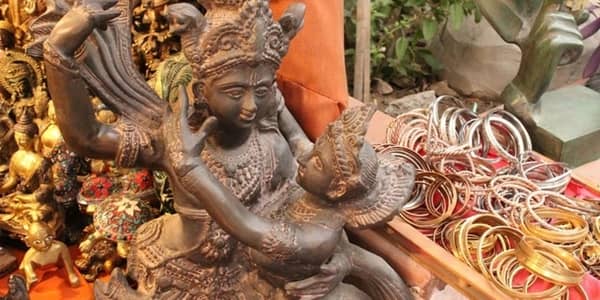 In addition, they are used to make bearings, locks, plumbing essentials, musical instruments in fittings, tools & zippers. In addition, it is commonly used to make idols and Hindu deities.
Furthermore, brass lamps and brass deities are very popular in South India and in States like Orissa. As a result, the temple bells and huge temple lamps are made of brass. Brass artefacts are one of the best Handicrafts in India.
7.Wood Paintings & Carvings – TAMILNADU, KARNATAKA & KERALA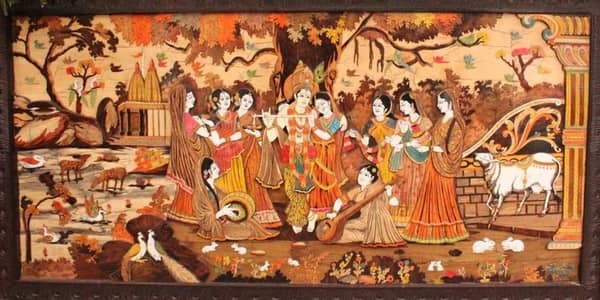 Firstly ,wood is a medium used for making carvings, paintings, toys and wall hangings. Wooden panel paintings is an old art form in India. Wood is combined or coated with reisin to make a smooth surface for painting.
Finally, the wood panel is coated with hot wax. Wooden painting is done in layers  due to which  the rich colours are enhanced in the painting.
Wood is carved to make doorways, pillars and other decorations in India. Chettinad is a town in Tamil Nadu where wooden pillars are generously used. Swings made of painted wood are popular in the State of Gujarat.
Wooden paintings are famous in Tamil Nadu, Kerala & Karnataka. Scenes from the Ramayana, Mahabharata & Images of deities are drawn & painted on wood.
To conclude ,we would recommend that you check out these handicrafts for a taste of India .
---
View our videos
SIGN UP FOR NEWSLETTER
Be the First to Know. Sign up to newsletter today