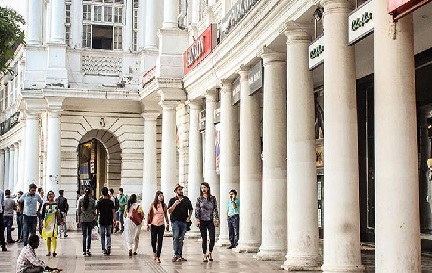 Connaught Place
Connaught Place is one of the largest commercial, financial and business centres in Delhi. It is also known as Rajiv Chowk. Further, It was developed as a showpiece of Lutyens' Delhi. Named after the 1st  Duke of Connaught & Strathearn, the...Read more
Connaught Place is one of the largest commercial, financial and business centres in Delhi. It is also known as Rajiv Chowk. Further, It was developed as a showpiece of Lutyens' Delhi. Named after the 1st  Duke of Connaught & Strathearn, the construction work was started in 1929 and completed in 1933.
There are some places in a city which commands a deep-seated loyalty from its denizens. It is also known as CP in short. Connaught Place is one place in the Capital which will never lose its place in the hearts of locals visitors and tourists Connaught Place has Georgian architecture. As a matter of fact, it is  modelled after the Royal Crescent in Bath, England.
Further, the sheer architectural beauty of the austere white buildings in CP is striking. In addition,  Robert Tor Russel and W H Nicholls designed it a circle, the loop was opened up during construction. What came up was a horse-shoe shaped inner and outer 'circle'.Work started in 1929 and was completed in 1933.
The circles house colonnaded and two-tiered buildings with shops and restaurants on the ground floor. Also, the residences on the first floor have been mostly replaced by offices, banks and other commercial establishments.
Take a look at the video link:
Connaught Place(CP) Market, Delhi, India | Shopkhoj
The Inner Circle & Outer Circle
The inner circle or Connaught Place is now known as Rajiv Chowk and has blocks A-F. It houses shops like Adidas Originals, Allen Solly, Bentley, Bon Ton, Cantabil, Gas, Johnson Watch Company, Kalpana, Lee, Louis Philippe, Neelkanth Jewellers, Nike, Orra, Park Avenue, Pepe, Proline and Fila, Roopchand Jewellers, Snowhite Square and Wills Lifestyle.
Indira Chowk is the new name of the outer circle, also called Connaught Circus. It has blocks G-P. Moreover, Digjam, Lacoste, Omega, Rado, RL Exports and TAG Heuer have showrooms here.
A middle circle automatically emerges between the two. It is linked to the outer ring through a middle lane with automobile spare shops, stationery stores and residences. A beautiful Central Park with green lawns, water bodies, fountains and trees and shrubs surely adds charm to CP. Below this is the Rajiv Chowk Metro Station from where hordes of shoppers and tourists emerge.
Best Shops in Connaught Place
CP is certianly home to most international brands in apparels, electronics, footwear, optical and watches. It also has shops that sell artefacts, curios, handicrafts, paintings, picture frames, carpets and shawls. It is one of the original Delhi shopping markets. However, in recent times, Khan Market, South extension Market  and the Delhi Shopping Malls are the much sought after shopping places  in Delhi.
Drop in at the Khadi Gram Udyog for traditional Indian wear, TANTRA for trendy tees and People's Tree for accessories, T-shirts and books. Further, Ganguly & Bros is an old shop for watches and clocks.
 Book Shops in CP
If you love books, there are some very old book shops including Cambridge Book Depot (1943), Bargain Book Store (1947), Famous Book Store (1933), Amrit Book Company (1936), Mehta Bandhu (1960) The English Book Depot (1938) and Central News Agency (1936) and many new ones too.
With the massive renovation work undertaken, the British colonial shopping area is definitely getting a new shine now. Some Delhi shops which had closed down or moved operations temporarily are returning.
An underground air-conditioned market for well, everything at dirt cheap prices is the Palika Bazaar. If you go further down, you will find Janpath's flea market, Tibetan market and the Central Cottage Industries Emporium.
State Emporiums in Bhabha Kharak Singh Marg, Connaught Place
In the other direction is Bhabha Kharak Singh Marg which houses the emporia from different states. And opposite to this is the old made-to-order denim market, Mohan Singh Palace. It boasts of 80 odd shops to this day, surviving solely on orders from loyal customers. Same is the case with Shankar Market – a fabric and accessories haven for locals, near the Super Bazaar – those who have shopped here, will shop only here.
Further, you will find a lot of vendors on the streets selling colourful embroidered mats, trinkets, old coins, curios, and sunglasses as well.
Restaurants in Connaught Place
There is a smattering of new-age fast food chains – McDonalds, Subway, KFC and Pizza Hut. But a visit to Connaught Place is not complete without a stop at Wengers Bakery. Fa Yian in the middle circle is a favourite for Chinese food. Bhape-Da-Dhaba in outer circle is legendary. If you want to hark back to the colonial era, visit heritage restaurants like Embassy, United Coffee House and Kwality restaurants.
Then there is  Saravana Bhavan, Nirula's, Farzi Café, warehouse café & more. When it comes to street food, you have plenty of options here. Try out sprouted green gram chaat, sweet potatoes, cucumber slices and roasted peanuts, and corn cobs.
Connaught Place is one of the best places for shopping in Delhi.
Read our related blogs:
Connaught Place Delhi Shopping and Food Tour
10 restaurants in Connaught Place you must visit after a long day of shopping
---
197 views