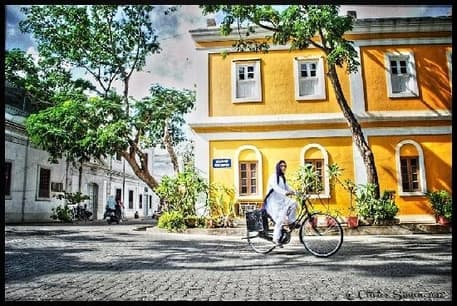 French Quarters, Pondicherry
The French Quarters is the most beautiful setting in Pondicherry. Right in front of the sea, facing the Promenade, you will spot neatly arranged rows of houses in a grid pattern. It is very idyllic and European in ethos and...Read more
The French Quarters is the most beautiful setting in Pondicherry. Right in front of the sea, facing the Promenade, you will spot neatly arranged rows of houses in a grid pattern. It is very idyllic and European in ethos and atmosphere. There is a lot of history here. The French ruled in Pondicherry from 1670 to 1954 and left an indelible mark on the city with their architecture, among other influences.
Best Shopping in Pondicherry
In addition to the Gandhi statue, there is also a tall statue of Dupleix as well as a French War Memorial on Goubert Avenue on the Promenade. There is also a marble statue of Joan of Arc, which is located in front of the Church of Our Lady of the Angels in Dumas Street. The Bharathi Park, the Governor's residence, the Pondicherry Museum and the Aurobindo Ashram, are all in the French Quarters.
If you are in the beautiful city of Pondicherry, you ought to visit AURA in the French Quarters. The shop is fairly spacious and popular for its range of personal care products. Its location, just opposite to the beach on the Promenade, also makes it perfect for shopping in Pondy.
Shops in Rue Rolland & Rue Dumas
The French Quarters is characterized by churches, convent buildings and villas painted in white or cheery yellow. Several of these residences have been converted to boutique shops in Pondicherry. Wander around these streets, all with French names, on foot and shop at a relaxed and easy pace. There is no market frenzy that you would typically have in other big cities. Rue Dumas, Rue Romain Rolland, Rue Suffren and Rue du Bazar St Laurent are some of the streets with best shops in Pondicherry.
Many of these shops have small cafes with interesting cuisines situated within their premises.
Check out Shopkhoj for market reviews in Pondicherry.
Read our latest blogs:
Top 10 Handicraft shops in Chennai
Best shops for Auroville Products
---