6 Saree Blouse Designs To Select This Season
Oct 21, 2020
Jyoti
869 views
add comment
Spaghetti straps and ruffle sleeves, trapeze necks and slit backs, the saree blouse is getting spunky. From bizarre to bohemian, the styles are a plenty. Shopkhoj brings you the latest  saree blouse design. We also tell you where to buy saree blouses online. The blouse is a critical element and completes the final look for the saree. It complements the  grace & beauty of the saree.
 The simple Saree Blouse Design
Bollywood heroines like Sharmila Tagore & Hema Malini looked demure & divine in a saree. Saree blouses were simple and just a functional garment. There was nothing fancy about blouse designs. For instance, Mrs. Indira Gandhi and heroines like Sharmila Tagore sported similar styles when it came to saree blouses. So did several others, be it a highly influential lady, an airhostess or a common housewife. Saree blouses were plain & simple. There was hardly anything glamorous about it.
The concept of ready-made blouses did not exist at all. One just had to share the fabric & measurements with a neighbourhood tailor and have them stitch the blouses for you. In fact, one had to buy the blouse material separately to get them tailored. It is only in the 90s that the saree was woven with blouse material attached to it.
 Saree Blouse Design & Bollywood
Slowly, blouse designs began to evolve. One could see Nargis, Rajmata Gayatri Devi and such trendsetters sporting stylish blouses. There were puff sleeved blouses and long-sleeved blouses. Soon, Bollywood started to experiment with saree blouse designs in films. Above all, the connection of high-profile designers with Bollywood brought in fresh thinking to the  mundane saree blouse. The boring blouse became stylish & chic. Madhuri Dixit introduced new styles in the 90s.
 Celebrity Saree Blouse Designs
It was during this time that young girls started to ape the fashion trends of heroines. They were keen to apply make-up and be fashionable. And what better than copy Bollywood styles. Magazines such as Eves Weekly, Femina, Stardust and Film Fare  were all readily available to young girls to copy celebrity styles.
Internet- Saree Blouse online 
With the advent of the internet, magazines were no longer  the medium through which to copy styles. The internet made it easy to follow celebrity styles. Then came the mobile phone revolution. In addition to following fashion, one could easily  click photographs of styles and designs. One could search and download all the images in one go. What's more, one could share designs effortlessly. Social media added more ease and agility to the whole concept.
Ready Made Saree Blouse Design
The latest phenomenon is of course online shopping. The concept of tailoring a saree blouse has become alien. Ready Made saree blouses are available now. In addition, the pandemic has forced a majority of the shops to be present online. And so, you have blouses in Amazon, Flipkart, Jaypore, Ritu Kumar, Kalki Fashions and a host of other brands selling blouses online.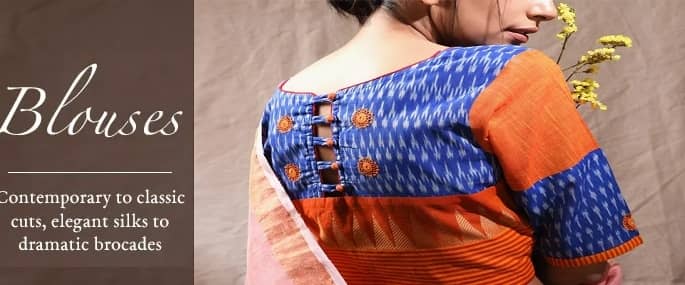 Bespoke Saree Blouses
However, the customized tailoring of chosen designs is of course always a possibility. You can choose designs and get them tailored at
Shalini Kakkar Designs – +917042069697
 Saree Blouse Design 2020
Let us check BLOUSE DESIGN 2020 styles here
1.Sleeveless blouses
They are a universal favourite. Come summer and everyone prefers this saree blouse design. Even during the early winter months, one can carry off the sleeveless choli with a light shawl if required. Sleeveless blouses present a non-traditional look.
2.Spaghetti straps add a touch of glam and spunk to the simple sleeveless blouse.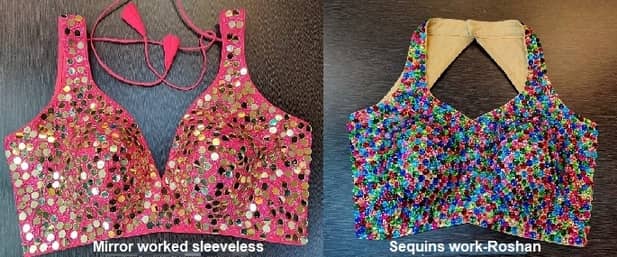 3. Cap sleeves and puff sleeves
The puff sleeves were in fashion in the 60's and 70's. They are ideal as silk saree blouse designs also pattu( South silk) saree blouse designs.  It is still an alternative to simple straight sleeves. For women who do not want to expose their arms with sleeveless blouses, this is an alternative to simple puff sleeves. The puff sleeves can go all the way down and cover the entire arm too.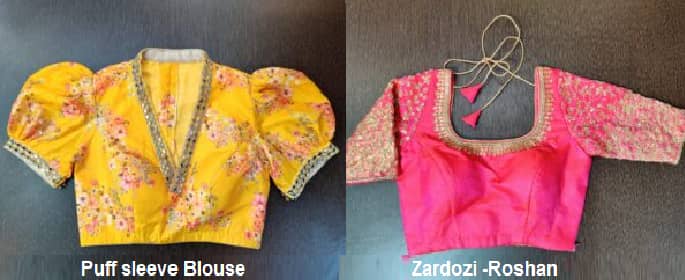 4.Ruffle sleeves-Ahh, this is the latest fashion trending now.
5.Full sleeves- Transparent full sleeves or the one with a slit do look fashionable too.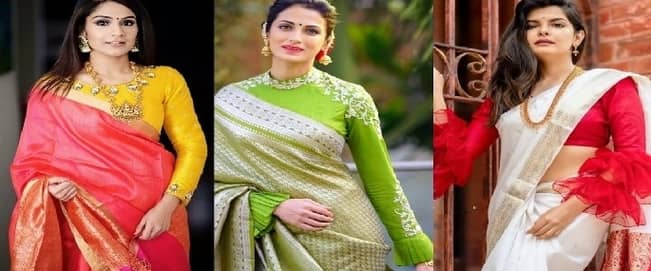 Neck Saree Blouse Designs 
One can choose a deep round neck, a V neck or a boat neck or a trapeze neck. The choice is all yours.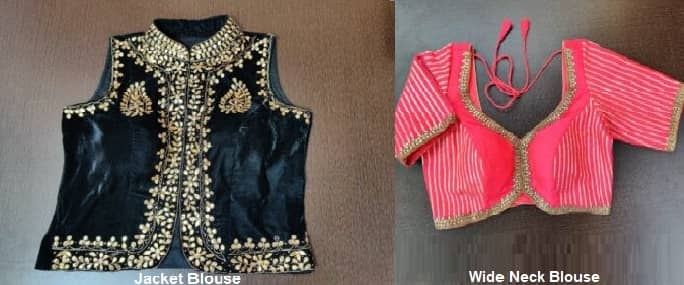 Back Saree Blouse Design 
When it comes to designs for the back. The garba dancers from Gujarat have strings on the back to hold the two ends of the blouse at the back. This saree blouse design is desired by young girls. If one is bold enough one can choose this design. The options are many from a low strap back to a transparent back or a slit back. However, during winters a high back with a collar could keep you warm.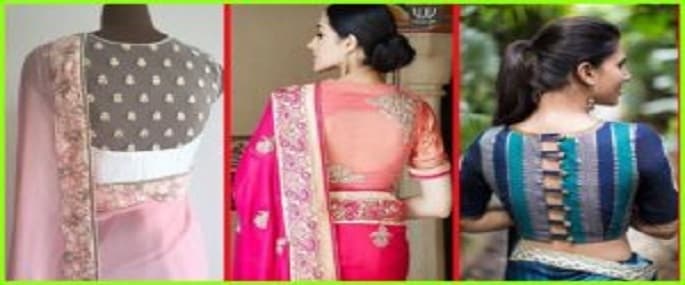 The style is all your to choose and look elegant, bold, demure and spunky…..
All this is available online.
What is stopping you now ? Check out the styles and designs available online and just select. The Shop will ship it to you.
Related blogs
Best Bridal Wear shops in Delhi
Bridal wear lehenga shops in Chennai 
Also Read :
https://www.vogue.in/fashion/content/best-designer-blouses-spotted-at-india-couture-week-2020#intcid=_vogue-in_e37b5b51-d96e-4914-9258-c967211ffc20_cral2-2
---
View our videos
SIGN UP FOR NEWSLETTER
Be the First to Know. Sign up to newsletter today