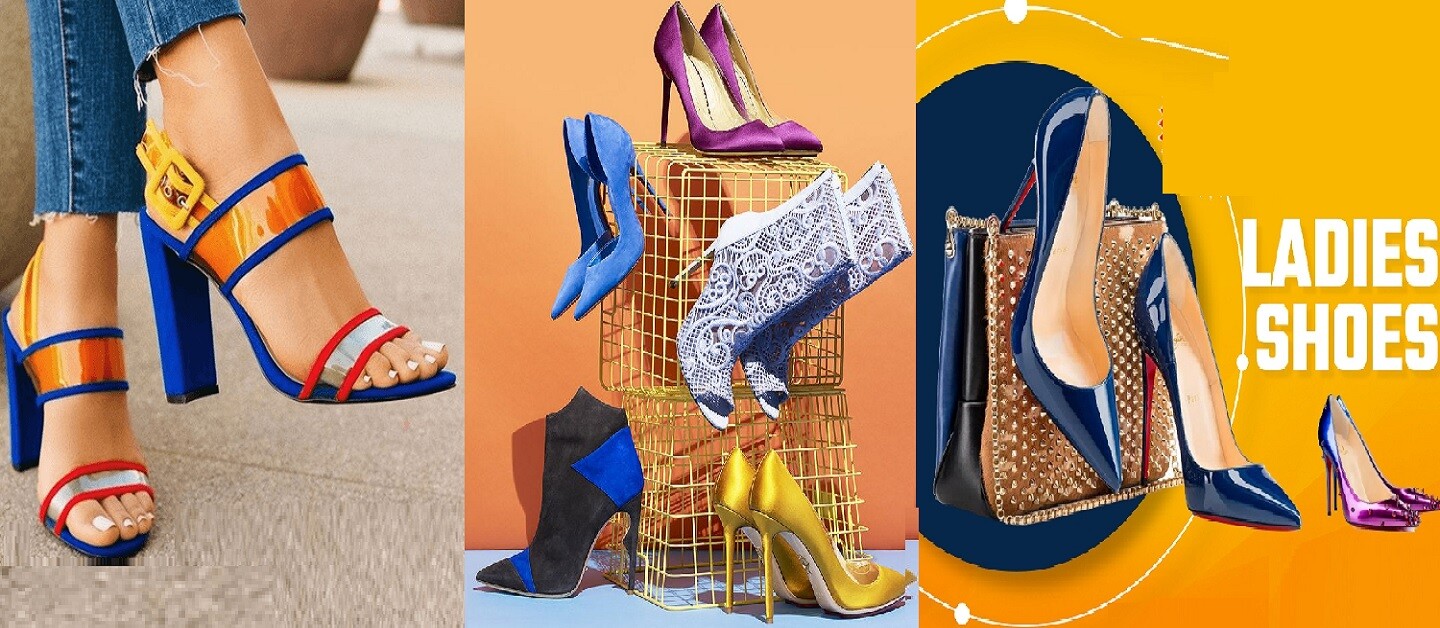 Shoe Market in Delhi
Ananya Madhavan
781 views
add comment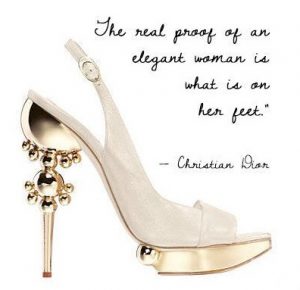 In the fairy tale story about Cinderella, it is the shoe that changed Cinderella's life.
The importance of shoes or footwear cannot be over emphasised. Shoes are a functional & mandatory accessory.  In addition to protecting our feet from dirt & mites, they provide support & stability to help align our posture. They also add an element of colour & style to our dressing. In other words, we all need proper shoes. And we need it on a variety of occasions -Work, leisure, party, wedding, travel and so on.
Types of Shoes
Firstly, let us know about the different type of shoes.For insatnce, let us understand the difference between an Espadrille & a Mule.  Or for that matter, a ballerina, and so on.
Espadrille
They are generally rope soled flat shoes.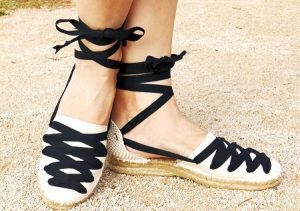 Mule shoes
They are formal open shoes that have a little bit of heels.In other words, they give more support to the feet than flip flops.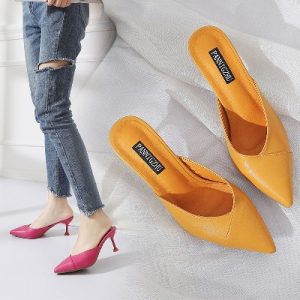 Ballerina
-Ballerinas or ballet pumps are flat soled shoes that are super comfortable.  For example, dancers & ballerinas wear these kinds of shoes.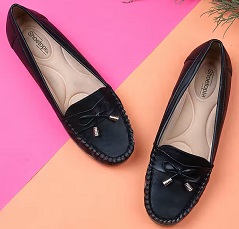 Boots
Ankle boots are stylish short boots that go up to the ankle.  In other words, they are comfortable & good for mild winter months. Similarly, Chelsea boots are also ankle boots that have elastic on the sides.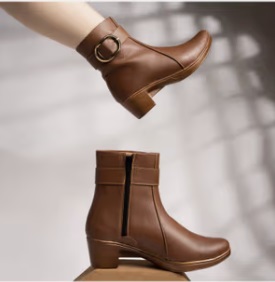 Court Shoes
They have medium height heels & a pointed toe.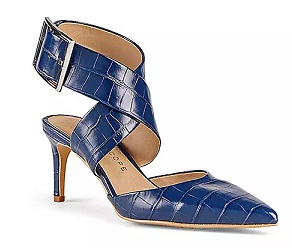 Brogues
-Brogues are like ballerina flats. They are more formal in black or brown colors.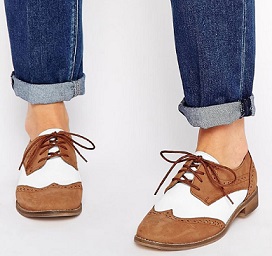 Wellies
Wellies are weatherproof shoes. Ideal for rainy months & the outdoors. They come up somewhere below the knee.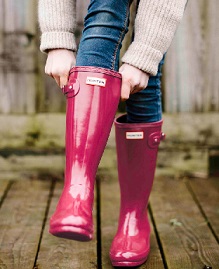 Wedges
Wedges are high heels and have a raised platform from the toe to the heels. They are more comfortable than pencil heels.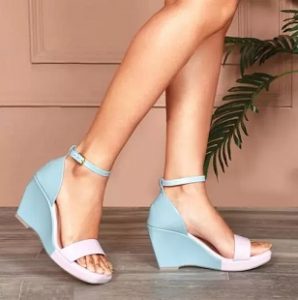 Juttis-are closed flat shoes made of camel leather. for example, they are ideal for Indian ethnic wear.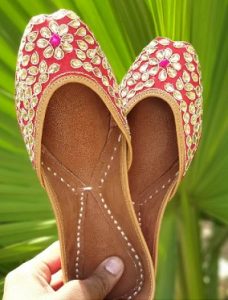 Kolhapuri Chappals are very colourful open footwear They are made in Kolhapur in Maharashtra. For instance,they look best when paired with ethnic dresses.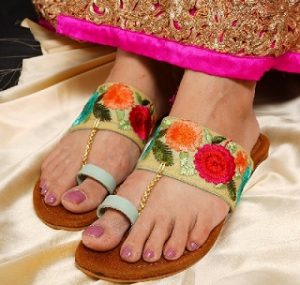 Check this video to know more
https://www.youtube.com/watch?v=H7JUxISd0Qs&t=5s
Choosing the right pair of shoes
As mentioned, we all need different kinds of shoes to carry on with our lives. Being fit & healthy is gaining   importance. Hence, we need proper footwear or trainers to exercise, go for a jog or our daily walk. Next, we want comfortable work wear shoes. And then there are social occasions when we need a fancy pair of shoes. Further,
picture perfect heels are required to go partying or to attend a wedding. Shoes must be comfortable as we spend long periods of time wearing it. It is hence important that we choose our shoes wisely. Style & comfort are of paramount importance. Finally, the price must be right.
Delhi Shoe Market
The shoe market is Delhi is interesting & vast. From cheap footwear & imitations at Rs 150/pair to luxury footwear at Rs 8000 /pair & everything in between is available. As a matter of fact, large sections of the society in Delhi  go for very affordable footwear.
Further, there are super luxury brands such as Jimmy Choo & Christian Louboutin which retail at Rs 17000/pair.
Let us explore Shoe Markets in Delhi
This market in South Delhi is on the Ring Road.
There are innumerable shops for sports shoes, trainers & sneakers such as Nike, Adidas, Bata, Reebok & so on. As we are all aware, sports shoes & sneakers are very comfortable shoes. In other words,they are in fact replacing stylish footwear at weddings & dance floors. Serena Williams was famously seen in her trainers at the royal wedding of Prince Harry & Meghan Markle.  For example, she made wearing sports shoes at parties very fashionable.
In addition, this market has several shoe shops for
Party Wear shoes
Bridal Wear sandals
Casual sandals
Mirror worked & embroidered Juttis as well.
Pros
Smart & stylish shoes. The prices will range from Rs1000- Rs3000/pair. It is good value for money. In other words , the best thing about South Extension Market is that the shops are well appointed & they are adjacent to each other. The range is vast & prices are reasonable. Shop at -Vanson, Venus Steps,Metro, Regal, Woodland &  Gulmohar Shoes

and several other malls  in Delhi NCR have an eclectic collection of shoes . As a matter of fact, several international brands have opened their stores in these malls.
For instance, the Select City Mall in Saket has the following brands – Clarks, Rosso Brunello, Steve Madden, Charles&Keith & Aldo for Party Wear Shoes.  While the range is not vast, they are superbly, stylish & comfortable shoes. Average price range -Rs5000/pair
Shops such as Zara, H&M & Marks & Spencers, who  are primarily clothing stores, also stock  stylish sandals & winter boots. Price range -Rs4000/pair
Further, if you are on the lookout for trendy juttis to be paired with Indian ethnic wear, Needle Dust is the shop in this mall. Average price is Rs3000/pair.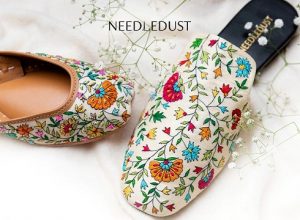 has Birkenstock, Aldo, Charles & Keith, Steve Madden & Woods in addition to Clarks & Hush puppies. Price range will be Rs4000-Rs6000/pair. In addition, Fizzy Goblet in DLF Promenade is the shoe shop for juttis.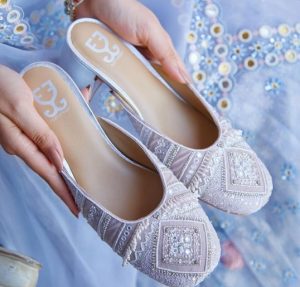 Venus Steps, Balujas, KK Lee, Kalaniketan ,Hyde Out  are some of the best shops in this Delhi shopping Market for good sandals  & shoes . For example, Venus Steps & Kalaniketan are best known for Party & bridal wear. Average price will be Rs2500/pair.
Further, Khan Market has street shops for the latest style footwear at very affordable prices @ Rs1000/pair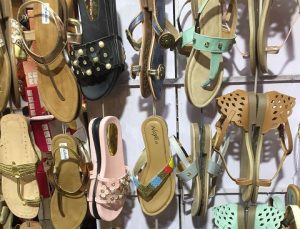 is a large enough market for  sneakers, trainers & party wear shoes too. Further, it is a pedestrian market . Check out Wings, Metro shoes & Stealatoes . Lajpat Nagar & Sarojini Nagar Market also have many shops with very affordable shoes.For instance, you will find more shoes & sandals in the affordable range in these shopping markets.Price range will be Rs1000-Rs1500/pair.
Dilli Haat is an open air market with a variety of juttis and  Kolhapuris sandals -Price range will be Rs700/pair.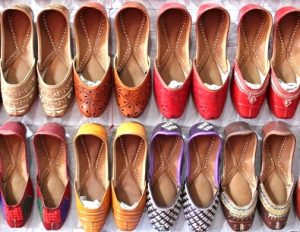 About Shoe Shops & Shoe Brands
Christian Louboutin
Christian Louboutin " Shoes transform your body language and attitude. They lift you physically and emotionally." –
This eponymous Parisian shoe maker started his journey in the early 90s.  Chic & sophisticated shoes with  red lacquered soles is the USP of this brand. They also introduced evening bags to match their upmarket shoes. In addition, they also stock men's range of shoes & a  kids collection as well. They are  also into beauty products  – Nail lacquer, lipsticks , makeup products & fragrances .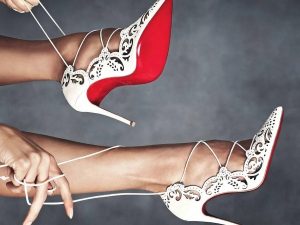 Jimmy Choo(JC)
an eponymous brand is a leading global brand  that started in East End, London . Jimmy Choo a couture shoe maker & his niece Sandra Choi, the designer, are responsible for the brand's success. They opened their stores in New York & Beverly Hills  within a couple of years of opening their first store in London . They have a global presence with at least 200 stores world-wide. The JC shoe shops  are located in premier upscale locations around the world. You can often spot celebrities sporting JC shoes. They have ventured into accessories such as jewellery, sunglasses&  handbags. In addition,  they have a separate bridal boutique section to cater to brides.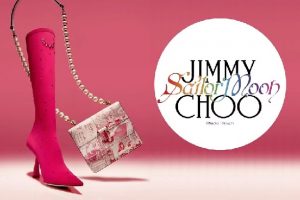 Birkenstock
is a German footwear brand with over 2 centuries of history. John Adam Birkenstock   started making shoes in 1774.  If you are looking for foot comfort -look no further. Today, they create orthopedically inspired shoes. Their core is flexible footbed insoles.  Their range includes sandals and closed footwear in multiple colours.
Average price is Rs4500- Rs 7000/pair.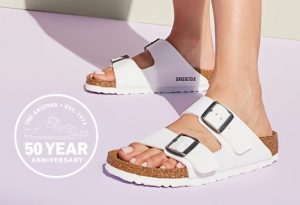 Aldo
is a Canadian Company founded in 1972 for quality fashion footwear. They stock flat sandals, block heeled sandals, dress sandals, pencil heels, sneakers, ankle boots & knee length boots. Average price – Rs4000-Rs8000/pair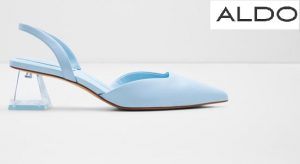 Clarks
Cyrus Clarke & James Clarke founded the Company in the village called 'Street' in Somerset, England. It is Southwest of Glastonbury. They stock comfortable, colorful & causal sandals, shoes, sneakers & wedges in black, pink, red, brown & a variety of colours. Price range is Rs 3000- Rs5000/pair.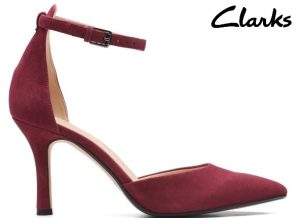 Charles & Keith
–Is a Singaporean brand.Stylish ,unique & modern footwear  is their USP- Metallic two toned sandals & shoes,  pointed toes, heel pumps,  trapeze heels, loafers, slip on flats ,sling back pumps & backless espadrilles. Charles & Keith group has 700+ stores worldwide. USP- Stylish footwear. Average Price is Rs8000-Rs11000/pair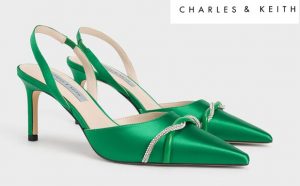 Steve Madden
Another eponymous brand which has its origins in Queens,New York. Boots, Ballerinas, wedges, heels, flats, sandals & loafers. Stylish & modern footwear. You can buy directly from their store online. They stock footwear, handbags & accessories in 80 countries. Average Price is Rs 7000-Rs10000/pair.
All the brands mentioned above are international brands.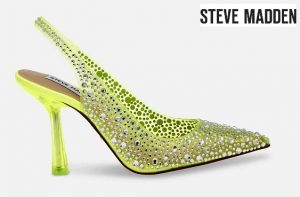 Top Indian Brands
Venus Steps
They stock a fantastic range of party & bridal wear shoes, including ballerina shoes, and potli bags.  Prices range from Rs 800- Rs 4000/pair. Their first store opened in Karol Bagh in the year 2003.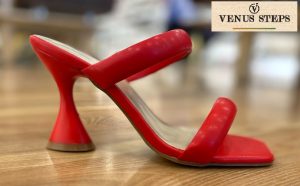 Metro Shoes
Metro shoes started their journey in Mumbai in the year of Indian Independence in 1947. After 75 years they are still going strong with several international collaborations. In addition to affordable footwear for men, women & kids, they stock accessories such as belts & bags, including beautiful clutch bags & evening bags.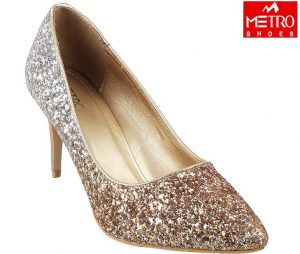 Regal Shoes
–Nearly 70 years ago, Mr. Noorallah Virji started a small shoe store in Mumbai . He merged his venture with Inc 5.Together, they have a wonderful selection of shoes for women.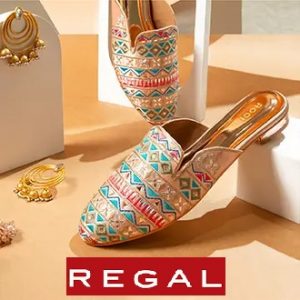 Kala Niketan
– this is another fashionable shoe store in the capital with more than 60 years of existence .They also stock evening bags .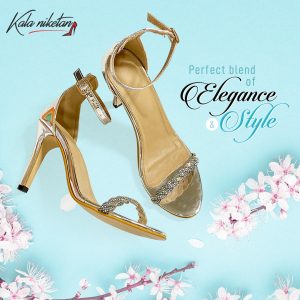 ---
View our videos
SIGN UP FOR NEWSLETTER
Be the First to Know. Sign up to newsletter today