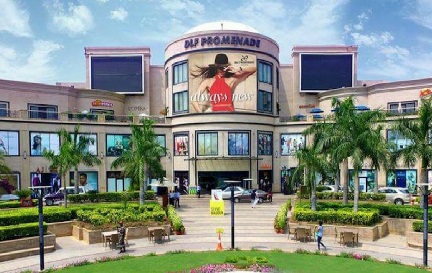 DLF Promenade Mall
Located in the heart of Vasant Kunj, DLF Promenade Mall is a well-designed and spacious Delhi shopping mall. Popular among trend-conscious Delhi NCR shoppers, it houses affordable international fashion brands. The Ambience Mall & Emporio Mall are adjacent to the...Read more
Located in the heart of Vasant Kunj, DLF Promenade Mall is a well-designed and spacious Delhi shopping mall. Popular among trend-conscious Delhi NCR shoppers, it houses affordable international fashion brands.
The Ambience Mall & Emporio Mall are adjacent to the DLF Promenade Mall and the three Malls are well connected. They have sufficient parking space. It is well worth spending a day at these Delhi shopping Malls.
International Brands at DLF Promenade Mall
Zara, Mango, Marks & Spencer, Promod, Tommy Hilfiger, DKNY, CK Jeans, are some of the popular international brands here. In addition,Sunglass Hut, La Senza, Lacoste, Juicy Couture and Harley Davidson, are other  interesting brands that have their stores in this mall.
Similarly, popular Indian brands in DLF Promenade Mall  include Meena Bazar, Satya Paul & Fab India.
Footwear & cosmetics stores at Promenade
Footwear giants like Crocs, Clarks, Charles & Keith, Steve Madden, ALDO and Venus Steps brush shoulders with beauty chains . In fact, as you enter the mall, you will be surrounded by beauty stores such as  Channel, Estee Lauder, Clinique, Lancome, As a matter of fact, as you enter the mall, apart from Chocola, the chocolate shop, a string of cosmetics shops greet you at the entrance.Mac, Too faced, LOcctaine, Forest Essentials are a few of them.
Food in the DLF Promenade Mall
Food Hall is a food retail outlet which  and has a  hugely popular bakery, fresh food products, fresh momos, cheese, breads & fresh food. The 3rd floor in filled with restaurants with  cuisines such as Italian, Thai,Japanese & continental. They are  all very popular and filled to capacity at all times.  The 3 rd floor in the DLF Promenade Mall has several restaurants such as Big Chill, Nandos ,Mamagoto ,YUM YUMCHA and TGIF among many others.
The DLF Food Court
In addition to the restaurants , the food court has many counters that sell Indian and international fare. For instance, try the spicy chats, South Indian delicacies, Chinese noodles or some North Indian cuisine.
Starbucks has a large coffeeshop in the 2nd floor of this  mall.
There is also Cinnabon in the ground floor near the entrance. There is Smoke House Grill and an open air theater between the DLF Promenade Mall & Emporio Mall. The open air theater hosts exhibitions and gets  quite crowded during IPL cricket matches. They also have a toy train that goes around a beautiful fountain near the open air theater to entertain children.
Movies  @ DLF Promenade Mall
There are about 6 movie theaters in the mall that showcase recent releases in English & Hindi.
Housed in the mall are Kiddyland outdoor play area for kids, and The Hub open air lifestyle space. The latter comprises cafés, dancing fountain on the likes of Bellagio, and the city's largest LED screen.
In conclusion, visit the DLF Promenade Mall  is  the most popular Delhi Mall ,if you are in the mood to do some trendy shopping or just to enjoy the crowds and Delhi shopping scene. Don't forget to stop by at the Om Book Shop, which is a place to browse for books and Gizmos and iWorld is for the geeks.
Read our reviews about other Delhi malls here.
---
233 views