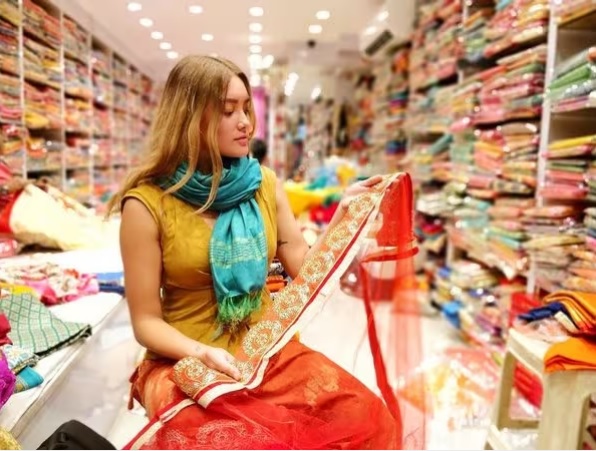 Karol Bagh Market
With the Delhi Metro closing distances, people are venturing out to old favourite shopping destinations despite the proliferation of malls closer home. Karol Bagh Shopping Market is one of the big beneficiary of this phenomenon. Ajmal Khan Road in Karol...Read more
With the Delhi Metro closing distances, people are venturing out to old favourite shopping destinations despite the proliferation of malls closer home. Karol Bagh Shopping Market is one of the big beneficiary of this phenomenon. Ajmal Khan Road in Karol Bagh market, once known for inexpensive ready-made garments, now has an array of huge air-conditioned showrooms of big brands, both Indian and international. Vehicles are not allowed in, so you can walk up and down the street and shop for all you want. Although it does get crowded at times,it is in a way one of the best shopping markets in Delhi.
Top 5 Things to buy in the Karol Bagh Market
 Fashion Jewellery 
Bridal lehengas
Gold & diamond Jewellery 
 Street shopping for bedsheets, Bags & shoes
Imported crockery 
One of the oldest markets in Delhi, Karol Bagh is full of  shoppers for its readymade garments, bridal wear, fabric, jewellery and Punjabi tailoring shops. You can check out imported goods at Gaffar market and shop for cosmetic, stationary, shoes and even iPhones!
Bridal Wear Shops in Karol Bagh Market
There are something very Punjabi about Karol Bagh market – everything is big and showy with glitter thrown in as well. So are the people who run the shops – mostly rich, jovial Punjabis. The spice sultan, Roopak, premium designer wear house, CTC Emporio, Indian ethnic wear majors, Frontier Bazaar, Ram Chandra Kishan Chandra, Roop Sarees, Chhabra 555 and Bombay Selection rub shoulders with Westside, Levi's, Spykar, United Colors of Benetton and Park Avenue.
Handbags in Karol Bagh Market
An entire range of ladies handbags and shoes, non-branded lingerie and cosmetics and casual wear are sold on the streets. The streets are pretty crowded.
Sir's & Hers, Impressions, Meena Bazaar, Fashion & I, Gyans, Karol Bagh Saree House, Panna Sarees, Vasari, Numero Uno, Koutons, – take your pick. You will still find the coveted fabric, embroidered blouse material or suit pieces in one of the smaller shops in the alleys…so make up your mind what you wish to shop for. Once there, flitting between big branded outlets and smaller shops can confuse the mind. Also don't forget the masalas (spices) and namkeens (savouries).
If you are at Karol Bagh for bargains and best deals, you should check out Tank Road as well. Though it is better known for wholesale garments, especially denims, it has some good shops for Indian wear too.
You should make a beeline to Arya Samaj Road for second-hand books.
Jewellery in Karol Bagh Market
However, if you are looking for authentic gold and diamond jewellery, Bank Street is the place to be in. The best jewellers in Delhi including, PP Jewellers, Khanna Jewellers, Tanishq, Mehrasons and a host of others do business here.
Then there is the good old Gaffar Market. Known for imported and smuggled products in every conceivable category, it is also famous for cheap mobile phones, often second-hand, and iPods and iPhones. You will also get cosmetics, footwear and imported hair clips here. The Tip Top shopping Market for crockery, glassware & glitzy home decor products is near the Gaffar market.
Mouthwatering Snacks in Karol Bagh Market
There is simply no escape from Roshan Di Kulfi, once you set out to shop at Karol Bagh. It is a rage! Tera Hotel is a dhaba that pulls the crowds. Pind Balluchi and Hotel Balaji are the bigger restaurants. Simpler ones like Shudh and Raffles are more convenient eat-while-you-shop places. Sardar ki Tikkis (potato-filled spicy cutlets) and Anjalika's sandwiches are local favorites. Popcorn, berjer, (burgers served at street corners), and sweet corn are other choices.
Karol Bagh market is a fairly cheap place to go shopping in Delhi. It is the best place for bulk buying.
Read reviews about other Delhi shopping markets here.
Our Recent Blog
Top 7 Hidden Gems in Delhi Shopping
Best Shopping Place in Delhi for Wedding Gifts
---
301 views