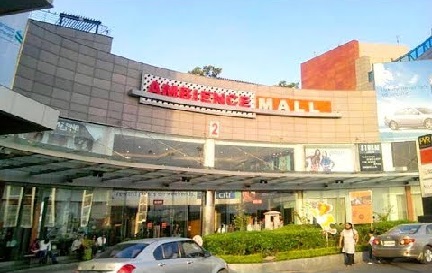 Ambience Mall, Gurgaon
At Ambience Mall Gurgaon, sheer size and scale do the talking. The experience of walking a one km stretch, floor upon floor, in air-conditioned comfort is quite unique. The mall entices shoppers with an array of awesome stores and entertainment...Read more
At Ambience Mall Gurgaon, sheer size and scale do the talking. The experience of walking a one km stretch, floor upon floor, in air-conditioned comfort is quite unique. The mall entices shoppers with an array of awesome stores and entertainment options.
Your trip to the mall stands incomplete without visiting Big Bazaar for your daily grocery needs!
International Retail Chain Stores in Ambience Mall Gurgaon
International and domestic retail brands vie with each other for attention at Gurgaon's Ambience Mall. UK's top retailer, Marks & Spencers have set up one of their biggest showrooms here, and so have the French and Spanish fashion houses, Promod, Zara and Mango.
Firstly, they are by far the best shops for western wear dresses. Jackets, tops, trousers, skirts, dresses are available here. One can shop for casual wear dresses  and party wear dresses in these stores.
The millennials are opting for western wear dresses in the work place. Therefore, the international retail stores stock excellent clothing that is real value for money.
In addition to dresses, they stock shoes and boots, light accessories such as earrings and bracelets.
Further, Marks & Spencers has a huge section for personal care products. Body wash, hand wash, shmapoos conditioners, body creams, moisturisers, hand creams, foot creams and room freshers are stocked in multiple fragrances. In fact, it is probably one of the best places to shop for such products.
Zara has one of the biggest showrooms at the entrance to the Mall. Tees, tops, pants, jackets and dresses are stocked in plenty. They  also stock stylish shoes and boots that are comfortable and appropriate for the winter.
Indian Designer Wear in Ambience Mall Gurgaon
Indian designer and ethnic wear are a glitter at Satya Paul, Ritu Kumar, Meena Bazaar, Anita Dongre et al.Anita Dongre store has Indo western fusion dresses that are stylish. They also stock lehengas and ethnic wear dresses.
Footwear stores & accessories in Ambience Mall Gurgaon
Don't worry about accessories and footwear, cosmetics and lingerie or home decor and novelties. You will find ALDO, Charles & Keith, Body Shop, Lancome, MAC cosmetics and several other international brands here.
Kiko is the new makeup brand from Milan, Italy that has opened its store in Ambience Mall. Walk into Lladro or Rosenthal for artistic figurines and tableware.
Entertainment in Ambience Mall Gurgaon
There is a kid's play zone, a beer garden and a food court  in addition to several other restaurants – the idea is to spend time here. There are also multiple theatres that screen the latest films here.. So just drive down to Ambience Mall Gurgaon and explore the mall all day.
---
120 views