Chaitra Sale –Bengali Shopping Festival
Guest Blogger
1593 views
add comment
Chaitra Sale – Bengal's year ending stock clearance sale is here! Everything you want to buy is available at such crazily discounted rates that you'll have a tough time deciding what to leave and what to let go. Forget online shopping. This jostling, bustling, amazing Chaitra Sale is every shopaholic's dream come true.
It is that time of the year again when the women are at their ecstatic best. However, their men are going through the most painful phase. To be very honest, I do feel sorry for the men because their weekends these days are all about tagging along with their wives in their shopping sprees. In fact, they are just seen floating around from one shop to the other blindly following the home minister without having a single idea about what is going on!!!
Chaitra Sale in Kolkata : Stock Clearance Sale
Yes… Choitro sale is finally in the town. For the ones who have no idea about what that is, well, it is the year end stock clearance sale of Bengal. Dresses, jewellery, crockeries, home decors and any and every other thing that is purchasable is hanging at unimaginable discounted rates all over the streets and shops of Kolkata.
This sale starts from somewhere around the 15th/16th of March and continues till 15th April midnight, which is the last day of the Bengali calendar. That's the official duration. But trust me, the couple of weeks in March are just the warm up period. The shoppers are lackadaisical about going to the market mid-month when they are required to be a bit calculative regarding their expenses. In fact that is the time when the shopkeepers too are still on hopes of making a little more profit on their old stock. This is because the handful of customers plans for an early visit, with a meagre discount of 10-15%.
Lucrative Deals@ Chaitra sale in Kolkata 
But then comes 31st March. Salaries and yearly benefits start getting credited to your accounts; Wallets become heavy enough to buy what you want and the real game begins! Lucrative deals starts pouring in. Deals that will lure your feet into the shops and product prices that leaves you with no other option than to purchase! Up to 50% off everywhere…. and unlike the discount deals you get during the other clearance sales of the year, you just don't need to ponder over that "up to" word much. It's 50% on almost everything and if it's not 50 it's 40.
The 30%s and 20%s in Kolkata now exist for the national and international brand stores like Pantaloons, Westside, Fab India…precisely the ones that are not exclusively for Kolkata. But still to keep business running in this season of bumper sale they also have to play a part in the event.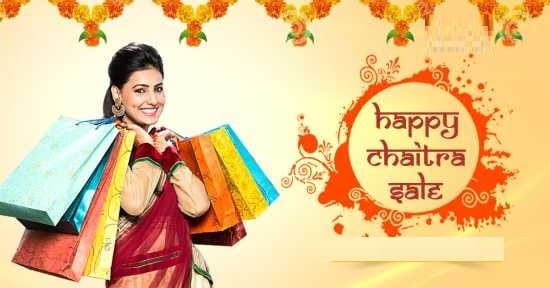 Chaitra  Sale in Kolkata Markets
The markets of Kolkata can be divided mainly into three zones; south, north and central. Dakshinapan and Gariahat are the main markets for south Kolkata, the north Kolkata market stretches from Hatibagan to College Street and the central Kolkata market includes the New Market to Indian museum stretch via Sudder Street; and also Metro plaza and Jagubazaar. Whichever place you visit at this time of the year, anytime between afternoons to late evenings, heads of people are all you will see from a distance and a mixed clamour of voices are all you are going to hear. It's mostly the womenfolk of the city that you are going to encounter; and in the weekends, as I said in the beginning, some very gross faced gentlemen!
Read More: Top Destination For Shopping in Gariahat, Kolkata
My early memories of Choitro sale are not really of new dresses or other shopping activities that I was a part of… it's rather of my mother entering a particular section of the market and me and my father going for a stroll. We passed our time on fruit juices, ice creams, roadside small delicacies, playing in some nearby park if there were any. A couple of hours later we went back from where we left to find my mother still struggling in the same part of the market to make her choice, only change may have been her shifting to the immediate next shop in the cluster.
Sale Scenario
That time, it was pretty annoying for me as a kid. But now I can completely understand it was not her fault at all. Well, let me give you this year's sale scenario. Kalamkari and block print pallazos and wrap around skirts on very good quality cotton fabrics are available now at flat rates of Rs. 250-300. These ones are available at prices of Rs. 600-650 normally. The comparatively less expensive ones that are usually priced at Rs.300-350 or sometimes Rs. 400 are being given away at a flat rate of Rs.100.
Tops and kurtis are available at flat rates of Rs. 100, Rs. 150, and Rs. 200…regular price being Rs. 200, Rs. 300-350 and Rs. 400-450 consecutively for the three segments. In fact if you do a good search you may also find one or two pieces of kantha stitch kurtis generally sold at Rs 550-600, in the Rs.200 segment.
Sarees@ Chaitra sale in Kolkata
Let's come to sarees… the compulsory attire for Bengali traditional functions. Printed cotton and mulmul sarees are in the must buy list of every bong woman for summers, starts at a price price as low as Rs.450. The Bishnupuri silk patlipallu prints on soft mulmul come for Rs. 550 and the chanderi prints on the same materials are priced at Rs. 600-650. The nowel sarees are available at a throw away rate of Rs. 350-Rs. 500 depending on the designs while all around the year the range for this particular variety starts from Rs. 700.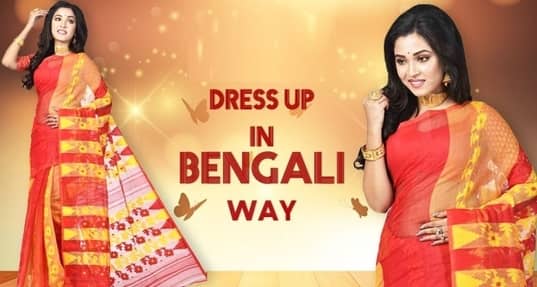 Bomkai Silk
Bomkai silk, a traditional saree from Odissa, generally looked upon as a prized possession because it's one of the expensive varieties usually starting from Rs.5000. The last pieces for the year are put on display for Rs.2650! A pompom khadi saree was bought by a number of ladies I know at Rs. 2900 by the end of 2016. Now they'll go green with envy on seeing the exact same thing on a better color palate bought at Rs. 1050. Lucknow chikan dress materials are available at Rs. 300, phulkari and kachhi work dress materials are priced at a dirt cheap rate of Rs. 500-550 for the next ten days.
Curtains & Bed Covers
All middle-class Indians have a tradition of changing the curtains and bed covers at home for the New Year. Leave alone the normal bed covers! The handicraft bed covers that are normally considered gift items are now available at Rs. 450!!! They usually don't come at a lesser price than Rs. 1000. The best part is this it's not just 30-40 pieces for clearance that there will not be many options. For everything, be it dress material or home decor or jewellery, there are umpteen options flooding the shops and the streets.
Choitro Sale: The Essence
Now what will you do with this shopping's Pandora 's Box opened in front of your eyes? You want to buy everything, most importantly the rates are such that you literally can buy everything; you just don't have space to stock them at home! So, whatever you choose your heart will crave for the ones you didn't on the way back home and you will come back again next day to buy something else and will go back with another thing haunting your mind.
This is the essence of Choitro sale. It's the time to brave the scorching heat and indulge into all those purchases that seemed extravagant throughout the year. And of course, regret for the ones we could have bought but somehow resisted!
---
View our videos
SIGN UP FOR NEWSLETTER
Be the First to Know. Sign up to newsletter today