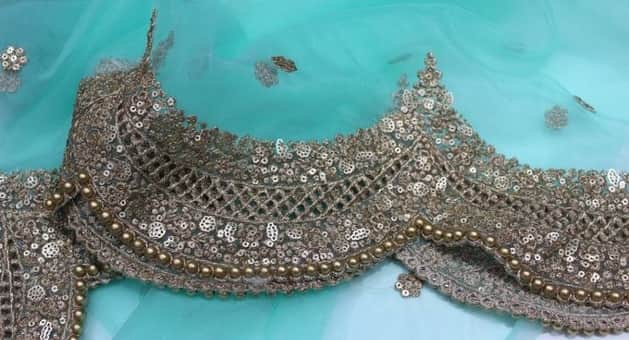 10 Spectacular Shops for Designer Fabrics in Delhi
Kausy M
18681 views
add comment
Fabric shop in Delhi
Frankly, it is impossible for a lay person to imagine the range of designer fabrics  that is available in Delhi Shops. The textures and the colors of the unstitched fabrics are inspiring to both designers and non-designers alike. While Chandni Chowk is the go to place for fabrics in old Delhi, Nehru Place and Lajpat Nagar  Markets are the clear favorites while shopping in South Delhi.
Lajpat Nagar Fabric Stores: Designer Fabrics in Delhi 
The famous stores in Lajpat Nagar Market  Delhi are: Ramji Sons, Monolisa, Raw Silk Emporium, KC Creations, Vastra, Raw Silk Emporium and Hast Kala.
Ramjisons
Ramjisons – The textiles and fabrics are fascinating. This shop is located at a strategic point on the main road in Central Market.From simple cotton fabrics to exotic brocade, organza & Banarasi fabrics everything is available in this store. Fabrics for shimmering gowns and satin for plain simple gowns are all available here.
A visit to the shop will tell you about its popularity. It is always crowded with customers.
Raw Silk Emporium-designer fabrics in Delhi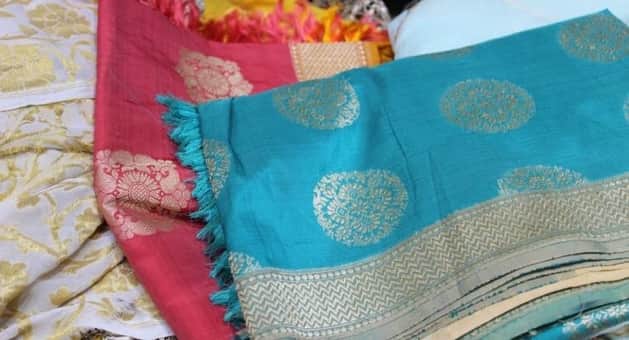 Raw Silk Emporium has a great range of raw silk and tussar fabrics. They also stock salwar suit pieces in tussar fabrics.  In addition, they also  stock dupattas and sarees in the same fabrics.
Take a walk on a sunny morning in the quiet lane near the canal in Lajpat Nagar. There used to be a canal (called nala in Hindi) there earlier. Today, the nala has been sealed and we see grass growing there instead. This is where you will find the fabrics of your choice in abundance. And this is the secret shopping lane of young and aspiring designers in the Delhi Shopping markets.
There are lesser known shops, along the  side lane, that stock a fantastic range of fabrics and export fabrics. These shops are much less crowded and hence more easily suitable for designer fabrics in Delhi. They are small boutique shops selling at wholesale market prices.
Canal Lanes: Designer Fabrics in Delhi
Nanki, was the first shop we chose to visit. Georgette plain, in printed colours, and georgette in off white with gold prints are all available in abundance. The latter can be dyed to the colour of your choice. They also stock plenty of delicate lace fabrics. It is a type of cutwork lace that can be used to make tops, dresses and kameez to go with the salwars. They are available in pink blue, yellow and a variety of other shades. French lace with a little embellishment is available at approximately Rs. 1500/meter. The owner Mr. G.S Bajaj has been in business for the past 25 years and his ancestors have been in the textile trade for the last 45 years.
We next visited Suryansh Fabrics. Suryansh Fabrics has 2 shops in the same location. While there is one shop on the main road, the other is in the basement. Here again, the range includes cottons, georgette polyester and lycra. Thick cotton fabrics for bed sheets are a great buy here and are in the range of Rs. 300 to Rs. 400/meter. They stock a lot of imported fabrics from China. Shimmery shining dress materials in shades ranging from black and white to greys and browns are definitely worth a look.
Monolisa- designer fabrics in Delhi
We next went into The Fabrics Store. This is a small store in the basement. This store is suitable for fabrics to stitch ethnic salwar kameez. There are fabrics in cotton with block prints, printed georgette, organza net and Banarasi . There is also a tailor available on the premises who can stitch the salwar kameez in the design of your choice.
Our next stop was at  Shri Ram Fabrics. It is a small shop. It has been in operation for decades. The shop is known for stitching fitted sheets and pillow cases. That is amazing, isn't it? All you do is to choose from a range of available fabrics and give them the measurements. And you have a designer sheet and duvet in no time.
So, the next time you dream of designing dresses or home accessories from scratch, you know where to shop in Delhi.
Further information on the above mentioned shops:-
Monolisa Fabric: +91-9953537088
Ramjisons : 011 29836755, 011 29840331
Our other blogs:-
Why does the Lajpat Nagar Shopping Market Attract Brides?

On your wedding day -"People will stare. Make it worth their while"
---
View our videos
SIGN UP FOR NEWSLETTER
Be the First to Know. Sign up to newsletter today