Fabric Shop in Lajpat Nagar Market
Ramji Sons, which is right across the 3Cs Cinema, is located at an intersection in the main road in Central Market. It is hence open from two sides. The location advantage will ensure that customers will step into the store. It is a fabric shop in Lajpat agar.
The Products in the store will ensure that customers will not return empty handed. Ramji Sons has a stunning collection of fabrics in all its three floors.
A leading manufacturer of designer drapery fabrics, designer upholstery fabrics, natural fibres and numerous blends of linen with cotton, viscose, elastic, silk, polyester and other blended fibres, Ramji Sons also offers a gorgeous range of Banarasi fabrics and handloom cottons.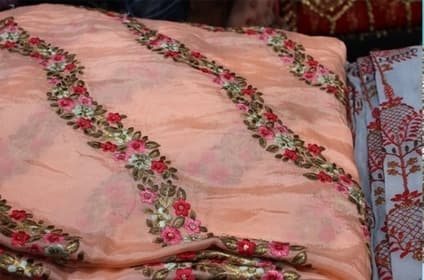 Things to Remember When Buying Fabric
Do you need a soft fabric that drapes or a fabric that is stiff? Check the fabric.
Check the width of the fabric – is it 48 inches, 56 inches or 60 inches. This will decide how much fabric you would need.
Check if the fabric is machine washable.
Buy a bit more than what is recommended to accommodate for shrinkage after the fabric is dyed.
The Fabric Shop in Lajpat Nagar, Ramji Sons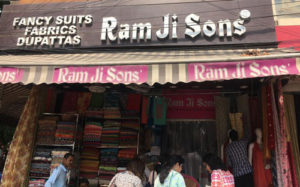 Let us explain some of the products available in the store with some photos.
Firstly, Ramji Sons is a four storied fabric store.
The latest collection of fabrics is found in the ground floor.
Viscose georgette fabric with sequins, Cotton cutwork with thread embroidery, Dupion fabric with zari embroidery, silk organza with Gotta Patti, Due to the approaching winter season, velvet and heavier fabrics are also available.
Other than the above, you can check out the fabrics in chiffon, georgette, crepe, silk, cotton, kota, net, satin and brocade. The organza & dupion silk with zari and embroidery are some of the latest trends in lehengas.
Dupattas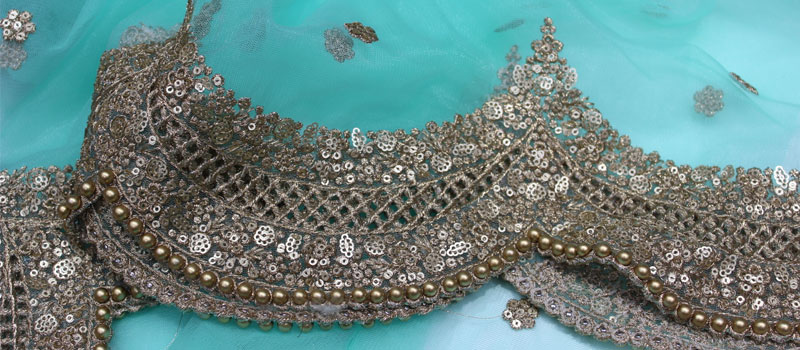 There is a separate counter that sells trendy dupattas – the range is so wide that you will find a match for any lehengas or salwar kameez. Banarasi dupattas, dupattas in net fabric, dupattas in pure silk, dupattas in velvet and of course Banarasi georgette dupattas with gold thread work are all available.
Fabric Shop in Lajpat Nagar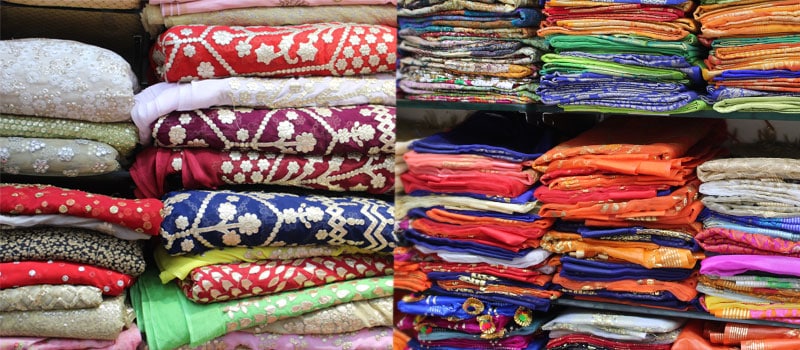 The 3rd floor is stocked with velvet  worked fabrics, chanderi fabrics with thread work, Tafeta fabrics with Banarasi buttis and chinon & chiffon worked fabrics.
The last floor has a stock of plain fabrics in varieties of silk & cotton.
You always have the option of buying white material from Ramji Sons and dyeing it into any colour or shade that you fancy. The dyeing process can also be done in Lajpat Nagar. In fact, it is just outside the Ramji Sons store.
Read Our Other Blog Posts:
Why does the Lajpat Nagar Shopping Market attract brides?
TOP 20 Shops in the Lajpat Nagar Shopping Market in Delhi