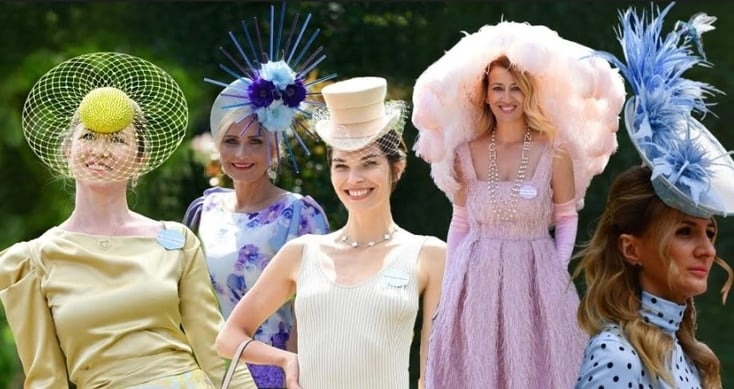 TOP 7 TIPS FOR ACCESSORIES
Ananya Madhavan
220 views
add comment
It is fascinating to watch horse racing at any of the top racing events in the world such as the Royal Ascot or  the Epsom Derby. People come to watch the spectacular race horses as well as the spectators with sophisticated dresses & fancy hats. As a matter of fact, the Royal Ascot is as noted for the display of fancy hats by the ladies present as it is for horse racing.In other words, visitors are expected to be suitably attired and fashionably dressed. This is not just reserved for women; men too wear top hats & tails. Appropriate attire & accessories are part of the culture & tradition.(https://www.theatlantic.com/photo/2018/06/hats-of-the-royal-ascot/563417/)
Why should you accessorize?
The whole idea of accessorising is to make one look more stylish, colourful, exciting, elegant & sophisticated. Uplifting moods and creating a sense of delight is what fashion and fashionable dressing all about. For instance, colourful hats add a touch of elegance & glamour to the clothing. Accessories offer multiple opportunities to change the look & feel & mood of a person.
A simple cotton dress that is paired with shades, a hat or a head band, a belt, matching shoes & bags makes you look very stylish. Above all, to make the ordinary look extraordinary & unique and stand out in a crowd is why one should accessorise.
What are the typical accessories?
Jewellery such as earrings, nose rings, chains, necklaces, bracelets/bangles, anklets & toe rings
Clips, bandanas, hats
Sunglasses
Belts
Bags
Shoes
Scarves & stoles
When you think accessories, Jewellery is what comes to your mind instantly. Accessories such as jewellery make good gifts too.
1. Jewellery as bridal accessory
In India, jewellery was always a coveted article of accessory. If one were to look at sculptures or paintings of Indian goddesses, like the one above, we can see that jewellery played a prominent role in their presentation. The adornment of the hair, the ear, the neck, the hands, the pelvic region & the feet were central to women's dressing. This tradition continues even today.
For instance, Kashmiri traditional dressing looks incomplete without the silver head dress ( Jigiini, tikka  & chaunk phool worn under the veil), the long earrings  ( alcachor /dejhoor)& the broad silver necklaces(halaqbandh) &  bracelets (gunus) that are part of their tradition & culture.(https://www.zerokaata.com/zerokaata-studio/jammu-and-kashmiri-jewellery/)
Bracelets, watches, earrings & rings are other jewellery accessories that add to the style. Traditional Indian jewellery in gold, silver and colourful beads are  paired with Indian dresses, western & Indo western fusion dresses as well. You can be bold & go for huge chunky jewellery or choose to be delicate with very light jewellery.
Madonna, the famous singer, made the Indian nose ring popular as she sported it at her music concerts on stage.
Jewellery has become more affordable now. It is not just gold & precious jewellery that is coveted. In other words, Fashion jewellery, that is fancy jewellery & silver jewellery, are also stylish accessories. From matta patti ( hair adornment) to toe rings & anklets, you can choose from a whole range of  jewellery that is budget friendly and fashionable. Similarly, bridal Jewellery, like the one shown above are also available on rent.
Functional Accessories
2. Hats, Fascinators & Hair Bands- Fashion Accessories
are functional. While hats are not necessarily very well known in India except in the sports field, they are becoming increasingly popular now. The floppy hat with Indian dresses & skirts are popular especially in the summer months. Further, broad hair bands across the head, aka the bandana, are also popular with Indian ethnic casual clothing.
Fancy hair clips hold the hair in place & they also come in a variety of colours & shapes.  One has the option to adorn the hair with as multiple clips or hair bands.
3.Belts
were traditionally conceived to hold the dress or trousers upright like suspenders.Today, belts are paired with dresses, skirts &trousers more as accessories for ornamentation purposes.  Belts accentuate the waist line and look better on slimmer waists. Belts can be broad in bold colours and make a statement. Alternately, you can choose to keep it simple & functional. Belts can enhance a simple monochrome dress and make it stand out.
4.Shoes,Sandals & Slippers
are functional. Firstly, they should be comfortable. However, it is important to match styles with the clothing one wears. For instance, winter boots are for the winters and to be paired with western clothes. It will not look appropriate to pair it with Indian ethnic wear.
Sandals, slippers &  Indian jootis look fantastic with Indian ethnic wear dresses. Further, the jootis can be paired with jeans  too.
Wedges, Sandals, Mules, Court Shoes & Heels can be paired with  both Indian & western wear. They can be in neutral shades or in attractive dark colours to offset the dress.  High heels in particular with crystal stones and sparkles look very classy when worn with appropriate clothing.
5. Accessories –Shades or sunglasses
are also functional pieces. They protect your eyes from the UV rays. The shape, sizes and the make add to the style. As a matter of fact, one can experiment with colours & shapes to add more excitement.
You need a bag to carry your essential items such as cash, cards, toiletries, sanitizers, masks & maybe a small water bottle & so on. Bags can be hobo bags, satchel bags or cross body bags for work.  Branded bags are very expensive and coveted. Young women prefer to carry large tote  bags every day to the work place. They are easy on the shoulder & convenient. They are made of leather/faux leather  or cloth. However, Minaudiere bags & clutch bags are perfect accessories that go well with evening wear.
7.Accessories- Scarves
Scarves are also a functional accessory. Scarves in cotton, silk & wool are used to secure the neck from unsuitable weather in the winter months. In addition, they are also used as embellishments to enhance the dress. A colourful scarf or a stole can be paired with a monochrome dress or a monochrome salwar suit in the place of a dupatta.
How should you Accessorise
That is a tough question and depends on the person. For instance, what kind of dresses do you wear & what kind of accessories  do you prefer and, more important, what looks good on you? And that is the key to accessorizing. It is subjective. There is no one right way. Above all,  the final outcome should make you more positive & confident. There are no rules. Imagination and an eye for detail & colour is what helps you choose the best accessories. What you pick and choose & pair it with  is entirely up to you.Further, the more you observe people & accessories, the better it is for you to choose the right ones.
Accessories -Do 's & Don'ts 
1.Firstly, the golden rule is not to over accessorise and have too many statement pieces.  Further, if it is a chunky piece of jewellery, then the other items such as bags, belts and dresses ought to be simple.
2.Occasion- Work Vs Leisure
Secondly, it is important to know the occasion for accessorizing. Above all ,one should not over accessorise at the work place. Similarly, a visit to a sporting event does not require flashy dressing. The whole look can be kept simple & formal for a work environment, & flashier, more flamboyant & colourful at social events.
3.Coordinating  Jewellery & Dresses
Try & match jewellery with the clothing.  For instance, heavy silver jewellery with a  gold worked dress may not look too good.Jewellery, particularly a necklace, is very  an attractive accessory.  Further, try not to add too many jewellery pieces when you have a striking necklace.
4. Traditional Clothing
Traditional clothing is best paired with traditional jewellery. In addition, casual clothing is best paired with silver jewellery or fashion jewellery.
In conclusion, from simple to bizarre, accessories have a large repertoire. Picking accessories takes as much time & effort as does picking a dress. In other words, if you are picky about outfits and matching accessories, then you better stock up on them. With the multitude of fashion accessory shops that have opened both in the real world & online, there is no dearth of accessories to choose.
"The best accessory a girl can wear is Confidence"- Unknown
 And finally ,read this . In the 2022 Ascot Race, Indian women came together to wear a saree . This was to promote Indian weavers. 
OTHER RELATED BLOGS AND GLOSSARY
THE ENDURING MAGIC OF GOLD & PRECIOUS JEWELLERY
A NEW PAIR OF SHOES CAN CHANGE YOUR LIFE. JUST ASK CINDRELLA
STUDENTS SHOP AT KAMLA NAGAR MARKET IN DELHI FOR HANDBAGS
PIC CREDIT:-
Pagesix.com
Pristinefire.in
Metro.co.uk
---
View our videos
SIGN UP FOR NEWSLETTER
Be the First to Know. Sign up to newsletter today