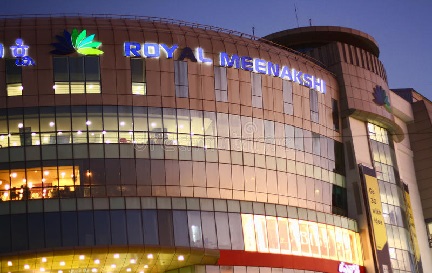 Royal Meenakshi Mall
If you are looking for a one-stop destination to buy designer wear, accessories, and more in and around Hulimavu in Bengaluru, there is so much to explore at Royal Meenakshi Mall. You will certainly not leave this popular mall without...Read more
If you are looking for a one-stop destination to buy designer wear, accessories, and more in and around Hulimavu in Bengaluru, there is so much to explore at Royal Meenakshi Mall. You will certainly not leave this popular mall without filling your shopping bags with your favourite picks!
There is a temple dedicated to the goddess Meenakshi in the Bannerghata Road. The Royal Meenakshi Mall  Bangalore is named after this temple. This Bangalore Mall is a friendly neighbourhood mall, serving all the residents of the closeby areas. It is spacious and airy.
Royal Meenakshi Mall is celebrating its 8th anniversary in 2020.
Hypercity @ Royal Meenakshi Mall
There is a hypermaket called Hypercity, which is a one stop shop for all grocery& bakery products, fresh fruits & vegetables. Also, Shoppers Stop, Reliance Trends and MAX are departmental stores for garments, footwear & accessories respectively.
Then there is Home Stop for home furnishings& furniture. Croma, which is a Tata brand shop for home appliances, is also present in this Mall. These stores occupy large spaces in the Mall.
Royal Meenakshi Mall is on 4 floors. There are specialised stores for garments such as Allen Solly, Lee, Levis, Wrangler, Biba, Show Off, Mother Earth and Fab India. Biba and Fab India are the popular brands for ethnic garments. There are specialist sports stores as well.
Body Shop @ Royal Meenakshi Mall
Body Shop is an international shop for beauty products such as body creams and scrubs, massage oils and also make up products such as moisturisers, creams and lipsticks. Several of these shops are in the first two floors in the mall.
Moreover, this is one of the few malls with a book store to boast about. The fourth floor has a separate entertainment section for children. You will also find cinema halls as well.
Burger King, McDonalds, Andhra Bhavan, Chaat Bazaar, TGIF, Rajdhani and Shiv Sagar are some of the popular restaurants in the Royal Meenakshi Mall Bangalore.
Special Events & movie promotions take place in the mall. Bangalore shopping gets exciting with more shopping malls in the city.
---
17 views