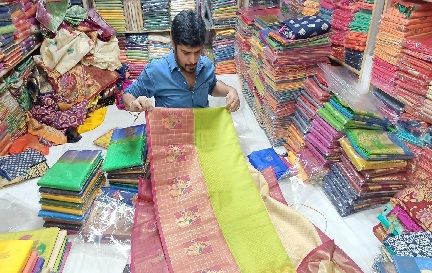 Chickpet
Bangalore is a shoppers' paradise – especially for Mysore crepe silks sarees and printed pure silk sarees. Chickpet is the embodiment of indigenous Bangalore shopping. Around the electronic city, many malls may have become popular amidst today\'s youth. But Bangalore...Read more
Bangalore is a shoppers' paradise – especially for Mysore crepe silks sarees and printed pure silk sarees. Chickpet is the embodiment of indigenous Bangalore shopping. Around the electronic city, many malls may have become popular amidst today's youth. But Bangalore natives definitely think of Chickpet when they think of shopping in the city. Ask any old timer about shopping in Bangalore, they will recommend the Chickpet as the best market to get everything at a reasonable rate.
Chickpet's history is interwoven into Bangalore's history. It was established in the 16th century by the King Kempe Gowda at the cross road of 4 important trade routes when he established the city of Bangalore.
Bangalore Shopping Market: Best Buys
'Pete' generally means market center in Kannada language. It was established as the main Bengaluru (Bangalore) Shopping Market.
Chickpet (Chikkapeta) is popular as the market for small Bangalore shops (jewelry, textiles and saris). Dodda Pete (Avenue Road) is meant for bigger traders and bigger Bangalore shops – stationary, clothes, vessels and books.
While Tharagupete is for grains and groceries, Nagarthpete – including Raja Market – boasts of gold, silver and gem jewelry shops. These include traditional and modern – genuine as well imitation jewelry. Also, Ganigarapete is for oil traders while Tigalarapete is a famous flower/vegetable market of gardeners and farmers.
Moreover, Cubbonpete is famous for textiles shops, silk sari shops, dyes and chemicals, among others. Sultanpete, on the other hand, is best recommended for paper/stationery, books. Last but not the least, Balepete is a hub for Bangle shops.
Popular Saree Shops in Chickpet Market
The market boasts of a number of shops selling everything from bridal wear sarees, casual wear to genuine silk and handloom, cotton and synthetics. There are many narrow roads – some not even 3-4 feet wide – on both sides of Chickpet Road and Avenue Road. The presence of various shops here makes them crowded lanes.
Some famous silk sari shops are Kaiser-I-Hind Depot – a sari supplier to royal houses for over 7 decades, Kuberan Silks, Sudarshan Silks & Sudarshan Jewelry, Kala Mandir Saris, Byrappa & Sons, SM Silks, Dhondusa silks etc.
Besides, there are touts standing outside the shops actively looking for customers.
Nearby Chickpet area, there is also the Krishna Rajendra Market. This is actually a big municipal market for fruits, vegetables and flowers, among other things too. There are a number of Hindu temples, Jain temples, and mosques in the area. Nearby BVK Iyengar Road is the buzzing market for all kinds of electrical goods.
Chickpet is to Bangalore what Chandni Chowk is to Delhi. However, this bustling shopping market lacks adequate parking space.
Read our Delhi Market Reviews here:
Days Closed :- Open all days
Timing :- 10:30 am – 07:30 pm
---
810 views