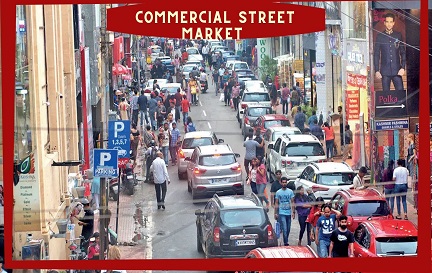 Commercial Street
Firstly, Commercial Street is a long street in Bangalore and is an established Bangalore shopping market. It is one of the oldest shopping markets in the city. The Commercial Street shopping market is located in the heart of the city...Read more
Firstly, Commercial Street is a long street in Bangalore and is an established Bangalore shopping market. It is one of the oldest shopping markets in the city. The Commercial Street shopping market is located in the heart of the city and certainly offers a very eclectic shopping experience. It is usually bustling with customers all the time unlike other markets. It is hence advisable to walk in the shopping market. Sightseeing, window shopping and picking up some bargaining tips are the key takeaways.
Best Shops in Commercial Street: Salwar Suits, Dresses & Accessories
Some of the popular shops in this shopping market are Tamanna, Sterling House, FabIndia and Fazal and Sons. These Bangalore shops have a good collection of salwar suits, saris, dresses and accessories.
They also stock nightwear and lingerie. In addition, the lane behind Commercial Street is where the action is for the young and fashion-conscious ladies. It is Bangalore street shopping at its best. Jeans, belts, bags, hair clips, silver earrings are all on display in the latest styles. You can see several youngsters crowding around these small Bangalore shop vendors and bargaining.
For the best Mysore silk sarees, one must visit KSIC which is in Commercial Street.
Salonee is one of the best shops in Commercial Street for cotton and a variety of silk fabrics. They also stock Banarsi dupattas, ikaat dupattas and kalamkari dupattas.
Jewellery
Krishnaiah Chetty, which is right at the beginning of this street, is one of the best shops for  antique gold jewellery pieces in Bangalore. It is hence always crowded with customers.
Home Decor
Cinnamon is a boutique store near Commercial Street. It is one of the best shopping places for home decor, designer sarees and blouses. They have individual stores such as Raw Mango, Almirah and a cosy little restaurant in the boutique. It is certainly a niche shopping experience.
Tibbs Frankie, Vasudeva Adiga, Delhi Bhavan, Just Bake, Konark Vegetarian Restaurant, Sarvana Bhavan, KFC and McDonalds are some of the popular restaurants here.
Closed: Open all days.
Read our related blogs:
Best Stores To Know While Shopping Bangalore At Commercial Street
---
384 views