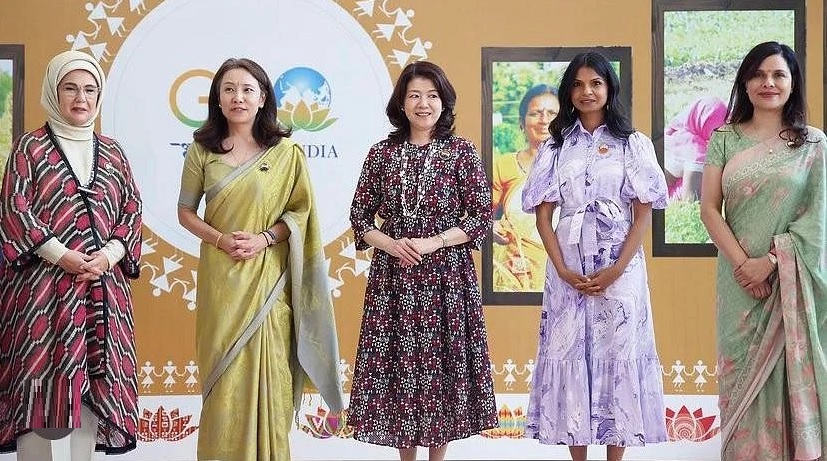 Celebrities Showcase Ethnic Dresses For Women @G20 India
Kausy M
3337 views
add comment
In the last week India successfully concluded the G20. It was a forum for discussions & initiatives among the world's major economies on global challenges. While the global leaders like Joe Biden, Rishi Sunak, Fumio Kishida and Giorgia Meloni , and others were discussing global matters, the spotlight was also on Dresses for women that grabbed media attention. The newspapers were busy splashing photographs of Global personalities donning Indian outfits. Akshata Murthy, the British Premier,Rishi Sunak's wife was covered in the Press everyday. So was the Japanese PM's wife who wore a Banarsi sari . The IMF Chairperson wore a salwar suit and so did the Italian premier Gregoria Meloni.
Worlds leaders embraced Indian Clothing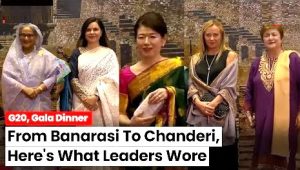 Indian shops and shopping markets have abundant options  for both ethnic & western clothing. The myriad varieties, styles& fashions are all incredibly attractive. This is especially true for Indian ethnic options. The colours, the fabrics,the embroidery & other workmanship on the fabric have really no match in the world.  Let us explore the clothing options briefly here.
Ethnic Dresses for women
Women embrace both ethnic clothes & western clothes in India. Hence, the choices available to them are  very wide.  There are shops for salwar kameez, sarees, kurtis & lehenga cholis, jeans, trousers, skirts, jackets ,dresses & gowns. Indian shopping markets have an excellent choice of styles and sizes for all ethnic clothes. Further, the mainstreaming of several designer brands has  made designer  wear dresses  available to a larger audience. This is what makes shopping for clothing in India absolutely exciting.
Salwar Kameez@G20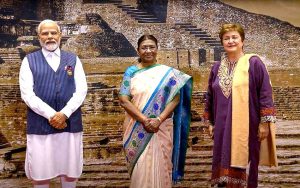 IMF Managing Director wears a Salwar Kameez
The salwar kameez dress is an attractive option in terms of comfort and ease of use. In summer, it is an ideal dress that keeps you well covered form the sunlight & heat.  There is no surprise that the IMF  International monetary Fund Managing Director, Kristalina Georgieva opted for the  salwar Kameez at the gala dinner hosted by Prime Minster Narendra Modi. Salwar Kameez/Salwar  suits in cotton, chiffon, georgette ,lace or Chanderi fabric are very light and comfortable. The Lucknowi chikankari, fabric, which has white coloured embroidery on the reverse of the fabric, is perhaps the ideal summer fabric.
Incidentally, the salwar kameez  is ideal in winter  months as well. Salwar suits in woollen, silk, satin &  Tussar, all of which are heavier fabrics, are more suitable in winters. They keep you cosy & warm.
Sarees @G20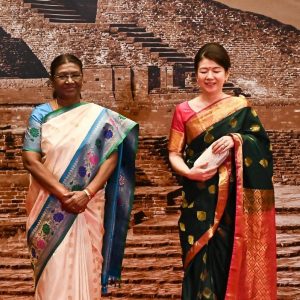 The Japanese PM'S wife Yuko Kishida wears a Banarsi Saree @G20
Cotton, Kota, Chanderi , Venkatagiri ,Gadwal , georgette,silk cotton, chiffon & Jamdani  are lighter fabrics and suitable as  summer sarees.  The variety of sarees  that is  available in each Indian State is simply astounding. Similarly, Silk sarees , Banarasi  sarees, Tussar  and satin sarees are more suitable to be worn in the winter months.  It is no surprise that the Japanese PM's wife sported a Banarsi Sari for the G20 gala dinner.
Shops such as Nalli  stock a variety of saris from heavy silks to simple cotton sarees. They have  stores in all the metro cities in India. City specific saree shops such as Sundari Silks in Chennai, Kanishka's & Weavers Studios in Kolkata, Rattan Deep Stores in Jaipur & Angadi Silks in Bangalore stock locally produced sarees that are unique & exquisite.
Shops for Ethnic Clothing
There are quite a few of shops for Indian ethnic clothes. Fab India, Anokhi, Lifestyle, Shoppers Stop,Westside & Pantaloons are shops that are pan India.They stock salwar kameez & kurtis in a variety of styles. Some  of them stock sarees as well. Some shops are city specific. That is what makes shopping in India a great experience. Salwar Lane in Lajpat Nagar is a good place for cotton salwar suits in Delhi.  Similarly, Soma & Suvasa are well known shops for ethnic clothes in Delhi & Jaipur.
However, there are special shops for wedding & party wear  clothing.
Designer Wear Wedding Dresses ForWomen @G20
Sarees, salwar kameez & lehengas are the ethnic clothes that are normally worn at formal wedding functions. There are select shops that sell grand wedding dresses for women. Absolutely stunning designs & styles are being introduced every season , so that you do not have to repeat old designs. Wedding wear shops are Frontier Raas & OP Jawaharlal Stores in Delhi, Ranas & Pratapsons in Jaipur,  Seasons & Neeta Lulla in Santa Cruz and so on.
Indian designer wear is globally popular and is presented in fashion capitals across the world. Designers such as Ritu Kumar, Manish Malhotra, Anamika Khanna , Tarun Tahiliani & Sabyasachi Mukherjee dress the 'who is who' of  the Indian film industry . Their speciality is wedding dresses for women and party wear dresses for women.
What is interesting is that brands such as Ritu Kumar and Sabyasachi  have opened their doors wide and  have a retail presence too. They sell affordable designer wear clothes.
Indo Western Party Wear Dresses For Women@G20
Risi Sunak's wife sported a beautiful Indo western fusion print dress on more than one occassion. The beautifully embroidered skirt,paired with a white shirt was stylish & elegant. The press was mesmerised to say the least.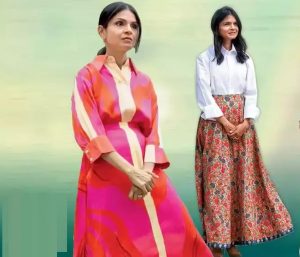 We now have the fusion dressing style. The Indo western styles  criss crossing fashions. As a matter of fact, mixing and matching  ethnic & western clothes is a popular trend. For example, there is something called the sari gown. It is a  wedding wear dress for women. It is a draped and ready to wear sari with a gown like appearance. This concept firstly makes it appealing to many youngsters and secondly, it is more contemporary  than the traditional saree. Similarly, there are other party wear dresses for women too.The jeans or trousers with the kameez & the kurti is another style that is  trendy & popular too. The long jacket  or the short Nehru jacket paired with jeans or plazzo pants  or skirts is also very fashionable. Skirts, that  are essentially a western garment, are today an acceptable ethnic garment.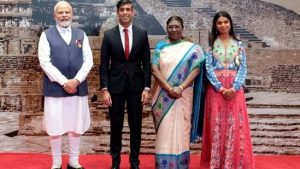 Rishi Sunak's wife Akshata Murthy in a beautiful skirt @G20.
In conclusion, women in India have an incredible choice  when it comes to shopping for clothes. Indian clothes  are popular through the world. With several Indian shops gearing up for online shopping, women all over the world have an incredible variety to choose from.
Wedding dresses for women & party wear dresses for women are available in plenty.
Other Related Blogs :-
6 Best Bridal Lehenga Shops in Delhi
Pic Credit: Albeli.com
Indian Express
NDTV
---
View our videos
SIGN UP FOR NEWSLETTER
Be the First to Know. Sign up to newsletter today