Versatile. Adaptive. Comfortable.  Trendy Kurtis and designer kurtis are certainly one of the most loved ensembles of an Indian woman. A few kurtis paired with appropriate leggings or palazzos make for perfect wardrobe fits from regular to festive wear. Kurtis for girls are available in attractive colours, fabrics and designs. This ethnic wear scores high on comfort factor and versatility alike.
Be it a short kurti or flared kurti or tiered one, they enhance your Indian wear collection in a rich way. 
Baffled by the myriad options available in the market? Let us browse through different types of Kurtis for girls to help you pick one…
1. A line Kurti Styles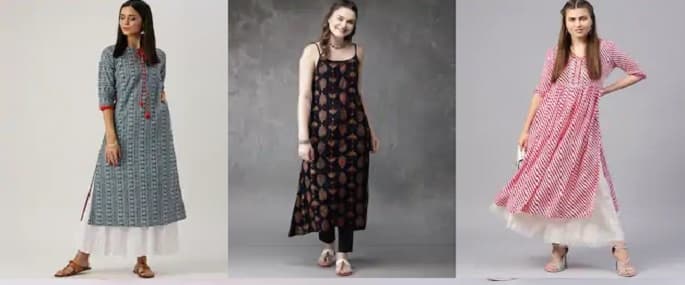 True to its name, the A line Kurti makes an 'A' shaped panel thanks to the spread from the waist area. The length of these kurtis varies from calf to ankle and knee-length.
You may choose to pair these Kurtis with jeggings, jeans, dhoti pants, or patialas depending on the occasion.
These kurtis are quite popular among women of all age groups.
2. Anarkali Kurtis for girls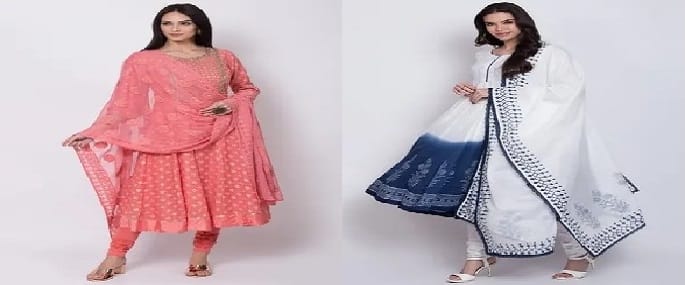 From Bollywood celebs to the girl next door, the Anarkali Kurtis are definitely loved by one and all. Remember how Madhubala, the iconic Indian actress, made this ethnic wear popular while playing the character of Anarkali in Mughal-e-Azam?


The anarkali Kurtis with their graceful frock-like pattern and the flares have never been out of vogue since then. These evergreen Kurtis truly look great on every woman.
The beauty of Anarkali Kurtis is that they go well on any size or body type. Be it an hourglass figure or females blessed with pear shape or banana shape, anarkalis lend dramatic flair across varying body types.
3. Jacket Kurti styles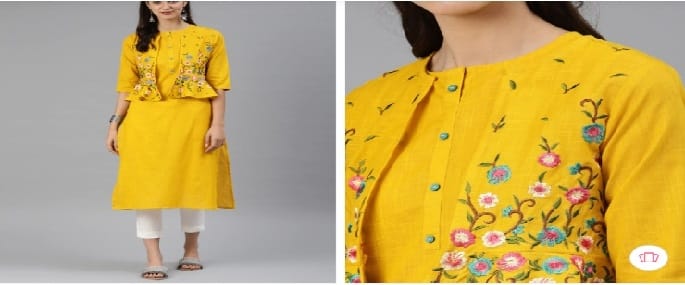 If you are willing to breathe new life into your traditional outfit instantly, a jacketed kurti offers a great option! When you pair a normal kurti with an outer jacket or a shrug, it certainly adds a refreshing, stylish touch to your dress.

Moreover, it makes your ethnic look complete sans a dupatta. Try out jacket kurtis to rock your desi look for the special occasions.
4. Collared Kurtis for girls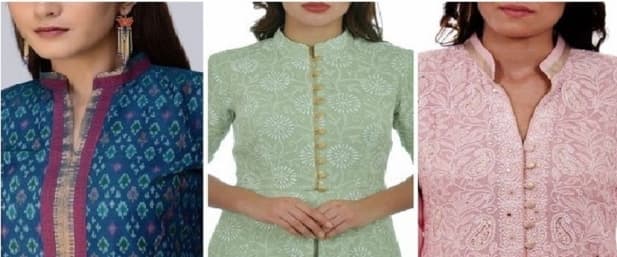 The Collar-neck kurtis never go out of fashion, especially as a go-to apparel for office wear. The shirt style collar helps add a little more class to your otherwise simple kurti thus lending a formal look.
These kurtis come in a variety of sleeves, ranging from full, semi to sleeveless. While some of these are available with buttons, you can also go for the ones without buttons depending on the occasion. These kurtis look good with leggings, dhoti pants, and palazzos, among others.
5. Double Layered Trendy Kurti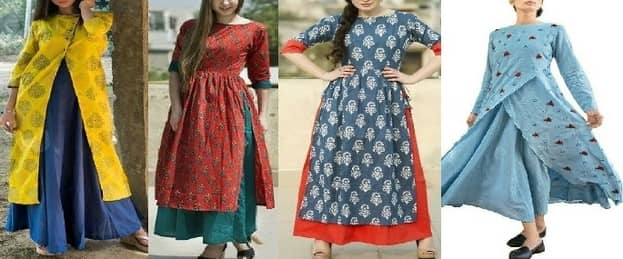 As the name suggests, the double layered kurtis have two layers of fabric. This helps in giving more volume to the outfit. However, these are different from overlay kurtis (two-piece kurtis). The double-layered kurtis come with an additional layer of fabric stitched on top of the basic kurti.
They may or not feature a slit in the front. Moreover, the two layers can be different colours or in combination too.
Classy bottoms like jeggings, churidars, palazzos, and tights look quite tasteful with these kurtis.
6. Dhoti Style Kurtis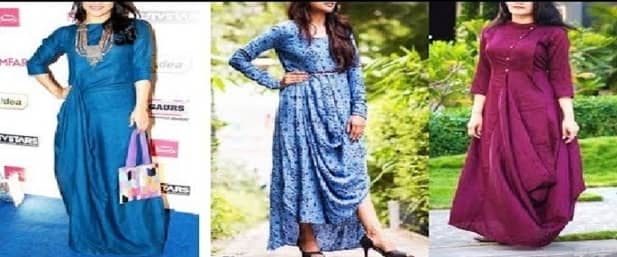 Another Kurti style that is very trendy these days is the dhoti kurti — the fusion of Indian and western wear. The contemporary touch surely adds the wow factor to the whole attire.

Featuring an unusual yet appealing drape style, these body-hugging kurtis are loose from the waist down. The lower part gives the appearance of Dhoti, the traditional costume for men in India.
Moreover, these kurtis are quite comfortable to wear. Pair them with leggings or tights with trendy prints and you are all set to make the next big fashion statement!
7. Tail Cut Kurti styles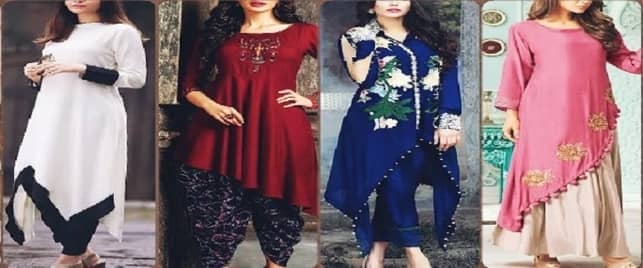 As one can easily make out by its name, a tail cut kurti is short in the front and longer from behind. In other words, the design gives a tail-like impact from behind in an asymmetric style.

These trendy kurtis have been in vogue since 2017. Girls usually wear these kurtis with jeans to achieve a stylish look. Once can also wear them with churidars or leggings for a traditional look.
These kurtis are usually available in diverse fabrics such as cotton, polyester and rayon.
8.  Angrakha  Designer Kurti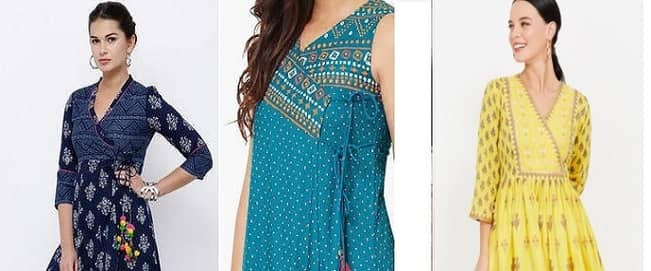 Here is another Kurti in traditional style that you would like to have in your at-home closet. The Angrakha kurtis go back to the 90s era but are loved by the women shoppers for their versatility and comfort.
These trendy  kurtis have two comparative folds that lay on one another. These are tied with the help of thin doris. Straight jeans and wedges are all that you need to add the perfect finishing touches to Angrakha kurtis.
The latest Angrakha kurtis come with the Anarkali style, creating the perfect ethnic option for you.
9. Floor Length/ Gown Style Kurtis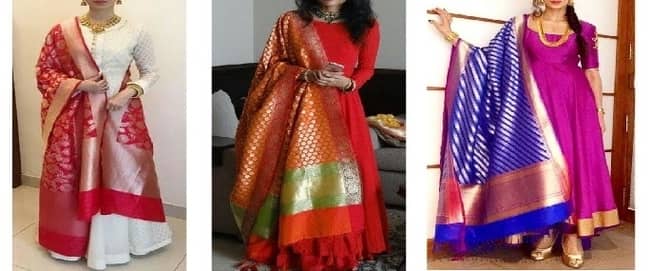 Featuring a normal flare towards the bottom, the gown style trendy  kurtis help add an indo-western look. You can see them as the Indian version of evening gowns.
These alluring kurtis can effortlessly lend you a royal look. Needles to mention, they are perfect to be worn on special occasions like wedding or engagement.
The floor length kurti would look best when accessorized with jhumkas and even bangles. Don't forget to put your best foot forward in wedges and heels.
10. Kaftan Style Kurtis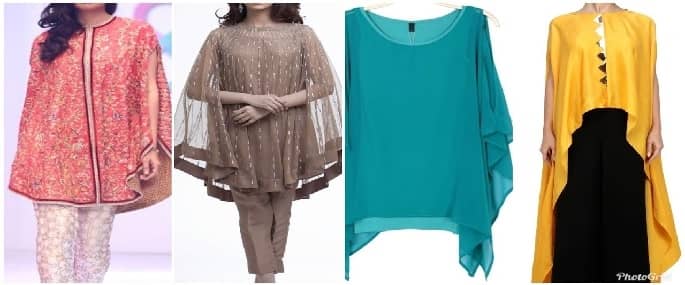 A perfect choice for occasions when you want to flaunt a relaxed style without compromising on your fashion quotient.
The recent phenomenon called Kaftan kurtis were originally worn as a loose-fitting garment. The best part of the kaftan style kurtis is their easy-breezy silhouette. With a cool and casual vibe, they make for a gorgeous summer wear for beaches and casual outings.
These trendy kurtis are both worn as a dress and also paired with jeans and jeggings depending on the occasion. Feel free to pair them with flats, shoes or heels for that chic look.
Shop @ Roshan Tailors, Biba,Meena Bazar,Raqz,Lifestyle,Shoppers StopInstagram https://www.instagram.com/shalinikakkardesigns/
Other Blogs -Tank tops for millennials
Kurti lovers will love this market