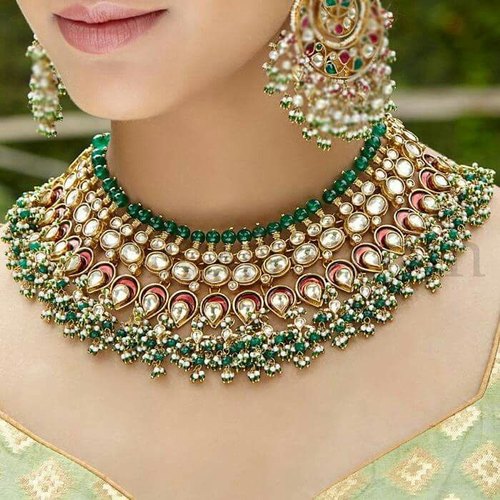 Indian Jewellery holds a mirror to India's rich cultural diversity. Visit the temples in Tamil Nadu, Rajasthan and other Indian States. You will enjoy the beautiful jewellery that adorn the gods & goddesses.  Further, several of these jewellery pieces are worn even today.
Above all, India offers an exquisite range of designs in traditional jewellery & gemstones.Further,Indian  classical dancers adorn similar traditional jewellery to complete their physical transformation as a dancer.
For instance, each region in India is popular for a certain kind of jewellery. Read the extensive glossary on Jewellery.
Gold Jewellery
Gold jewellery is popular in Tamilnadu, Kerala, and Karnataka & Andhra Pradesh. Further,gold jewellery is precious and is gifted to a bride at the time of her wedding. As a matter of fact, the best Indian jewellery shops for gold are Prince Jewellery ,Krishna Chetty,GRT , Vummudi & Tanishq 
Kundan &Polki jewellery
Further, Kundan, Meenakari and Polki diamond jewellery are popular in North India. Above all ,Mughal architecture has inspired Meenakari jewellery. Check out Surana Jewellers in Jaipur
Silver Jewellery-Indian Jewellery shops
For example, Silver jewellery is popular in the regions of Rajasthan, Gujarat, Madhya Pradesh and Himachal Pradesh.GK M block Market in Delhi has some good silver jewellery shops.
Indian Jewellery from North East
Assam & Manipur is famous for jewellery made from beads, stones & animal claws.
The  respective State Emporiums in Delhi have these jewellery.
Imitation and Fashion Jewellery
Replica of original gold jewellery is very popular . The Lajpat Nagar Market in Delhi has a jewellery lane for fashion jewellery. In addition, wedding jewellery can be rented out in the same market.
Sri Bhavani Kangan Stores and Utharika are also good shops for fashion jewellery
Indian Jewellery
Talented goldsmiths & artisans from various Indian States create exquisite Indian jewellery.
At Shopkhoj, we have had an amazing journey through different cities. We have  curated the best and most interesting jewellery shops. They are presented to you with reviews and ratings so that you can save time and money while shopping .This will also help you to have an enriching experience in the process.
We have categorized the shops as dealing in precious jewellery, silver jewellery & imitation jewellery.
Find the list of common jewellery items you will find in shops across India. If you want to know where to find a particular item, just head to the Shopkhoj homepage and initiate a search!