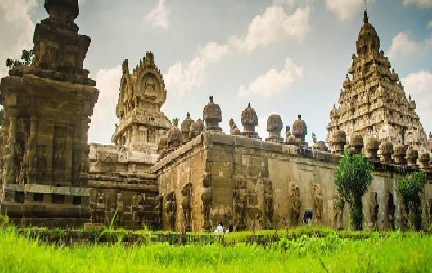 Kanchipuram
Firstly, Kanchipuram (referred by the British as Kāñci-pura or Conjevaram) is a town approximately 70 km (45 miles) from Chennai, the capital of Tamil Nadu. It is popular for its silk weaving industry. Kanchipuram is also home to some ancient...Read more
Firstly, Kanchipuram (referred by the British as Kāñci-pura or Conjevaram) is a town approximately 70 km (45 miles) from Chennai, the capital of Tamil Nadu. It is popular for its silk weaving industry.
Kanchipuram is also home to some ancient and spectacular temples. The Varadharaja Perumal Temple, the Ekambareswarar Temple, the Kamakshi Amman Temple, the Kumarakottam Temple and the Kailasanathar Temple are some of major Hindu temples in the town.
Kanjivaram Silks
The silk trade in Kanchipuram began when King Rajaraja Chola (985–1014 AD) invited weavers to migrate to Kanchipuram. The town was  predominantly a cotton weaving town. It was during the reign of King Krishna Deva Raya that silk weaving gained prominence.
The silk threads used for weaving the Kanjivaram sari are made up of three single threads twisted together. Artisans dip the threads in rice water and dry them in the sun. The zari that is used is silver wire dipped in liquid gold. The mulberry silk, the raw material for silk weaving, is extremely fine and durable. It comes from the neighbouring State of Karnataka. It is due to this reason that the Kanjivaram silk saree is rich and glossy in appearance.
Silk Saree Shops
There are several prominent silk saree stores in Kanchipuram, which have their own weaving and dyeing units.  Additionally, several houses in the town have looms in which the silk weaving is undertaken. Until recently, there were no shops or stores to display the silk sarees.
The front room of the weaver's house served as a store and the rooms at the back of the house had weaving looms. Even today, some of the store owners would gladly take you around and show you their manufacturing facilities.
Bridal Saree Shops
Traditionally, South Indian brides wear silk saris at their wedding. And Kanchipuram fuels your bridal shopping experience for sure. However,  some of the reputed shops have their branches in Chennai. The locals from Chennai city and other neighbouring towns visit Kanchipuram for wedding shopping or any other special occasion. Babu Sah is certainly the ultimate shopping destination for Kanjivaram silk sarees.
Visiting Kanchipuram
Finally, visitors to Kanchipuram should note that several shopping escorts stop cars and try to guide tourists. It is advisable not to go with these guides and to go to the preferred shops directly. For any guidance, one can connect with these shops over phone calls too.
Looking to buy Kanjivaram silk sarees and Kanchi cotton sarees? Check out which are the best shops in Kanchipuram with our shopping guide on famous markets in Chennai.
Days Closed :- Open all days.
Timing :- 9 am -9 pm
Bus/Metro :- Gandhi Road.
Read our blogs-
---
62 views