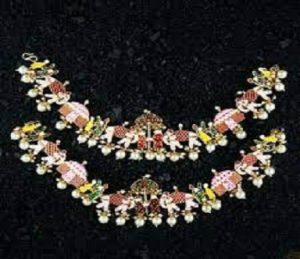 Best Shops for Imitation Jewellery
Imitation Jewellery Stores: Truth be told, it's not always feasible to go for real gold or silver jewellery to mix and match with our ethnic party wear. So why not opt for some meticulously crafted imitation jewellery? Yes, they look pretty much the same as the real stuff too.
When shopping in Chennai for imitation jewellery, you can visit the stores such as Jugal Kishore, Shanthi Tailors, Utharikha, and Kushal's Fashion Jewellery, among others.
Jugal Kishore located at CP Ramaswamy Iyer Road in the Alwarpet shopping market spoils you for choice, with some fabulous collection of imitation jewellery. They are quite popular for their coloured stones and beads as well.
Kushal's fashion jewellery runs a chain of fashion jewelry stores in various cities like Bengaluru, Chennai, Coimbatore, Chandigarh, Mysore, Kochi and Ahmedabad. They specialise in the traditional Indian style imitation jewellery. You are sure to fall in love with their beautifully crafted necklaces, bangles, earrings, rings and other accessories such as payals, tikkas, hair clips, bajubandhs (arm bands) and belts.
The use of zircon stones, pearls, kundan (cut glass), coloured stones and marcasite add a lot of sparkle to their wide collection of jewellery.