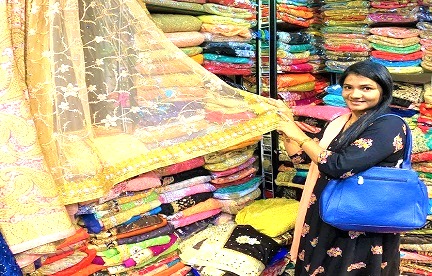 Gandhi Market, Mumbai
Situated in the relatively quiet corner of Mumbai, Gandhi Market offers a shopping getaway to locals who are looking for bargain shopping options for clothes, jewellery and accessories. It is located right outside the Kings Circle train station and is...Read more
Situated in the relatively quiet corner of Mumbai, Gandhi Market offers a shopping getaway to locals who are looking for bargain shopping options for clothes, jewellery and accessories. It is located right outside the Kings Circle train station and is a taxi ride away from Dadar or Sion.
Gandhi Market is also located right opposite one of Mumbai's most iconic auditoriums – Shanmukhananda Hall. This hall has seen some of the best musicians, dancers, and artisans from India and abroad perform and entertain ever since its establishment.
Shopping for Fabrics in Gandhi Market
The market is lined with several cloth shops. And if you are visiting for the first time, it'll take a little while to get familiar with the winding inner lanes. In that case, it is best to start with a full market survey and then start shopping. It will be good to remember the shop number of the store you like in particular. The cloth shops offer both ready stitched clothes and material that you can get stitched.
Shopping for Salwar Suits & Lehengas in Gandhi Market
Indian wear dominates the market to a good extent. You'll find lehengas, kurtis and salwar suits hanging around everywhere. Many of the shops will also show you 'designer' wear that was showcased in the latest movies. You can look at the catalog and instantly recognize which celebrity has worn which saree! You'll not only get a replica but also get to choose colors for variety.
This is a 'street' market so don't expect a lot of cleanliness, especially in the rainy season. As you walk further on the main road outside the market, you'll also find several lingerie and shops lined up.
Because of the proximity to the G.N.Khalsa College, you might find students hanging out here especially around the limited food stalls. From sandwiches to dosas to pani puris, you'll find a lip smacking treat waiting for you after your shopping. Right next to these food stalls are open street shops for bags and shoes. They don't come with a guarantee but work fine if all you need is a stopgap variety.
The shops sleepily begin opening by 11 am and stay open until 10 pm.
How to Reach Gandhi Market?
The closest railway station is Kings Circle, which comes under the harbour line set of trains in Mumbai. You won't find any autos as this falls in the area after Mahim. So you'll have to take a taxi. You can look at a local site like this one to check out the BEST buses (local public transport buses) that'll take you there.
Read our other reviews for Delhi market:
Days Closed :- Open all days
Timing :- 10am-8:30pm
---
484 views