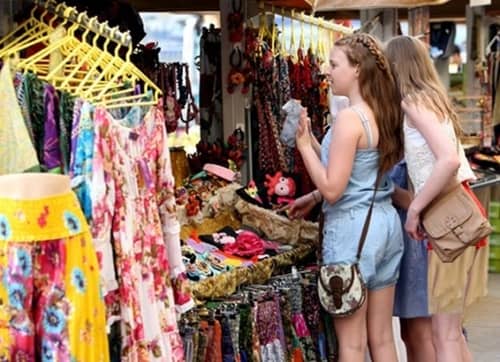 Fashion Street
If you thought that with the arrival of Amazon, Myntra, Jabong and other e commerce sites in India, girls would prefer to sit at home and shop, then think again. A visit to Fashion Street in Mumbai can tell you...Read more
If you thought that with the arrival of Amazon, Myntra, Jabong and other e commerce sites in India, girls would prefer to sit at home and shop, then think again. A visit to Fashion Street in Mumbai can tell you a different story altogether.
Fashion Street: Shopping for Fashionable Items
Fashion Street in Mumbai – Well, the name says it all. It is every teenager and college goer's dream shopping destination.
Located just a stone throw from the Churchgate Station and the famous Gymkhana Sports Club, it is a popular Mumbai shopping market among tourists and locals alike. It is a cluster of shops 300+ shops that stretch for over one km.
Famous for its ready-made dresses and tops, it also boasts of a wide variety of imitation jewellery, cosmetics, bags, wallets & watches, belts, and shoes. From shopping for babies to shopping for modern women, Fashion Street certainly caters to a variety of shopping requirements.
In the year 2011, Fashion Street also signed on to the green movement and stop using plastic bags. Now they use either paper bags or other bags which are biodegradable.
International Brands @ Fashion Street
Up until a few years back, it was only famous for the cheap clothing and bargain hunting. Fashion Street has upped its game now and branded apparel is available in plenty. Apparel from international brands that are manufactured in India and are probably export rejects are also available.
Denims all the way @ Fashion Street
If you are interested to check out pieces of denim, the fabric that is universally loved by men, women and teenagers , then you should try the cluster of shops in the middle of this shopping market. It is directly opposite to the bus lane.
They have rompers, jumpsuits, jeggings, dresses and also a variety of normal jeans. The leggings start from as low as Rs 200/piece, jeans are at Rs 700/pair. You can bargain too.
The only downside is that they do not have any trial rooms. You can always ask for a receipt if you wish to return the jeans at a later date after trying it on.
Shop for Stylish Garments, Accessories & Imitation Jewellery
Ahh now for imitation jewellery! Fashion Street has a lot of fashion accessories such as anklets and toe rings that are in vogue. Handmade jewellery is available at rock bottom prices. Also available are men's accessories and shoes at extremely reasonable prices.
Footwear & Bags @ Fashion Street
Cross over to the other side of Fashion Street.  In addition to garments, this is where you are likely to find footwear and bags. From simple jute bags to funky bags, there are literally heaps of bags. One of the attractions on this stretch are the purses. Bags & purses in all shapes sizes & colours are available at the most reasonable prices.
You can buy one for every day of the week. Look for ethnic sling side bags with traditional embroidery & embellishments. Again, it will cost only Rs 300/bag. Next, look for footwear at the beginning & end of the street. This is where they sell sandals for as low as Rs. 100 a pair. They may not last too long though.
You would be very truly astonished by what Rs 2,000 can do to boost your wardrobe after a trip to Fashion Street. You could have very well bought your wardrobe for half the year.
Be cautious, you will have to wade through crowds of enthusiastic shoppers, salesmen shouting at the top of their voices and not very comfortable surroundings.
What next after Fashion Street shopping?
After all the handwork, if you are in need of some local refreshments, head to the main entrance of the Gymkhana Club, alongside Fashion Street. The Rs 30 pizza and a staple called Vada Pav are the local favorites. Or if you walk towards the Gateway of India, there are a number of restaurants starting from McDonalds to fine dining.
How to Reach?
Fashion Street is at a walking distance from the CST Station and the Churchgate Station.
Read our other blogs:
Top 3 reasons to visit the Designer boutiques in Shahpur Jat for best Lehenga shops in Delhi
Students shop at Kamla Nagar Market in Delhi for handbags
---
160 views