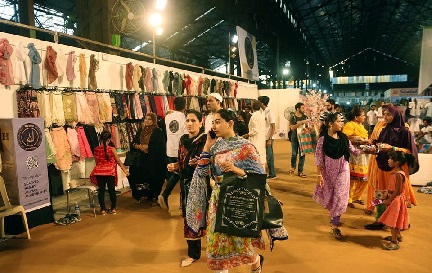 Hill Road Market in Bandra
Bandra is one of Mumbai's popular and posh localities. One of the major attractions that makes Bandra popular is the Hill Road Shopping Market. This shopping market is similar to the Janpath and Sarojini Nagar street shopping markets in Delhi....Read more
Bandra is one of Mumbai's popular and posh localities. One of the major attractions that makes Bandra popular is the Hill Road Shopping Market. This shopping market is similar to the Janpath and Sarojini Nagar street shopping markets in Delhi. Be it Indian wear, denims, shirts, tops or footwear, you can shop to your heart's content at this Mumbai market at just half the showroom cost.
Bandra Shopping
Hill Road (officially renamed as Ramdas Nayak Road) is an arterial road in Bandra. It stretches from the Bandra Railway Station road and S.V. (Swami Vivekanand) Road to the Mehboob Studios, leading to the Bandstand Promenade, the Bandra Fort and the Mount Mary church.
There are hardware shops and few small restaurants as you enter Hill road. Lucky restaurant known for its biryani and Happy Book Store are important landmarks. Starting from the Marks and Spencer store building to the St. Peter's Church, you will come across some of the best shops on Hill Road.
Hill Road can be divided into three prominent areas, namely the Sona Shopping Centre, the Elco Market, and the standalone shops.
Sona Shopping Centre
The Sona Shopping Centre has readymade garment shops, lingerie shops and tailoring establishments. Further, shops in the back lane stock tunics and casual wear dresses that are primarily export rejects.
Elco Arcade
The Elco Arcade Center has ethnic wear shops. They have restaurants and food stalls in between the shopping markets and these are always crowded. The area is famous for its paani puri and chaat shops too.
Like any other street market, Hill Road reflects the local culture of Mumbai and its people.
What to expect in the Hill Road Shopping Market – International retail stores, mini shopping markets and tiny street shops.
All shops, markets and street vendors sell ready-made garments for both formal and casual wear, lingerie, fancy party dresses, imitation jewellery and footwear at very reasonable prices.
How to reach Hill Road?
The Bandra Train Station is a mere 1 km from Hill Road.
Best time to visit – 4 p.m to 10 p.m on weekdays. It is very crowded on weekends.
Shopping Tips
Bargaining is definitely an integral part of the shopping experience here. However, there's no trial room available in many of the shops. So know your sizes pretty well before you go shopping to this market.
Also, we recommend you to check the refund policy before making a final purchase. There is no exchange or refund policy available in many shops.
Read reviews about shopping markets in Delhi:
Days Closed :- Open All Days
Timing :- 10:30 a.m to 9 p.m
---
1540 views