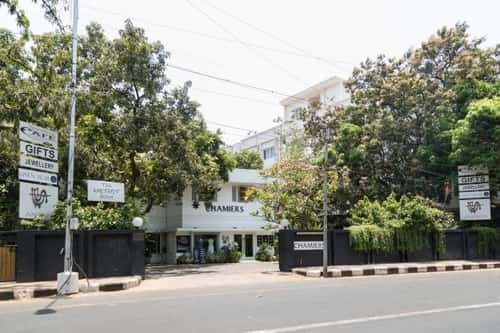 Alwarpet
Firstly,Alwarpet was a quiet residential neighbourhood in central Chennai until a few years ago. There were hardly any shops apart from grocery stores and chemists.  However, today, it is an upscale residential neighbourhood and has the best jewellery shops and...Read more
Firstly,Alwarpet was a quiet residential neighbourhood in central Chennai until a few years ago. There were hardly any shops apart from grocery stores and chemists.  However, today, it is an upscale residential neighbourhood and has the best jewellery shops and apparel shops . In fact, one can easily spot all the shops on either side of C.P Ramaswamy Iyer road.  Above all ,the best thing about shopping in Alwarpet Market is the peace & quiet that you can experience here. There is roadside parking space that is available.
Best Jewellery Shops in Chennai
Shopping for jewellery in Chennai? Kirtilal Jewelers, Mehta Jewellery and Jugal Kishore are some of the highly regarded jewellery stores on this road. Kirtilal and Mehta stores stock gold and diamond jewellery as well.
Further, Jugal Kishore is popular for beads, silver jewellery and imitation Jewellery.
Best Shops for Salwar Suits in Chennai
The boutique shops in Alwarpet, have an interesting and eclectic range of salwar suits and Indo western wear. Brass Tacks, Samasta, Avarna, Amaara and Azurina are some of them.
Sarees in Alwarpet
Further, Samasta and Shilpi are popular shops for sarees in Alwarpet. Here you can buy Chanderi silk and tussar sarees.
Chamiers
Chamiers shopping complex, close to Alwarpet, has Anokhi and Chamiers  gift shop and cafe. Anokhi is the popular  retail chain for comfortable Indo western dresses, jackets and salwar suits in cotton. They also stock soft furnishings and dining accessories such as table mats and dining table covers.
The Chamiers Gift Shop has attractive jewellery sets,  painted wooden dining sets and home decor pieces as well.  In addition,The Chamiers Cafe is a popular all day dining restaurant. Their breakfast menu is sumptuous and their railway cutlets and fresh juices are quite popular.
Parking is available on the main road. Check out the best shops in this Chennai Market and Chamiers Road with our shopping guide on famous markets in Chennai.
As you go along the road towards Mount Road, there are several other shops for apparel, jewellery and handicrafts.
Our Video on Alwarpet Boutique Shop – Samasta
Samasta Boutique in Alwarpet, Chennai | Shopkhoj
Our Blogs:
Alwarpet boutique shops
Where to shop & where to eat in Annanagar,Chenna
Days Closed :- Sunday
Timing :- 10 am to 8 pm.
Bus/Metro :- Chamiers Road Bus Stop.

---
7 views