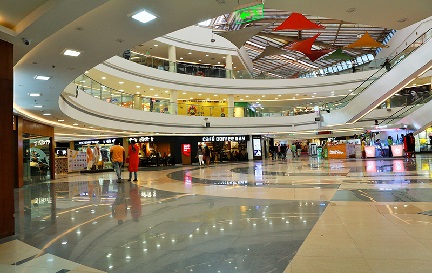 Inorbit Mall, Vashi
Inorbit Mall began their journey by opening their first mall at Malad, Mumbai in early 2004. Inorbit Mall Vashi offers a great Mumbai shopping experience. The mall is a short 10-minute walk from the Vashi local station and there is...Read more
Inorbit Mall began their journey by opening their first mall at Malad, Mumbai in early 2004. Inorbit Mall Vashi offers a great Mumbai shopping experience.
The mall is a short 10-minute walk from the Vashi local station and there is a mini market en route. This mall is close to the Four Points Sheraton hotel. There is a chain of restaurants and many corporate offices close by.
Apart from shopping, find out what why you shouldn't miss out on Inorbit Mall Vashi in Mumbai.
Popular Brands
Shoppers Stop, Landmark & Westside are their anchor stores. Arrow, Biba, Fabindia Globus, Max, Louis Phillipe, Cottonworld, Vero Moda and Van Heusen are some of the popular apparel shops in the Mall. There are mini stalls selling artificial jewellery, candles, Feng Shui products and other knick knacks in the main hallway in the Mall.
In addition to shopping for garments, bags, shoes & cosmetics, you can also enjoy a spa and a beauty salon experience. They have Bodhi Thai spa, Myo Thai spa, Kaya Skin Clinic and Envy salon.
The British Brewing company is a welcome stopover to quench your thirst. Enjoy the food court experience. Choices vary from Pizza Hut, Soy Street, KFC, and Starbucks, Cafe Coffee Day, Flavours of China,Swirls, Falafels, Bhagat Tarachand, Malgudi, and Santino's. From roti and paratha to street & gourmet food, almost every cuisine is on offer. Visit the famous Gelato Italiano or the Natural Icecreams to satisfy your dessert cravings.
Bring the kids along
Children have plenty of options in The Hobby Ideas store which is a arts and craft store. They can paint, read books, or join craft workshops. There is Timezone on the top floor, where they can enjoy rides, video games and many other fun activities in a safe and friendly environment.
Food & music festivals are organized frequently in the mall. It has ATM's, baby care rooms, valet parking, wheel chairs, Wi-Fi, custom tailor services, a smoking area and an auto and cab stand.
Mumbai shopping in InOrbit Mall Vashi is a nice experience.
---