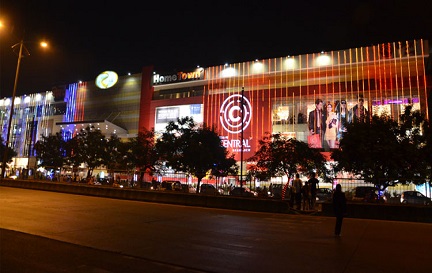 R Mall Mulund
Mumbai is a shopper's paradise. Looking for a one-stop center to shop, watch a movie, and enjoy dining with close ones, all under one roof in Mulund? Head straight to the R Mall in Mumbai. The R Mall is situated...Read more
Mumbai is a shopper's paradise.
Looking for a one-stop center to shop, watch a movie, and enjoy dining with close ones, all under one roof in Mulund? Head straight to the R Mall in Mumbai. The R Mall is situated in the eastern suburb of Mumbai near the Mulund – Thane check post on the LBS Road. The Mall is open from 10 am to 10 pm. The Mulund train station is just 3 kms away. An auto rickshaw or a bus is the best way to reach the R Mall from the station.
The R Mall came into operation in April 2003. Since then, it has always been a popular Mumbai shopping place and a social meeting place. It was developed and designed by Chapman Taylor and Partners (UK). This 4-storeyed air conditioned mall has up to 80,000 sq ft in each floor and a 7 level car park.
Indian Brands @ R Mall
There are several premium Indian brands that have their stores in this Mumbai mall. Some of the prominent ones are And, Global Desi, Cotton Culture, Ruff, Van Heusen, Lifestyle, Big Bazaar, Max, Art Culture, Jackpot, & Pantaloons.
One can shop for casual wear dresses, traditional Indian wear such as sarees & salwar suits , cosmetics, bags, shoes and home decor. In addition to branded and popular shops, there are some lesser know'n brands that sell trendy clothing and footwear in the mall.
Entertainment @ R Mall
Leisure and entertainment activities are a big attraction in the mall. It has multiplex cinemas showcasing all the latest Hollywood and Bollywood movies.
Moreover, it boasts of many restaurants serving international and traditional Indian cuisine. Some of them are PopTates, Timbuctoo, Urban Tadka, Barbeque Nation, and Pizza Hut. You can also check out Chocolate Room, Dominos, Only Parathas, Café Coffee Day, Subway and Flavours of China at this mall. You can literally get everything here from Italain pastas to Punjabi parathas.
The best part of the mall is the Jumble Tumble play area for the kids.  This indoor space has slides and hideout areas for the kids. There are caretakers too. You can spend your time at the Crosswords Book Store or walk into the beauty saloon-Kapila.
Shopping in Mumbai malls is always fun.
---
82 views