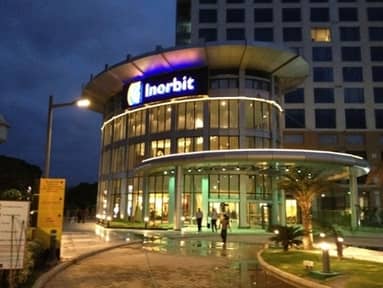 Inorbit Mall, Malad
Inorbit Mall in Malad is one of the most  famous Mumbai  Malls between Andheri and Borivali areas. It is a 10-minute ride from the Malad railway station. The Infiniti Mall is also in the vicinity. The Inorbit Mall in Malad...Read more
Inorbit Mall in Malad is one of the most  famous Mumbai  Malls between Andheri and Borivali areas. It is a 10-minute ride from the Malad railway station. The Infiniti Mall is also in the vicinity.
The Inorbit Mall in Malad was the first shopping mall to open under the Inorbit umbrella in 2004.  When it was opened in 2004, it was said to be the largest mall in South East Asia with one of the largest food courts in India. The mall has five lakh square feet of retail area.
Top Brands @ Inorbit
Top retail shops in the mall for western wear garments include H&M, AND, Calvin Klein, Chemistry, Forever New, Latin Quarters and Pepe Jeans. Stores for ethnic dresses are  Fusion Beats, Biba, Hastakala, Colour Plus and Lifestyle. International brands such as Charles and Keith, Da Milano, Giordano and Steve Madden are all present in the Mall.
Tanishq, Orra, Mia, Peora and Swarovski are some of the popular jewellery shops here. There is an electronics shop where one can buy laptops, cameras, mobiles, televisions, computers, washing machines, refrigerators, air conditioners and even  home theatre systems. And then there is the Crossword Store for book lovers.
Hypercity, which is adjacent to the Mall, is well known  for groceries & veggies.
Restaurants @ Inorbit Mall
Head over to the upper floor of the mall for fine dining restaurants and a food court. Check out the Indigo delicatessen for European and Continental food , Chili's for American and Mexican cuisine and Maharaja Bhog for the Indian vegetarian, Dunkin Doughnuts, Starbucks Coffee, Pizza Hut, Flavours of China, Subway, KFC, Bhagat Tarachand, South Bombay, English Vinglish, Baskin Robbins, and Only Parathas are a few others.
During large sports events  in the country, the Inorbit  Mall installs large screens in the  food courts to retain its clientele.
Stop by at the Time Zone for family fun activities such as  bowling and other games. It also has an INOX Cinema.
The Inorbit Malad played host to an international boxing bout held by World Series of Boxing (WSB) in 2011.
In 2010, Inorbit Malad launched "Mall Walk", a scheme where people could use the mall property for their morning walks at no cost.
---
40 views