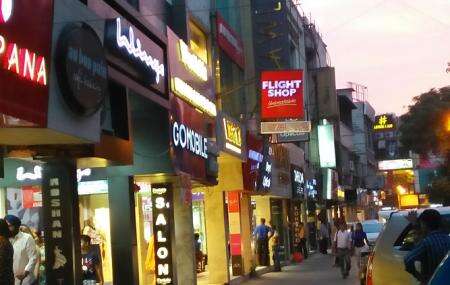 GK – M Block Market
Developed in the early 1970s, GK M Block Market is located in the middle of South Delhi's posh neighborhood Greater Kailash 1. M Block is popular both with the young and the not-so-young who throng the chaat (Indian spicy fast-snack,...Read more
Developed in the early 1970s, GK M Block Market is located in the middle of South Delhi's posh neighborhood Greater Kailash 1. M Block is popular both with the young and the not-so-young who throng the chaat (Indian spicy fast-snack, typically sold at street corners) kiosks and the shops.
So what to look forward to at this upscale market in Delhi? A flea-market-style shopping with local vendors as well as international brands, designer knock-offs, beauty salons and spas, and of course, lot of eating hotspots.
Greater Kailash (GK) Part I is famous for the M-Block and N-Block Shopping Markets in Delhi.
Jewellery Shops in GK M Block
Shops that sell gold, silver and diamond ornaments such as Hazoorilal, Champalal and Rakyan for traditional jewellery are found here. You can shop for silver jewelry at Celestial & Silofer. Also, imitation jewelry is available at Kushals and in the pavement shops.
Saree Shops in GK M Block
It has international brands like Benetton, Reebok & Adidas. L'Affaire is a local favourite for a sophisticated line of Indian ethnic wear. Kalpana has a great collection of Tussar & Banarsi sarees. Many outlets sell western wear and accessories like bags and shoes.
Street Shopping in GK Block
GK – M Block Market is also famous for the pavement vendors who sell tops, cardigans, track suits and other garments which are very much in tune with latest trends at affordable prices. This is one of the best places for street shopping in Delhi. Check out the basement shops for palazoo pants, tops, skirts & trousers.
If you go out for an evening stroll around this market, chances are you will end up buying things – a pair of gloves, stockings, lingerie, cosmetics, silver trinkets, imitation jewellery, clothes for the kids. The lane behind the market is home to several ladies tailors. You can buy ready-to-wear saree blouses or get them stitched. Roshan Tailor is a famous ladies tailoring house.
'Morning stores' and The Mahendra Departmental store are popular go to places for grocery and crockery shopping respectively.
GK M Block Shopping Market also has Starbucks, PizzaHut, Prince chat and a host of popular restaurants.
It is one of the best shopping places in Delhi.
Related Blog – Top 5 reasons to  spend a day in GK M BLOCK MARKET 
Days Closed :- Tuesday
Timing :- 11am-8pm
Bus/Metro :- GK-1 bus stop; Metro-Kailash Colony, violet line
---
595 views