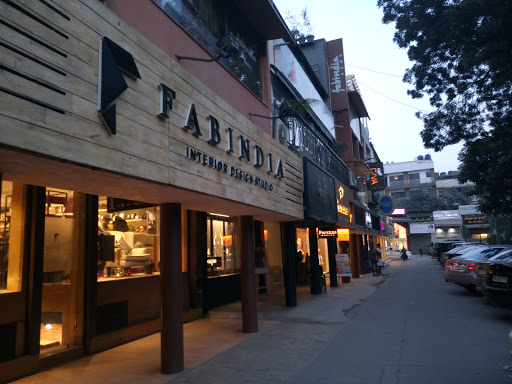 GK – N Block Market
Let\'s check out what\'s in store for you at another popular market of South Delhi. First of all, don\'t expect the hustle bustle seen in the M Block Shopping Market at the GK N Block Market next door. However, the...Read more
Let's check out what's in store for you at another popular market of South Delhi. First of all, don't expect the hustle bustle seen in the M Block Shopping Market at the GK N Block Market next door. However, the market has turned into one of the popular hangouts for Delhi's A-listers over the years.
One can easily take a stroll in this market if the weather permits. The city's young people usually come here not just to shop, but also to spend time with friends at the cozy cafes. Moreover, there are coffee shops, salad bars, beautiful cotton ethnic wear shops, book shops, furniture and furnishings shops. The ambience is just perfect.
This Delhi Shopping Market is very well laid out around a green park. While there is a designated parking area for the cars, you can park your vehicle on the road side in front of the shops too.
Cotton Dresses in GK N Block Market
A host of retail garment stores, such as Anokhi, Cottons, Kilol and Fab India do brisk business. They are certainly some of the best stores in India for soft cotton dresses, tunics and kurtis.
Additionally, Fab India, Apartment 9, and Episode are niche stores for home furnishings and silver products respectively. Fab India has 3 distinct stores in this shopping market, one each for Indian ethnic wear garments, home furnishings & furniture.
Ramayana Retail is an interesting store for jootis, scarves and silver trinkets too.
Herbal cosmetics in GK N Block Market
Kama and Forest Essentials are two premium personal product stores in this Delhi Shopping place.
Restaurants in GK N Block Market
Some of the best restaurants in Delhi are in the GK,N Block Market. Kasba, Diva, Dao are a few of them. Café Turtle, near the book store is a popular coffee place.
The Archana Shopping Complex just opposite to the N Block shopping market has some exclusive and affordable boutiques that sell Indian wear and jewellery.
Check out reviews of other Delhi Markets 
Days Closed :- Tuesday
Timing :- 11am-8pm
Bus/Metro :- Kendriya Vidyala/ Pacific Sports complex; Opposite GK-1 ( Petrol Pump), Andrews Ganj,
Near LSR College.
Metro station-Moolchand, violet line.
---
312 views