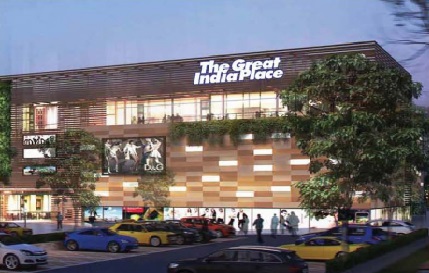 The Great India Place Mall
The Great India Place Mall The Great India Place Mall (GIP Mall), Noida is one of the biggest malls in the NCR region. It is very close to the Sector 18 market in Noida. Designed with a dream palace theme,...Read more
The Great India Place Mall
The Great India Place Mall (GIP Mall), Noida is one of the biggest malls in the NCR region. It is very close to the Sector 18 market in Noida. Designed with a dream palace theme, the mall brings to visitors 9.47lac sq. ft. of shopping, eating and entertainment experience.
With 258 brand stores and 10+ anchor stores, the mall certainly adds to your awesome shopping experience. So most big brands such as Lifestyle, Shoppers Stop, Big Bazaar and Pantaloons are available here. The Home Town is a big draw as new apartments are mushrooming in Noida and people throng to buy home furnishings. Beauty parlours and spas are on the second floor.
Women's apparel stores are aplenty across the three floors – Biba, Tana Bana, Good Things, Satya Paul and La Lingerie to name a few. Global retailers like Marks & Spencers, Numero Uno, Levis, Pepe Jeans and United Colors of Benetton share space with Indian names like FabIndia and Wills Lifestyle. Zara has a big store and so has H&M. One can shop for the best tops, trousers, skirts, jackets  and other accessories.
Footwear at Great India Place(GIP Mall)
Footwear biggies like Adidas, Ferradini, Woodland, Nike, Charles &Keith and Clarks are present in this mall.
Jewellery at Great India Place(GIP Mall)
Popular jewellery and accessories stores like Nakshatra, BG's, Cygnus and Feminine will ensure you spend a day at this place. Mahindra Retail's Mom & Me is a good place to shop for expecting moms.
Restaurants & Entertainment at Great India Place
Binge out on chaats, delicious burgers, cheesy sandwiches, chole bhature and more with a variety of grubs at the food court here.
Is entertainment a need of the hour? Well, you can catch the latest flick in town at Carnival Cinemas as well as 7D Experience at the GIP Mall.
Moreover, the well-known Worlds of Wonder (WOW) amusement park is located right near the GIP Mall itself. With its 20+ fantastic rides and attractions, you can look forward to have the time of your life at WOW.
This mall is very popular with Noida residents as well as with South Delhi residents.
There is underground parking too.
---
70 views