Manjal Shop for Palm Leaf Baskets
At the outset, Manjal is a bright and cheerful gift shop for an exquisite range of products made from palm leaf. It is supported by the M.Rm.Rm. Cultural Foundation.
About Kottan – Palm Leaf @Manjal
Everyday products  such as bags, baskets and trays are cerated using dried palm leaf which is available in plenty in the villages in South India.They are certainly stunning. While the venture started with the intent to weave simple baskets, also known as Chettinad baskets, there is a diverse range of products available in the store today. It is certainly a testimony to their creativity and perseverance. The products include coin purses, pencil cases, trays, coasters, table mats, gift boxes, saree boxes, evening bags, tissue boxes and wine bottle holders.  Further, A set of 4 coasters would cost Rs. 840 + 18% GST.
In addition, there is a Chettinad basket that is a open square basket very typical of the region.
Take a look at the video link: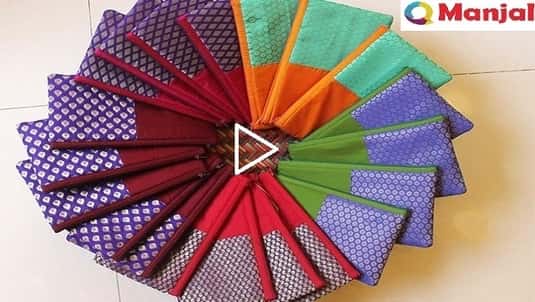 A unique and distinct collection of pouches and bags that would cost Rs. 400 to Rs. 1500/bag are made with raw silk and palm leaf.Most noteworthy is the fact that gift boxes in natural colours with vegetable dyes are exported to countries like Japan.
Further, they under take special requests for Diwali gifts, wedding gifts, trousseau gifts and corporate gifts as well.
Washable Bags  @Manjal
Finally, bags in colourful plastic wires can also be spotted here. The bright colours and sizes make them attractive. They are washable and reusable. They can be used as swimming bags, shopping bags and lunch bags.
Reasons To Choose Gifts From Manjal
In fact, there are several reasons to choose these wonderful items.The products are attractive, utilitarian, they are colourful, available at a range of prices and finally they are eco-friendly. For example, there are small pencil cases for children and lunch baskets too.
RM.RMCultural Foundation
At first, the foundation was started by Mrs Visalakshi Ramaswamy in the year 2000. The aim was probably to document and revive the crafts and textiles of the Chettinad region in Tamilnadu. Chettinad is a prosperous region known for its beautiful homes, textiles and palm leaf crafts among others. The characteristic feature of Chettinad homes are their slanted roof, veranda, courtyard and tiled flooring that are known as Athangudi tiles.
Palm leaf basketry is a speciality craft of this region. Hence,  in order to preserve and develop this vanishing craft, the foundation has created a development centre in the villages where women are taught & trained to create the unique products for the retail market.
Above all, the foundation helps in creating employment opportunities for women in the region in addition to promoting the arts and crafts.
Website: https://chettinadculture.wixsite.com/mrmrmcf
Facebook: www.facebook.com/mrmrmculturalfoundation