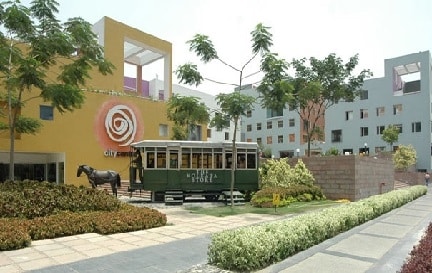 City Centre –Salt lake
City Centre Salt Lake City Centre Mall Salt Lake, is an architectural delight with spacious interiors that make shopping a pleasant experience. It has been recognized as the most preferred shopping mall in many surveys.It is situated close to the...Read more
City Centre Salt Lake
City Centre Mall Salt Lake, is an architectural delight with spacious interiors that make shopping a pleasant experience. It has been recognized as the most preferred shopping mall in many surveys.It is situated close to the airport.The open air 'KUND' (pond) with a piazza and the huge sculpture of a horse drawn tram car model, adds a lot of character and charm to the mall.The architect vision of shopping is to bring in a community feel with free flowing open spaces.  For example, the open format provides walkways with polycarbonate roof. Above all, this area resembles the open air Indian Bazar or market place.
The Kund@City Centre Salt Lake
Firstly, this is a central area ,the waterbody.  In other words, fountains and waterbodies ideally have a soothing and calming effect. Therefore, it is the perfect place to congregate and spend time. For instance, this central Kund attracts a lot of shoppers. Above all.it encourages shoppers to hang around.Many events and promotional activities are hosted here.
Shops @ South City Mall Kolkata
Above all, this store is for people who love Kolkata & all things Kolkata has to offer. It is a shop for memorabilia. For example, a horse drawn Kolkata tram car. Incidentally, Kolkata was one of the first cites to adopt the tram car in India.However, the latest news states that the tram car is to become a relic soon.
In addition,  the tea shops that encourage shoppers to have relaxed conversations over a cup of tea is an added charm. There are ice creams, jalmure and other small kiosks offering simple street food . City Center Mall  boasts of a wide range of  shops. Firstly, there are a  plethora of apparel, footwear and jewellery shops. Shoppers's Stop is the anchor store with Indian Ethnic wear, jewelry, footwear ,cosmetic products & accessories .
Kari is a small shop in the corner to shop for Kolkata saris and worked salwar suits. They stock Kora silk, & Banarasi silk sarees too. Vermilion is another shop for Chanderi saris.Biba is the go to shop for salwar suits. Mochis and Footsie are two good shoe shops here. MAX is a popular store for Indian ethnic wear casuals. The prices are very reasonable  and it is the largest selling in the Lifestyle Brands.In addition, there is Nike, Adidas & Skechers for sports shoes. Caratlane & Tanishq would entice you with their  beautiful jewelry. Further there are stores for kids dresses & toys.
Levis & Colours of Benetton are two of the most iconic shops for jeans & casual western wear.
 Restaurants@City Centre Salt Lake
Starbucks is the iconic coffee shop & Flury's the pastry shop. BARish,Mainland China, Riyasat are few of the restaurants in City Centre Salt Lake. There is a large food court with delicious food on the top floor.
The INOX Multiplex cinema with 4 screens is a major attraction as well.
This is a very charming & relaxed mall .Whats more, you can shop in comfort -Far From The Maddeing
Crowd.
---