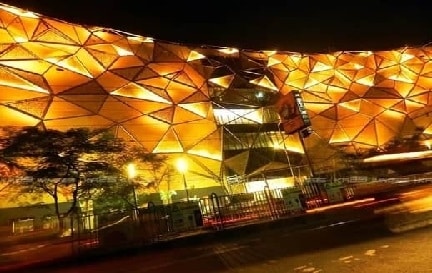 Quest Mall
Quest Mall ,Kolkata is one of the best  shopping malls  by a long shot. It is spacious and luxurious and with several international and domestic brands. The spanking  and sparkling exteriors and the colourfully lit interiors are a treat to...Read more
Quest Mall ,Kolkata is one of the best  shopping malls  by a long shot. It is spacious and luxurious and with several international and domestic brands. The spanking  and sparkling exteriors and the colourfully lit interiors are a treat to anyone visiting the mall. Above all, the gold and white facade in contemporary design is very attractive. In addition, the building is modern in design with beautiful interiors. It is located near Ballygunge & Park Street and close to Alipore. In fact, it is located in Park Circus on Syed Amir Ali Avenue. Parking is available.
In the Covid times, they have introduced a special visit  App. For instance, one can prebook the visit and pay online for parking. Therefore ,the time spent in the mall will be reduced..
Brands @Quest Mall
International brands include Gucci, Svaroski, JimmyChoo, Michael Kors. GAP , Estee Lauder,Giorgio Armani ,Coach, Breitling , Salvatore Faragamo, Rosso Brunello , Canali, Guess  and the list goes on.
Further domestic brands include Meena Bazar, Lifestyle, and FabIndia for garments . Kama & Forest Essentials  are Ayurvedic brands for beauty . They have a range of hair & skin care products. Spencers
Dining @Quest Mall
KFC,Kventers,Pizza Hut,Burger King,TacoBell and Bombay Brasserie,Chillis are the popular dine out restaurants.  Further The Irish House  is very popular . In addition, the  dessert places such as Hagen Das, Cafecino ,Creamfudge, Cookieman, Juices and Kventers are always crowded . In addition,there is a large food court as well.
THE LOFT @Quest Mall
Finally, The Loft, the special area is reserved for Luxe stores. Ensemble designer brands such as Ogan, Botega Veneta,Abujani Sandeep Khosla,Ermengildo Zegna are some of them.
INOX Cinemas is a greta attraction for al age groups. Gone are the days of standalone theatres.
---
60 views