If you have a Bengali friend or you know someone from Kolkata, chances are high that you have heard a lot about the Durga Puja festival. It is celebrated with great pomp and a splendour everywhere in West Bengal & in Kolkata especially. If you have only heard about the Puja, I would strongly recommend that you attend the Durga Puja festival in Kolkata at least once in your life. Why? I will tell you all about it.
Durga Puja festival: Devi's Homecoming
Firstly, in the Bengali month of Ashwin (September – October in English calendar) Durga Puja takes place to welcome goddess Durga and to celebrate her win over the demon Mahisasur. According to folklore, Devi Durga comes down from heaven to her parents' house on earth on every Puja. The mother is coming home and we the children celebrate her visit. Mother (Devi) Durga comes with her four children Goddess Lakshmi, Goddess Saraswati, Lord Ganesha and Lord Kartik. All of them are worshiped, along with Goddess Durga.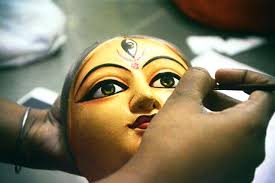 Why is Durga Puja Celebrated?
As per folk lore, Devi Durga manifested herself to kill the demon the  Mahisasur. That is why she is called Mahisasur Mardini.(Slayer of Mahisasur) Once upon a time, there was a powerful demon lord Mahisasur. He was given a boon that he cannot be killed by any man. He became invincible and captured heaven. The gods then asked Lord Vishnu for help. Lord Vishnu, along with other gods, created Devi Durga and she was given weapons for her ten hands. Further, she went to war against Mahisasur and killed him in the war. It is in this honour that Devi Durga is worshipped.
How is the Durga Puja celebrated?
Durga Puja is a ten day affair. The Puja starts with Mahalaya. The tradition of Mahalaya is to listen to songs and prayers in praise of Devi Durga. These are known as Devi Vandana and are sung by Birendra Krishna Bhodro in the radio early in the morning. There is also tarpan on Mahalaya. As a matter of fact, this is a prayer to our ancestors. The general custom is to go to the river Ganges and pay tribute to the ancestors on the banks. Then the actual Puja is done on the Sasthi, Saptomi, Ashtami, Navami (6th, 7th, 8th and 9thdays). The immersion of the idol takes place on Dasami, which is the 10th day of the puja.
Above all, Bengalis are very enthusiastic about Durga Puja and celebrate it with religious gaiety in Kolkata .The streets and the metro trains are crowded at all times and people are generally in a festive mood. There is celebration in the atmosphere.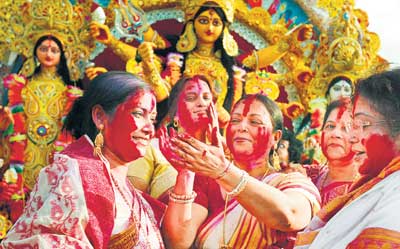 Seasons Change  
The season changes at this time of the year and it is autumn season when Devi Durga is welcomed.
Pandal Hopping
Firstly, Pandals are temporary structures made solely for the purpose of the puja. They are made of bamboo.
The pandals are illuminated with lights. An idol of Goddess Durga is first placed in the pandal. Almost each residential area  in Kolkata will erect a pandal. Public participation and contribution are key to the success of the Durga Puja festivities.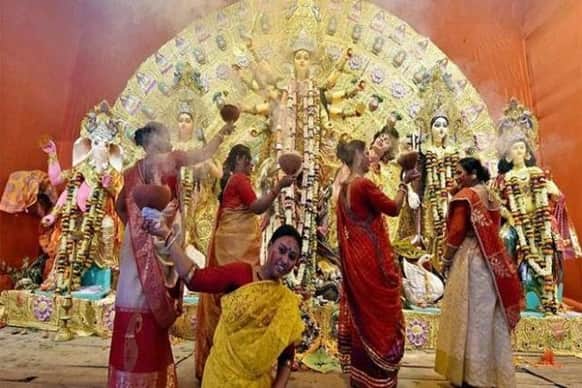 Pandals are works of art. Each one is more beautiful than the other. You will be surprised to find how the beautiful pandals are created. You need to go on a pandal hopping tour to admire their beauty.
There are three major types of pujas, the Theme Puja, the traditional Puja and the Banedi Barir Puja.
The traditional puja is done in a traditional pandal.
Bandei Barir puja are pujas in the houses of old landlords of Kolkata.
Theme puja, are the new attractions. A theme is selected and pandals are built accordingly. We saw a pandal fashioned as playing cards, as an Egyptian pyramid and depicting the 7 Wonders of the world. The whole concept is fascinating.
The illuminations at night are also something to behold. You can book a car for a whole night tour to watch the important pujas. But be cautions, sometimes it will take couple of hours to stand in a queue to see just one puja.
Famous Puja Pandals 
In the South Kolkata area, the famous puja areas are Ekdalia, Bosepukur, Singhi Park, Mudiali and Deshpriya Park. In North Kolkata these are Santosh Mitra Square, College Square, Bag Bazar and  Kumartuli Park.
The Puja Ritual 
A priest performs the puja and the  Aarti for the Goddess
Devi Durga is worshipped with conch shells, dhol(drums) and a special dance which is done with lamps. The people performing on the Dhol are dhakwalas and the dancers are known as dhunuchi nach.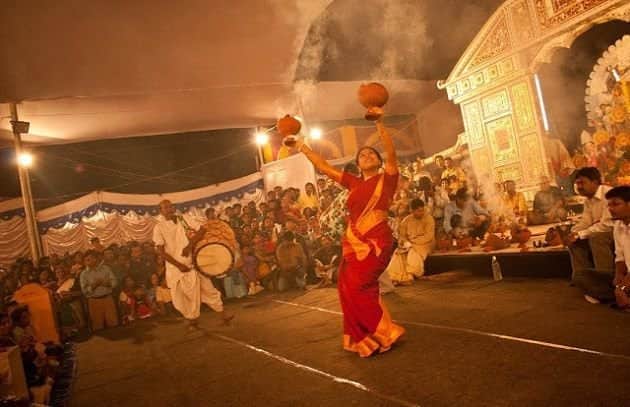 People wear new clothes and do pandal hopping. They visit 3 or 4 pandals in a day. The pandals have a great variety of food stalls .In fact, some of the puja pandals have joy rides and a carnival atmosphere. If it is your first time in Kolkata during Durga Puja, you may feel a little overwhelmed.  But don't worry, we Bengalis feel very excited and at the same time over whelmed as well. So just go with the flow and enjoy the whole thing.
Source of income for poor artists
The puja is not all about fun. It is the main source of income for many artists, dhak walas, dhunuchi nach, priests and small shop owners. A good 10 days can translate to a full years income for them.
Artists work for several months in some cases to create the Durga idol and the pandals
 Durga Puja Food
Kolkata is a food haven and more so during the time of Puja. Even if you are not a foodie, you are in for a treat during the Puja festival.
Street food in Kolkata 
When you are pandal hopping, just stop at any of the street food joints and taste moglai paratha, paratha role or fuchka. These are delicious. Some people have hygiene concerns with street food but the taste should trump the concerns. You have got to taste the fuchka. If you are not accustomed to spices, you can opt for a milder version of the fuchka.
If you want to skip the street foods altogether, try eating in popular restaurants where the level of hygiene is not a concern. During  Durga Puja, they prepare traditional Bengali foods especially for customers. Try sukto(vegetable), fish and luchi khichadi( rice preparation). I would suggest two pieces of luchi and then khichadi.  Also try some puja Prasad known as Jog.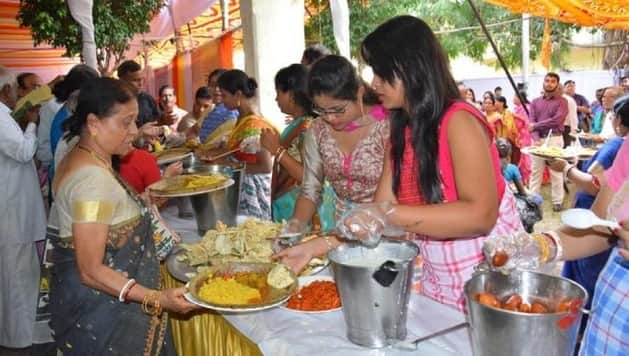 Shopping
Like Christmas shopping in the West, Puja is the major shopping season in Kolkata.  Women buy traditional dresses during the festival. They opt for the traditional white saree with red border (Par), which is exclusively worn during Devi Baran (seeing off the Devi Durga on the last day of festival). Men go for Punjabi Kurta (traditional Long dress). The dhoti, another traditional dress, is also worn with the Punjabi (kurta).
Further, gifts are exchanged between families and even close relatives and friends. A good part of the annual sales takes place in this season. The shopping goes on for more than a month. Particularly areas like Hatibagan, New Market & Gariahat are famous for Durga Puja shopping.  You can visit shopping malls as well. You can find a good list of shops in https://www.shopkhoj.com/kolkata/
Other than the established shops, try to purchase something from the Gariahat and New Market road side hawkers. You need to bargain a lot but that will be another puja experience. The thumb rule for bargaining is to start at half of the price asked by the vendor.In the streets of Gariahat and other places, you will find the face of Devi Durga made of clay. You can buy that as a souvenir to take back home.
Visit a Banedi Bari Puja
While Kolkata's surbojon i.e. public Durga pujas tend to get all the attention, the traditional "Bonedi Bari" pujas in the city's palatial old private mansions are also really worth experiencing. The mansions belong to affluent aristocratic landlord families who have been carrying on the pujas for centuries. They are spread out across Kolkata. Two of the most famous ones are Sovabazar Raj Bari and Rani Rashmoni Bari.
Attend the Anjali Ceremony
Secondly, Anjali ceremony is part of the actual Puja. Particularly the Anjali on the Ashtami (Day 8th) is very important. The devotees come dressed in new traditional dresses and offer flowers to Devi Durga. This is the only constant across all traditional Puja pandals. The Bengalis look forward to this day. If you are attending the Durga Puja try to attend Anjali ceremony and gift yourself traditional Bengali attire for that occasion.
Cultural Functions in Durga Puja 
There are cultural functions taking place around the city. There are big functions where established artists perform and there are small in house functions as well.For instance ,try& attend both of them. You will find the true essence of the celebrations.
Devi Baran in Dashami
This is the seeing off ceremony of Devi Durga before she returns to heaven again.  Here, the ladies will wear Lal Par Sada Sari (White traditional sari with red border) and ask the Devi to return again next year. Even the mahisasur is given a sweet and asked to come again with Devi.
The Goddess is made human by this custom as if she is one of our family members. This is a special ritual.
Immersion
In conclusion Immersion is another photogenic episode of the Durga Puja festival. The parade where all the idols are carried for immersion is captivating as well.
Durga Puja is about the culture of Bengal. The more you immerse yourself in its culture, the more you will enjoy. There is so much more to the Puja than just its religious significance. It is the most interesting 10 days of the year for a Bengali and they wait with great anticipation for the next Durga Puja
I invite you to attend the Puja at least once in your lifetime. It is an experience you will not forget.
Check out www.shopkhoj.com for authentic traditional Bengali attire for your very first Durga Puja.
Read our other related blogs:
Mud dolls come alive in Navratri
Don't miss the Dasara celebrations in Mysore.
10 spectacular places to shop for designer fabrics in Delhi
Check out the sherwani shops in Kamla Nagar Market, Delhi
Contributed by "Kanchan Ghosh"