New Market shops are kind of old school & traditional. You are unlikely to find modern and contemporary brands in this market. The locals go there to shop for usual clothing, footwear, accessories and silver jewellery. In fact, established clothing shops for sarees, salwar suits and fabrics attract a lot of customers. In addition, grocery, meat, fresh food & staples are always available here. This is a huge shopping market and one of its kind.Henry leather shoes is an offbeat shop in this market. They sell genuine leather shoes.
Among the old and ordinary shops are Nahoum, the Jewish Bakery store, Chambalama the Tibetan silver jewellery store & Henry leather  shoes is Chinese. Henry footwear store is towards one side of the mall. As you enter New Market from the Oberoi Hotel side, it is towards the right side.  As a matter of fact, it is quite close to Chambalama shop. However, there are no fancy name boards and you are likely to miss it.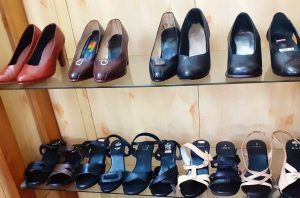 Henry Leather Shoes- Old & Established
For instannce,it is a leather footwear store without any pretensions. Simple and comfortable leather footwear at affordable prices is their claim to fame. This store has been in existence for about 60+ years.They stock a separate range for men & a separate range for women.
Men's shoes in black, tan & brown colours look classic & sturdy. Women's footwear come in more variety and colours. You can choose from white, maroon, black and beige colours. The shoes are solid and  comfortable. They do not stock a great variety.However, what is available is beautiful, comfortable & very reasonably priced. On an average the price will be Rs700/800/ pair. You could opt for sandals, peepstoes or closed shoes.
The father  & son duo are soft spoken and polite. If you do not see your choice on display in the window or the shelves, they would be happy to fetch it from the stock inside.
Give  Henry leather shoes a try. It is worth the effort.