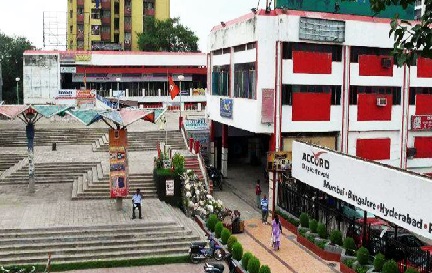 Dakshinapan Shopping Centre
Kolkata Shopping Guide: Dakshinapan The Dakshinapan Shopping Centre on Gariahat Road, Kolkata, right across from Dhakuria flyover, is an open-air shopping complex. Here you can find textiles, handicrafts, fancy goods, and imitation jewelry from different states of India. Also, the...Read more
Kolkata Shopping Guide: Dakshinapan
The Dakshinapan Shopping Centre on Gariahat Road, Kolkata, right across from Dhakuria flyover, is an open-air shopping complex. Here you can find textiles, handicrafts, fancy goods, and imitation jewelry from different states of India. Also, the famous Dolly's Tea Shop.
The complex also houses Madhusudan Mancha which is known for its cultural shows and plays. Check out Biswa Bangla, the West Bengal Emporium, and Tantuja for the exquisite Bengal handloom sarees.
Indian Handicrafts: Kolkata Shopping
This open air shopping center is a little out of the way, but it's an excellent place to buy Indian handicrafts and artifacts. You will  find many Indian State Government emporiums there, stocked with fixed price goods from all over the country.
It's also the place to buy Indian clothing. Indian handloom sarees, kurtis, salwar kameez, skirts, tops made of pure cotton are available in the Dakshinapan Shopping Centre at very reasonable prices.
Moreover, silver jewellery items such as bracelets, necklaces, earrings and rings are available in the complex. Handicraft pieces made of white metal and Dhokra art pieces are also displayed din the stores.
It is possible to get a wide variety of products in this Kolkata shopping Market. Products from the various Indian States are available in Dakshinapan. That is what makes shopping interesting in this popular complex.
Also, check out Gurjari, Rajasthali and Phulkari shops here.
Godrej showroom known as Godrej Interiors is also close by. They offer office furniture like chairs, tables and provide design consultancy. In fact, there is a Bengal Art House ,adjacent to tis complex . Check out the garments and handicrafts available here too.
Dolly's Tea Shop in Dakshinapan Shopping Centre
The typical Bengali adda (gathering) is incomplete without a brewing cup of tea. So you would be finding a tea stall in every nook and corner of the city. But for those who wish to enjoy a cup of authentic Darjeeling tea, drive down to Dolly's Tea Shop at the Dakshinapan Shopping Complex in Dhakuria. Dolly's is a 20 year old shop.
With its thatched roofshades, low-lying, cushioned cane furniture and lots of greenery, Dolly's exudes a lot of warmth, attracting shoppers and college-goers in hordes. Handmade paper lanterns light up the circular tables. Infused with the personal touch, the shop is spread over two floors with a huge courtyard in the center.Dolly, the owner of this tea shop, is herself available at most evenings greeting the guests. She has 40 years of experience as a tea taster.
Related Blog
Days Closed :- Sunday
Timing :- 10.30 am to 8 pm
Bus/Metro :- Dhakuria Bus Stand
---
554 views