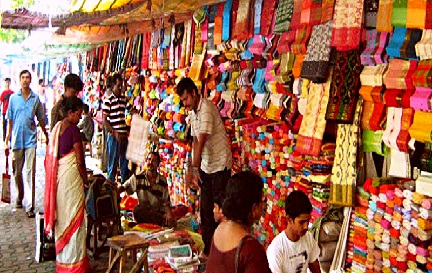 Other Markets
Kolkata Shopping Guide: Other Markets A small peep into Kolkata reveals its exciting shopping scenario. The city is also famous for its Howrah bridge, the popular electric tram, Kalighat Kali Temple and the roadside food kiosks. We have already shared...Read more
Kolkata Shopping Guide: Other Markets
A small peep into Kolkata reveals its exciting shopping scenario. The city is also famous for its Howrah bridge, the popular electric tram, Kalighat Kali Temple and the roadside food kiosks. We have already shared extensive reviews with you on popular Kolkata markets such as New Market, Russel Street, Park Street, Gariahat/Triangular Park/Rashbehari Avenue, and Dakshinapan Shopping Centre. Let's find out what other markets in Kolkata are famous for!
The markets in Kolkata offers its visitors a great deal of ethnic and international apparel stores. Also, these markets have redefined fashion with their homegrown designer stores, as well as handicraft and jewelry shops.
What To Buy: Other Markets In Kolkata
Catering to a wide range of budgets, these shopping markets stock designer Indian wear. These markets are also popular for Lal Paal cotton sarees, Banarasi sarees, and Tussar sarees. There is no dearth of terracota art, and gold and artificial jewelry either.
Darbari Boutique, for instance, is a leading manufacturer and exporter of garments such as saris, salwar suits and dupattas. Palki Boutique is loved for its diverse range of fancy designer sarees, lehengas and salwar suits. Offering contemporary and trendy designs, Kripalani & Sons is popular for creating diamond encrusted gold jewelry.
Check out Mourya Boutique, an exclusive saree boutique shop, for its classy designer sarees. These are available in a very affordable range. One has the option to get custom made sarees with traditional fabrics. Take your pick from silk, tussar, mulmul and khadi, with ethnic Indian designs.
Your visit to Kolkata is surely incomplete without heading over to Meera Basu and picks up an exclusive saree. The shop is more of a trendsetter for designer sarees in Kolkata since the late 70s.
If you find a city bustling with political energy, interesting museums, historic buildings, die-hard football fans and a host of cultural attractions, it definitely has to be the "City of Joy".
---