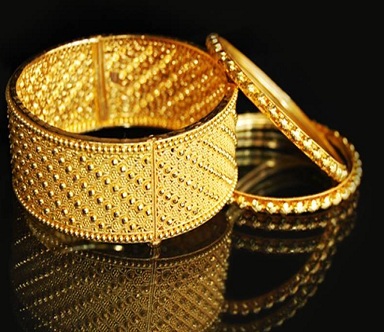 Best Shops for Gold & Diamond
Gold Jewellery: Chennai is a great shopping destination to buy gold jewellery. There are a number of branded shops offering a mix of traditional and stylish jewellery suitable for all occasions.
Though most people consider purchasing gold jewellery as an auspicious act on its own, these shops run huge promotions on occasions such as Akshaya Tritiya (an auspicious day for Hindus to buy gold) to attract customers into buying some really exquisite pieces of ornaments.
Tanishq, Khazana Jewellery, Gehna, and Ranee's, among others make it to the list of top jewelry shops in Chennai.
Tanishq from the house of Tatas enjoys a huge presence in the city of Chennai. It has 7 stores at various locations; the largest one being at T.Nagar. Authentic gold and diamond jewellery adorn the shelves of their Cathedral Road-based store in the form of earrings, rings, nose pins, chains and bracelets.
We particularly liked their trendy collection of diamond bangles, earrings, rings and necklaces. They have both short necklaces and long necklaces on display with pendants.
Located at St. Mary's Road near the Crowne Plaza, Ranee's is a beautiful store dealing in jewelry, handicrafts, textiles and carpets. Their jewelry pieces are elegantly designed by skilled goldsmiths and craftsmen from Kolkata.
You may particularly check for earrings, rings, bracelets and necklaces in this shop. Got a specific design in mind? Ranee's also provides you with the option to customize jewellery designs as per your taste.