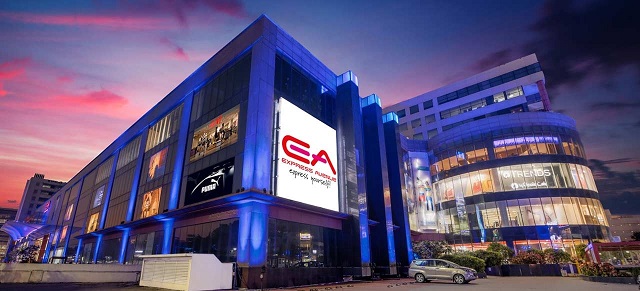 Express Avenue Mall
Express Avenue Mall is a popular Chennai Mall. It is close to Mount Road, which is home to some of the best Chennai shops. With the opening of the Express Avenue Mall in Chennai, Chennai shopping has seen a fundamental...Read more
Express Avenue Mall is a popular Chennai Mall. It is close to Mount Road, which is home to some of the best Chennai shops. With the opening of the Express Avenue Mall in Chennai, Chennai shopping has seen a fundamental shift towards big brands and big labels.
Big Brands and Big labels@Express Avenue Mall
Marks & Spencer, Charles Keith, Benetton, levis, Wrangler, Aldo, Catwalk, Hi design, Vero Moda, Forever 21, Forever New, H&M, Nautica,Tommy Hillfiger, Benetton, Hamleys, Burberry, Clarks, Crocs, Claires, Addidas, Nike, Puma, Rado are just a few of the international brands that are available here. The best cosmetics & personal products such as MAC & Parco, Sephora and Bobby Brown have a presence in the shopping Mall.
Indian brands @Express Avenue Mall Chennai
Satya Paul, Lifestyle, Biba, Holi, Metro, Regal, Florsheim, Titan & BIBA are some Indian brands.
Express Avenue Mall food courts
Typically, the shops in Chennai were on the main roads in the city. Shopping meant parking on the road & visiting a single shop. Congregating in a shopping mall was unheard of. The opening of the Express Avenue Mall a few years ago has changed the Chennai shopping experience a great deal. As in all malls there are plenty of restaurants & coffee shops. Pizza Hut, KFC, Mc Donalds, Starbucks & Cafe coffee day are all there. People young & old visit this mall for entertainment purposes too. They enjoy sitting in the coffee shop, having a meal with the family or enjoying the cinemas or go shopping. It is a days outing for many in Chennai shoppers.
There is sufficient Parking.
Know about the best shops in Express Avenue Mall. Read our review before you visit Chennai shopping malls.
---
23 views