Samasta is a fairly large boutique store in CP Ramaswamy Iyer Road, Alwarpet. The store front is attractive with a display of sarees, dresses & jewellery.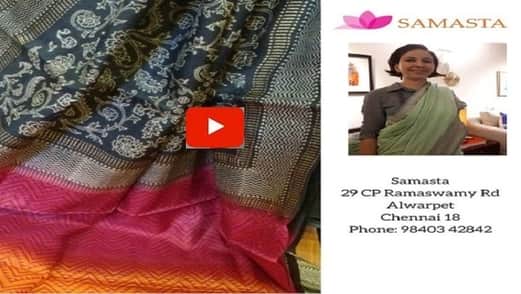 We saw a great collection of Maheshwari cotton sarees in some stunning colours such as sea blue & baby pink with contrasting pallus. They looked stylish & simple. Further, they stock Chanderi and Kota sarees in some unusual and unique patterns. The stock of party wear sarees in georgette & crepe was colourful and dressy.
However, what really caught our attention were the embroidered tussar sarees. These were quite unique in beautiful shades of red & grey. There were tussar sarees with some distinct prints as well. The printed tussar saree is lightweight as compared to the embroidered tussar saree, which is a bit heavy. It seems that not many shops in Chennai stock embroidered tussar and printed tussar sarees.
Hence, if you are shopping in Chennai for casual cotton sarees, linen sarees and party wear sarees of various types this shop should be a natural choice for a visit.
Kurtas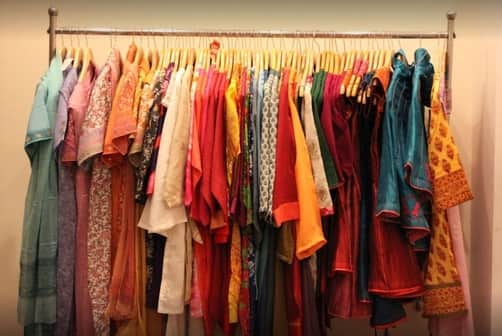 The collection of kurtas in Chanderi silks and Bangalore silks is quite interesting. Simple, stylish & elegant, they are ideal for the summers. The kurtas can be paired with dupattas in jamdani and Kota fabrics. They also stock on ethnic short kurti pieces.
Western Wear
In addition to ethnic wear, there is a section dedicated to tops and skirts, straight pants, stoles & palazzo pants. They are lightweight and ideal summer wear dresses. Also in stock are,
1. Kalamkari tops
2. Ikaat tunics
3. Casual wear skirts in Ikaat prints
4. Cotton palazzos and straight pants
5. Mix & match your styles for the coming summer season.
Jewellery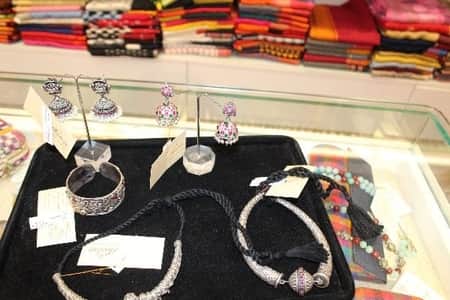 Samasta also stocks silver jewellery sourced from Kolkata, Bangalore and Orissa. They have kadas,(bracelets), heavy silver earrings and chunky necklaces, all ideal for the modern woman of today.
The founder and director of Samasta is Mridulika Menon. Most noteworthy is the fact that her mother Arundati Menon was the founder of Shilpi, which set high standards in its collection of sarees and fabrics. Sarees in Samasta are curated by Arundati Menon.
Do visit this store in Alwarpet. They stock an eclectic & interesting collection of sarees, dresses and jewellery that is ideal for the young, modern & busy women of today.