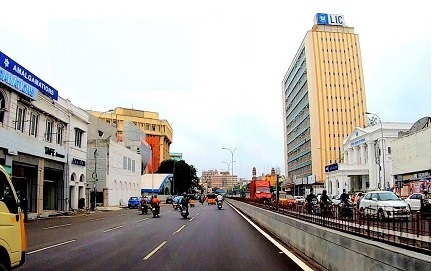 Cathedral Road
Firstly, Cathedral Road  is an extension of Dr. Radhakrishnan Salai. Dr. Radhakrishnan Salai originates from the Gandhi statue on the Marina beach to the Music Academy. The road from the Music Academy to the Gemini Bridge, is called Cathedral Road....Read more
Firstly, Cathedral Road  is an extension of Dr. Radhakrishnan Salai. Dr. Radhakrishnan Salai originates from the Gandhi statue on the Marina beach to the Music Academy. The road from the Music Academy to the Gemini Bridge, is called Cathedral Road. The Chola Sheraton Hotel, Stella Maris College and the Drive in Public Park are some of the famous landmarks on the Cathedral Road. For instance, there is no enclosed shopping market in this road. However, there are some wonderful and popular shops in Cathedral Road Market.
Bridal Lehengas Shops in Chennai
 Kay and Moksha are  certainly some of the well known bridal wear shops in Cathedral road. They stock stylish North Indian dresses, such as the Lehanga choli or ghagra choli, salwar suits and heavily worked sarees. In addition, Kay has a shop for young children where beautiful  ethnic dresses for boys & girls can be picked up . In addition, the shops stock stylish sherwani and kurtas for men
Handicrfats & Ethnic wear at Cathedral Road
Kalpa Durma is good for ethnic cotton kurtis, chanderi, cotton, silk & ikaat sarees. In addition, they have a separate section for fabrics, children's dresses and imitation jewellery.
They  also stock Kalamkari carpets, cushion covers bed covers, dining covers and towels. In addition, there  is a good collection of handicrafts in brass, papier machie and wood. The handicrafts section is housed in a separate building .
Jewellery shops in Chennai
Cathedral Road is also home to some  of the best jewellery shops in Chennai such as Bapalal, Jaipur Gems, Tanishq, Khazana and Prince Jewellers.
Finally, The Woodlands Drive in restaurant, Amaravathi, Copper Chimney, Chinatown and Gangotri the chaat place (North Indian snacks ) are some of the eateries on this road. The Chola Sheraton too has some good restaurants.
Read our other blogs :-
Best 5 Shops for Carpets in Chennai
Days Closed :- Sunday
Timing :- 10 am-8.30 pm
Bus/Metro :- Chola Sheraton bus stop/Stella Maris bus stop.
---
27 views