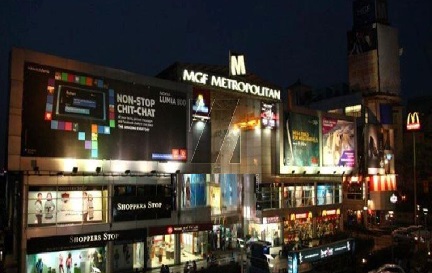 MGF Metropolitan Mall
MGF Metropolitan Mall is one of Gurgaon's premier malls. Here you will find the finest collection of stores including Shopper's Stop, Hidesign, Park Avenue, Sabhyata, Meena Bazaar, Pennylane, Wills Life Style, Metro Shoes, and Archies. There are internationally renowned brands...Read more
MGF Metropolitan Mall is one of Gurgaon's premier malls. Here you will find the finest collection of stores including Shopper's Stop, Hidesign, Park Avenue, Sabhyata, Meena Bazaar, Pennylane, Wills Life Style, Metro Shoes, and Archies. There are internationally renowned brands available too. Check out Nike, Lacoste, Reebok, Levis, Puma, Benetton, Marks & Spencer, Planet Sports, Guess, Sony and Bose, amongst others.
Popular Stores @ MGF Metropolitan Mall
One store that is extremely popular with women is Anantam. It stocks a range of exquisite sarees, lehangas and anarkalis salwar suits. The Om bookstore is very nicely located near the Barista coffee shop. LeMarche is a well known patisserie. You can enjoy eating at Moti Mahal, Yo China ,Sagar Ratna or McDonalds. There is a TGIF right next door, not to forget the kids play area and entertainment section.
MGF Metropolitan mall has a retail space of over 25,000 square feet.
PVR Cinemas
One of the best halls in Gurgaon, PVR Cinemas makes the mall crowded at all times. With 6+ screens, movie buffs can enjoy watching the latest release in 2D, 3D, and even 4DX movies.
Planning some family get-togethers.? Check out Amoeba which can easily accommodate 100 people. You have plenty of options to choose from. These include gaming arcade, a bowling alley, pool tables, 5D theatre and football tables.
Eateries To Refuel At
Want to grab a quick bite after hours of shopping? Well,  choose from one of these eateries: Haldiram's, McDonald's, 4700BC Gourmet Popcorn, Keventers, Rajasthali, and Handcrafted Burger Co., among others.
Check out reviews of other Delhi markets and malls here.
---
28 views