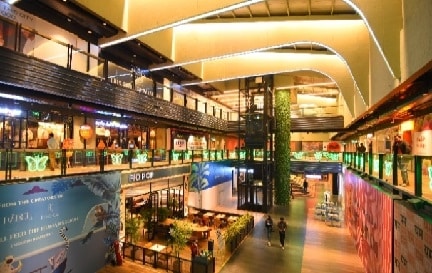 DLF Avenue Mall
DLF Avenue, earlier called DLF Place Mall, is a Delhi shopping mall adjacent to Select CityWalk. It was commissioned by the DLF Group some years ago and has a total built up area of 5,19,596 sq. ft in the heart...Read more
DLF Avenue, earlier called DLF Place Mall, is a Delhi shopping mall adjacent to Select CityWalk. It was commissioned by the DLF Group some years ago and has a total built up area of 5,19,596 sq. ft in the heart of Delhi.
The mall brings together shopping, dining and culture through a curated experience for the whole community. Experience at DLF Avenue an eclectic mix of brands ranging from high street fashion to fine dining, athleisure to beauty.
Anchor Stores @ DLF Avenue Mall
The mall has Marks & Spencers as its anchor store. It is a large store similar to its branch in the DLF Promenade mall. The selection of tops, trousers , dresses, jackets and lingerie  is fantastic. They also have a 30 day exchange policy.
International Stores @ DLF Avenue Mall
Several Indian and international brands of clothing, cosmetics and accessories are in this mall. Forever21 is a popular and large store for a variety of garments such as trousers, jeans, tops, dresses, jackets and jumpsuits. In addition, they stock accessories such as chunky necklaces and shoes. Hamleys, DKNY, Clarks ,Tanishq, Vero Moda, The Body Shop, Anita Dongre, & Kama Ayurveda are a few of the shops in this shopping mall.
Coffee & Restaurants
It also has Costa Coffee, Autie Anne's Pretzels, Cinnabon, all of which are a big favorite with the kids, as well as a food court and restaurants such as Smoke House Grill, The Big Chill and Hard Rock Cafe. The DT cinemas has several theaters in the complex. There is also a Hilton Hotel in the mall.
All in all, DLF Palace offers a nice way to spend a Saturday afternoon catching a good movie and doing some shopping on the side.
In January 2020, DLF Place Saket was revamped and renamed as DLF Avenue with new brands, curated zones and a lot more.
---
109 views