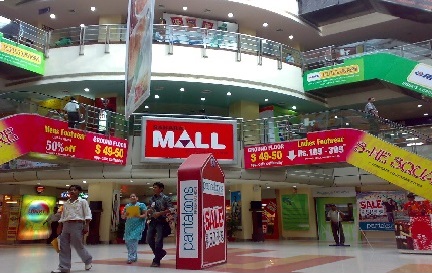 Sahara Mall, Gurgaon
One of the oldest malls of Gurgaon, Sahara Mall does not have a grand look and feel and is not very modern by current standards. Yet, it continues to attract hundreds of people every day with stores such as Pantaloons,...Read more
One of the oldest malls of Gurgaon, Sahara Mall does not have a grand look and feel and is not very modern by current standards. Yet, it continues to attract hundreds of people every day with stores such as Pantaloons, Raymonds, Lotus Feet, Zaver and so on.
Pantaloons Department Stores
Pantaloons had very reasonably priced clothing for men women & children. Today, they have expanded it to include more expensive casual wear garments and party wear dresses also.
In fact, they stock other retail brands such as BIBA and Anita Dongre dresses in their store. The clientele hence has a wider choice of clothes and the footfalls are more. If one does not have ether time to visit several stores for Indian ethnic wear dresses, Pantaloons is a good option. They have a great selection of stylish dresses are good prices.
In addition, they have western wear dresses and accessories.
Big Bazaar is the departmental store for fresh produce and food products. It is a very popular store in the Sahara Mall.
People who visit Sahara Mall do love to visit Haldiram's here. It is a vegetarian restaurant for lip-smacking Indian and Chinese snacks and food. Haldiram's is certainly about more than just food. They make sure to deliver you food which is wholesome and has a homemade feel to it too.
Sahara Mall: Popular for Clubs
Sahara Mall Gurgaon in very popular with the younger generation in Gurgaon because of the popular  pubs in the top floor of the Mall. After about 7 pm or 8 pm in the evening, it gets very crowded. In fact, during the weekends or holidays, families tend to stay away from the Sahara Mall in the evenings because of the crowd. The New Year Celebrations for one thing are just around the corner and the Gurgaon pubs would be readying to ring in the New Year  with music & dance. If you are keen to shake a leg at a pub in the New Year, you can try the pubs in the Sahar Mall. But be warned it would get very crowded there.
PVR Cinemas
PVR Cinemas is another top attraction at Sahara Mall. All the latest movies are screened in these theatres.
Check out other Delhi malls and market reviews only at Shopkhoj.com.
---
145 views